"Show me what democracy looks like," called protesters in Westwood on Saturday afternoon. "This is what democracy looks like," hundreds chanted back.
The protesters gathered near the Wilshire Federal Building on Saturday to protest against police brutality and racial discrimination. The Islamic Circle of North America Council for Social Justice, a Muslim civil rights advocacy group, organized the protest.
The ICNA CSJ protest followed more than a week of similar protests across the globe after George Floyd died May 25 in Minneapolis police custody. Hundreds of students and LA residents protested near the Wilshire Federal Building on Monday and on the UCLA campus Thursday.
[Related link: Hundreds gather at UCLA to protest police brutality, racial injustice]
Protesters lined the streets near Wilshire Boulevard and Veteran Avenue on Saturday afternoon, interrupting traffic and carrying signs that read, "Black lives matter," and "I can't breathe."
Demonstrators are marching East along Wilshire. Now they're taking a knee at the intersection of Westwood and Wilshire pic.twitter.com/BO8JKaacpu

— Isabella Fortier (@ijfortier) June 6, 2020
Hundreds of supporters on motorcycles and in cars drove down Wilshire Boulevard, wearing shirts emblazoned with "BLM," raising their fists in the air and honking as they went by.
The crowd near the Wilshire Federal Building then knelt for a moment of silence for victims of police brutality. Afterward, hundreds of protesters raised their signs and shouted chants, including "No justice, no peace," and "Hands up, don't shoot."
The crowd marched eastward down Wilshire Boulevard toward Westwood Plaza at around 4 p.m. and then back westward to Sepulveda Boulevard. At both intersections, the crowd knelt for several minutes in memory of Floyd.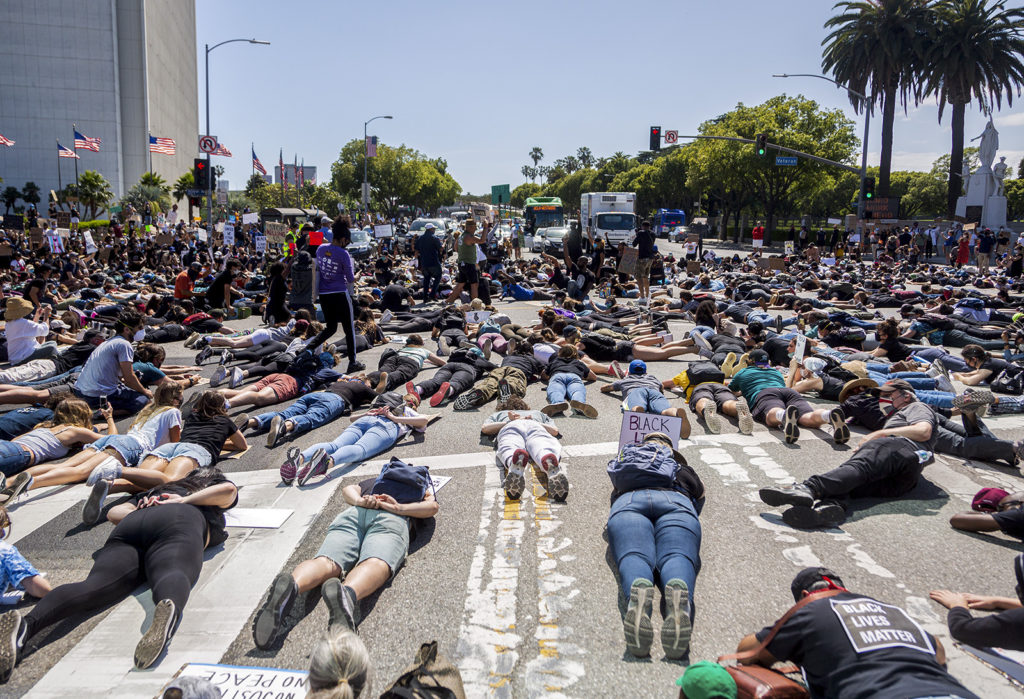 In anticipation of the ICNA CSJ protest, several California Highway Patrol cars closed Interstate 405 freeway ramps near Westwood. Protesters had marched onto the I-405 at Monday's protest. LAPD officers also blocked traffic at intersections near the protest, including at Wilshire Boulevard and Gayley Avenue.
Black leaders made up about a quarter of the protest's organizing group, said Saad Bholat, an administrative assistant for the ICNA Southern California Chapter. The organizers worked independently of other Black community organizations to plan the event, Bholat added.
"Many of us, despite our commitment to the principles of solidarity and allyship, will never know what it is like to be Black in this country," read an ICNA CSJ statement.
The U.S. Department of Homeland Security stationed two officers in front of the Wilshire Federal Building. The LA County Sheriff's Department and the Santa Monica Police Department deployed several cars on standby in a nearby parking lot.
Several protesters noted the relative lack of interaction between law enforcement and protesters compared to similar protests across the city this week.
Aurianna Angelique, one of the protesters, said she didn't plan on speaking at the event, but began leading chants when given a microphone.
"We're still waiting for justice for Breonna Taylor; we're still waiting for justice for Ahmaud Arbery," Angelique said. "This is just the beginning, I don't think people understand. This is not just a protest here and there for a couple of lives. This is a movement."
Margaret Koldinger, a third-year theater student at UCLA who attended the protest, said she was inspired to participate by other theater students who had already participated in several protests against police brutality.
"I've heard a lot of comments from my friends, my fellow theater majors, saying how tired they are having to fight for their own rights," Koldinger said. "I just wanted to pick up the banner a little bit and try (to) do what I can to take the weight off their shoulders."
Mercy Brown and Taylor Mitchell said they joined the ICNA CSJ protest after attending a similar protest in Inglewood earlier Saturday.
"We love to see all the people out here, all the people that this is affecting, because it's a community thing, it's affecting us all," Brown said.
About half of Westwood Village businesses installed barricades over their storefronts ahead of protests this week because of concerns of looting. Andrew Thomas, executive director of the Westwood Village Improvement Association, said several businesses are planning to begin removing barricades next week.
Angelique said that she had never seen so many young people protesting for civil rights.
"We have never seen so many allies in history that are backing us up, and I think this is what's going to change this country," Angelique said.