Los Angeles Police Department Chief Michel Moore drew the ire of protesters demanding the department answer for violence against Black people and peaceful protesters as LAPD held a vigil for the death of George Floyd.
Moore held a candlelight vigil for Floyd, a Black man killed by a white police officer in Minneapolis, as Los Angeles entered its 10th straight day of protests against police brutality and racial injustice.
"To George Floyd, may he rest in peace, and may his memory be social justice, social reform and fairness for all," Moore said at the vigil, as he and community faith leaders raised electronic candles to the sky at LAPD headquarters.
But in front of the fences surrounding police headquarters, hundreds of protesters mourning Floyd's death did not participate in the vigil and instead questioned LAPD's ongoing history of violence, especially against Black people.
In the past week, the LAPD has used rubber bullets, bean bag rounds and tear gas to contain the protests, some of which have been violent. Moore previously said LAPD used force in response to police injuries caused by objects that some protesters threw. According to multiple media reports, LAPD officers have also injured numerous protesters, journalists and even a homeless man in a wheelchair with rubber bullets.
Even after both sides denounced violent protests, reports of police brutality persisted while officers started enforcing a countywide curfew. The police beat peaceful protesters with batons and arrested hundreds at a time for violating curfew. Some protesters shared photos of wounds from rubber bullets on social media. A video of a police car hitting at least one protester in Downtown LA went viral, prompting a struck protester to file a government claim.
"They've been smirking and cracking their knuckles at me," a Black protester in the crowd told Moore. "They've been sticking their little rubber bullet launchers in people's faces at peaceful protests. That is not accountability. … They're not turning their body cams on. They put them on, they turn them off when everything's bad. So what's going to happen when they don't listen to you?"
Protesters mostly directed their anger at Moore and the law enforcement system, demanding the immediate removal of Moore and LA County District Attorney Jackie Lacey from their positions. Moore spent 15 minutes after the vigil joining fellow officers in talking to protesters, but many said his responses left them unsatisfied.
Elijah Trejo, a Black hospital worker from Pasadena, was one of several protesters that spoke to Moore. Trejo asked if Moore could promise police reforms to address racial injustice, but was disappointed by Moore's reply.
"He was like, 'Yes, we're going to try to,' but that's not a for-sure answer, right?" Trejo said. "We don't need him to try or hope for the best. We need him to actually do it. We need him to say it."
Trejo said Moore's lack of clear commitment did not make him feel safer.
"I appreciate him trying to talk to me," Trejo said. "But that doesn't matter because I need him to make us feel safe. We shouldn't be in this (protest). This shouldn't be happening. Why does all this have to happen first to have a slight change or first get treated fairly?"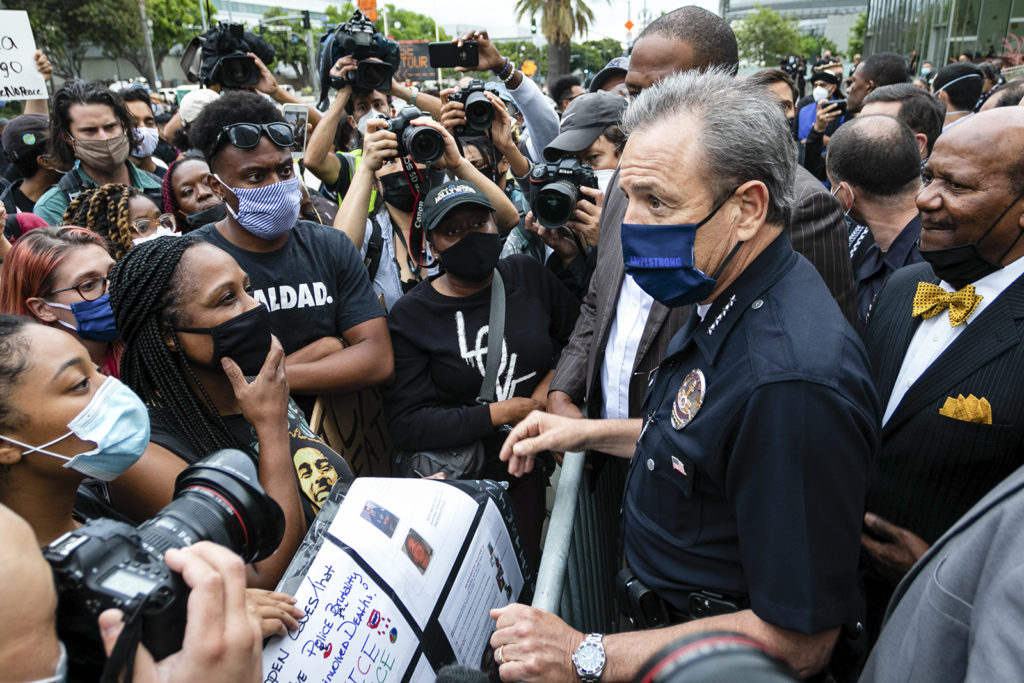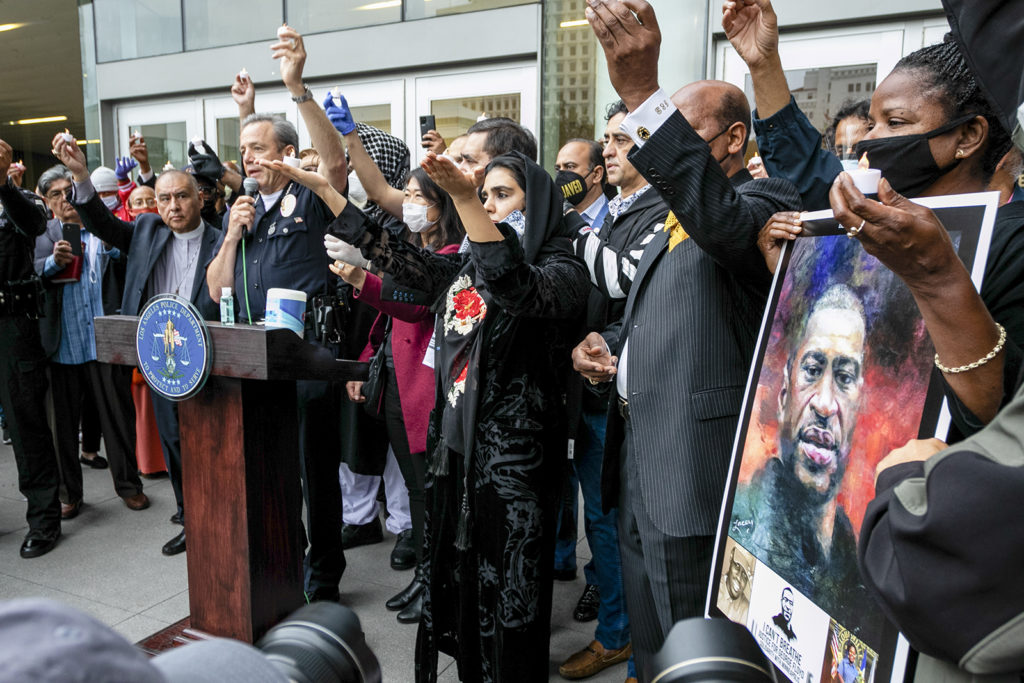 LAPD Capt. Gisselle Espinoza said the vigil was a step forward in building dialogue and understanding with the community.
"We may never satisfy everybody, but I think this was much needed," Espinoza said. "Sometimes, things have to be said before we can get to a point where we can actually sit down and talk and learn about each other."
Espinoza said some people had stronger emotions about the death of Floyd and were not open to dialogue.
"They kind of wanted to yell, and I understand that too," Espinoza said. "I wish it could have been a little more productive when the chief of police is available for the public to really ask him questions about what he thinks, what his philosophies are, how he feels and his plan moving forward."
Moore said the department's issues centered around problematic officers, an argument often criticized by pundits and activists.
"We've also had our bad apples, we've had our occasions, and nobody hates a bad cop more than a good cop," Moore told KFI AM 640. "What these protesters are about are not about the good cops, and that's what we need to get into a conversation, that policing in America is not homogeneous. It's not just one flavor."
Dozens of protesters shouted expletives at Moore as he retreated from public view.