This post was updated June 28 at 2:00 p.m.
In the middle of a pandemic, with protests against racial injustice sparking up around the country, all Dorian Thompson-Robinson could do was tweet.
He wanted to do more, but because of NCAA bylaws, the rising junior UCLA football quarterback's hands were tied.
The NCAA website states "Division I student-athletes may not promote or endorse a commercial product or service, even if they are not paid to participate in the activity" – which typically includes fundraisers. Finances aside, Thompson-Robinson said he wanted to use his platform as a Power Five starting quarterback to incite change.
"For somebody like me that has a lot of followers and people that look up to me and are influenced by me, I definitely think it's key for me to use my voice to promote change and promote positivity in the community," Thompson-Robinson said. "I think it's a big part for me, but really, it's a big part for everyone in general."
At the same time, he also knew money could make a lot more of a difference than 280 characters.
But as one of his contemporaries found out a few months ago, that could be a difficult goal to tackle.
When Clemson quarterback Trevor Lawrence started a coronavirus relief fund in March, it was temporarily shut down for violating the NCAA's name, image and likeness policy. After several days of confusion and miscommunication, the Tigers' compliance office sorted everything out and Lawrence was allowed to resume raising money, but the uncertainty and complicated rules had already made their mark.
[Related: NCAA expresses support for student-athlete name, image and likeness compensation]
Thompson-Robinson decided to pursue a potential fundraiser anyway, and one week after expressing frustration at the NCAA, the governing body approved his pitch. The former four-star recruit from Nevada will put 100 custom-made hoodies up for sale Wednesday at 6 p.m. for $45 apiece through his FriendsOverFans brand, with all of the proceeds going to the Las Vegas and Los Angeles chapters of 100 Black Men of America.
The 100-unit cap was self-imposed by Thompson-Robinson, who said he wanted to minimize complications with the NCAA. Selling high-profile apparel on a first-come, first-served basis comes with its own challenges, however – high demand.
"A lot of (my teammates) have been asking to send them the link first so they can be one of those 100 people," Thompson-Robinson said. "I've gotten a lot of support from the program and the people around me, really wanting to show support and rock my stuff."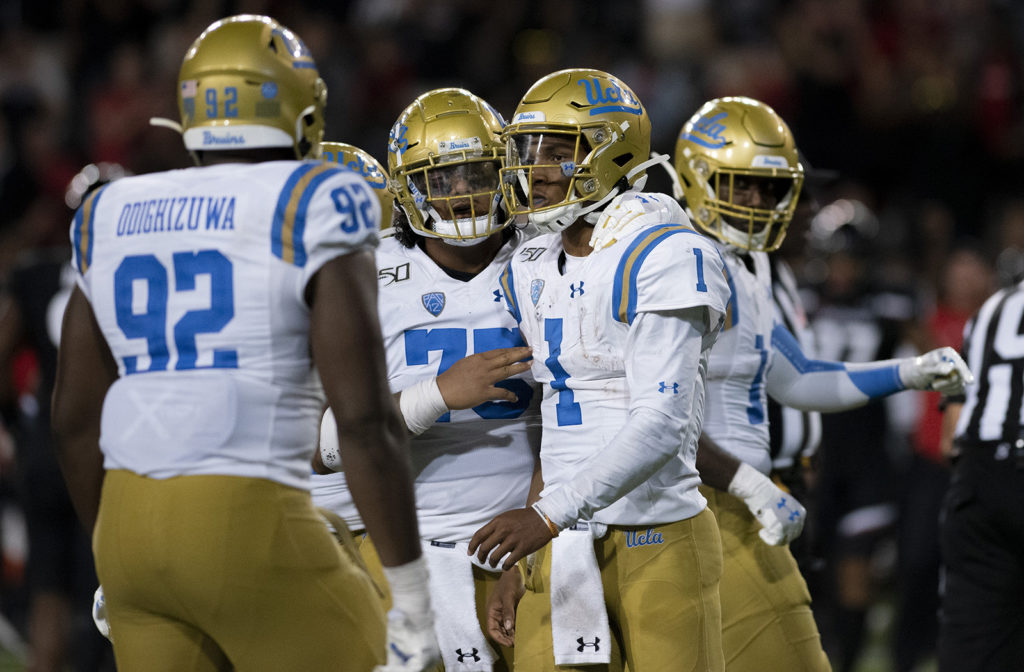 Thompson-Robinson's idea got off the ground after he approached the UCLA compliance office – specifically Associate Athletic Director of Compliance Erin Adkins – with his proposal. Because of remote instruction during spring quarter, Thompson-Robinson said he didn't run the fundraiser by his coaches like he usually would have, instead having his mom and other mentors at home vet the idea before going to the compliance office.
The compliance office was integral in making sure the fundraiser was NCAA-approved and followed its guidelines down to every last detail. But if a non-student-athlete wanted to sell hoodies for the Black Lives Matter movement, they wouldn't need any school oversight.
"I wish I didn't have to go through (the compliance office), I wish I could just do this stuff," Thompson-Robinson said. "But they make it a lot easier on us as athletes if we want to advocate for ourselves in this type of matter. I definitely think our compliance people over at UCLA does a great job with that stuff."
While things were still being straightened out between UCLA and the NCAA, Thompson-Robinson said he researched several foundations and organizations to find which one was best for him to donate to. Thompson-Robinson hadn't had any previous hands-on volunteer experience within the Black Lives Matter movement, but he still had a few ideas in mind when making his shortlist.
"I wanted to do one that wasn't being talked about as much, but still has a big part in the community," Thompson-Robinson said. "The 100 Black Men here in Vegas does a lot for our community and the Black youth here, mentoring them. So I figured that'd be a great organization to join and be a part of and support."
100 Black Men has been running community programs for young Black people for 57 years, centering its outreach around mentoring, education, health, wellness and economic empowerment.
Thompson-Robinson, who said he would love to set up a second fundraiser should this one go off without a hitch, has had more than just FriendsOverFans on his mind over the past week.
The quarterback was one of 30 Bruins who signed a letter demanding third-party oversight, scholarship security and more when they return to campus for voluntary workouts during the COVID-19 pandemic. Thompson-Robinson was also the first to stand up for Chip Kelly when some media outlets implied the letter was a slight against the UCLA coach.
[Related: UCLA football players demand better protections in return to training amid pandemic]
While Thompson-Robinson wouldn't say if he saw himself as more of a leader heading into the 2020 season, he did say he has experienced tremendous personal growth over the past few months.
"It's just me growing up as a person, as a quarterback – whatever you want to call me," Thompson-Robinson said. "I'm just growing up and maturing as things hit me, as I experience new things."