Hundreds of protesters chanted in Westwood on Sunday in solidarity with protesters in Portland, Oregon.
The Black Lives Matter Los Angeles Chapter organized the protest, held at the Federal Building on Wilshire Boulevard, to show their opposition to federal police stationed in Portland.
In mid-July, the federal government sent officers to Portland to de-escalate ongoing civil unrest and to protect federal buildings, against the wishes of several local officials. Several videos on social media show the federal officers arresting protesters without explanation and taking them into unmarked police vehicles.
President Donald Trump has since ordered federal officers to other cities in the United States, including Albuquerque, New Mexico, and Chicago.
In response, protests have sprung up across the nation to challenge the deployment of federal agents against protesters and to affirm one of the Portland protests' original messages: Black lives matter.
This protest comes more than two months after George Floyd's death in police custody.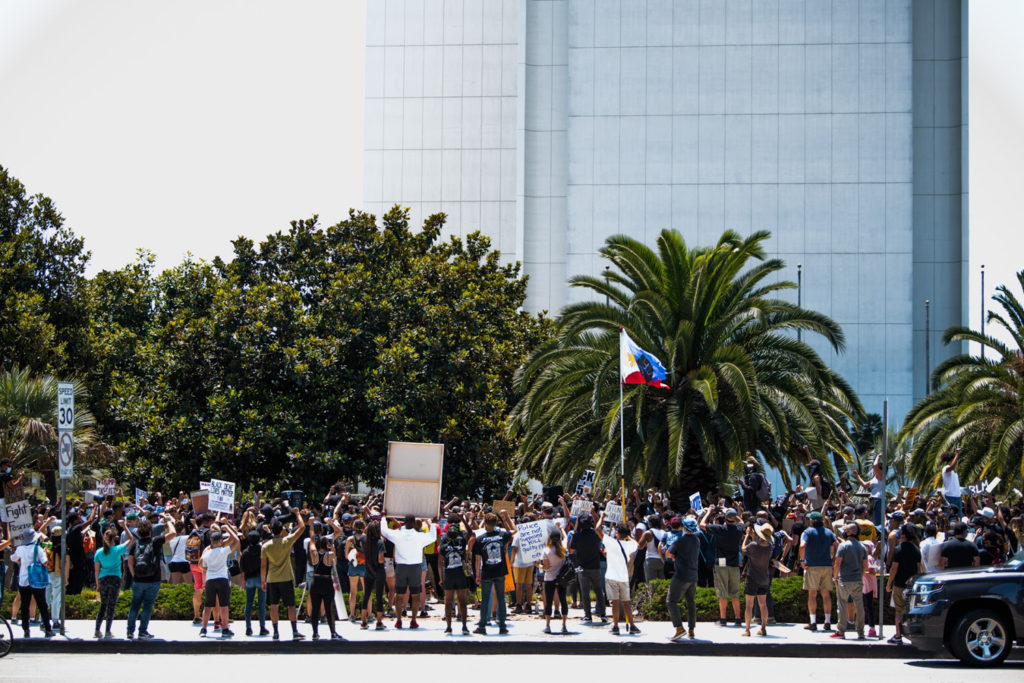 [Related link: Protests erupt in Los Angeles in response to death of George Floyd]
Protesters chanted the names of victims of police brutality, including Quinten Thomas and Charly Keunang.
Chantelle Hershberger, a member of the Refuse Fascism organization who attended the Sunday protest, said she hoped the protest would highlight the dangers posed to Black lives by the federal government.
"It's treating them as criminals when … this is a fight for their lives," Hershberger said.
Sierra Hudson, another protester and a recent UCLA graduate, said the fight for Black lives is urgent and demands immediate action.
"We may not have tomorrow, and the person next to us may not have tomorrow," Hudson said. "Our neighbor may not have tomorrow. We have to be here today."
Several protesters said they were disturbed by the display of federal force in Portland.
Keylor Leigh, who attended the Sunday protest, said she thought the detainment of protesters in Portland was alarming, particularly given law enforcement's lack of explanation or identification during arrests.
Hudson said the events in Portland are a call to action.
"It's almost like we all have to be out here in the streets, because this is a fight for freedom," Hudson said. "This is a fight for democracy."
The protesters remained nonviolent, but stood their ground against counterprotesters and in the street to proclaim their message.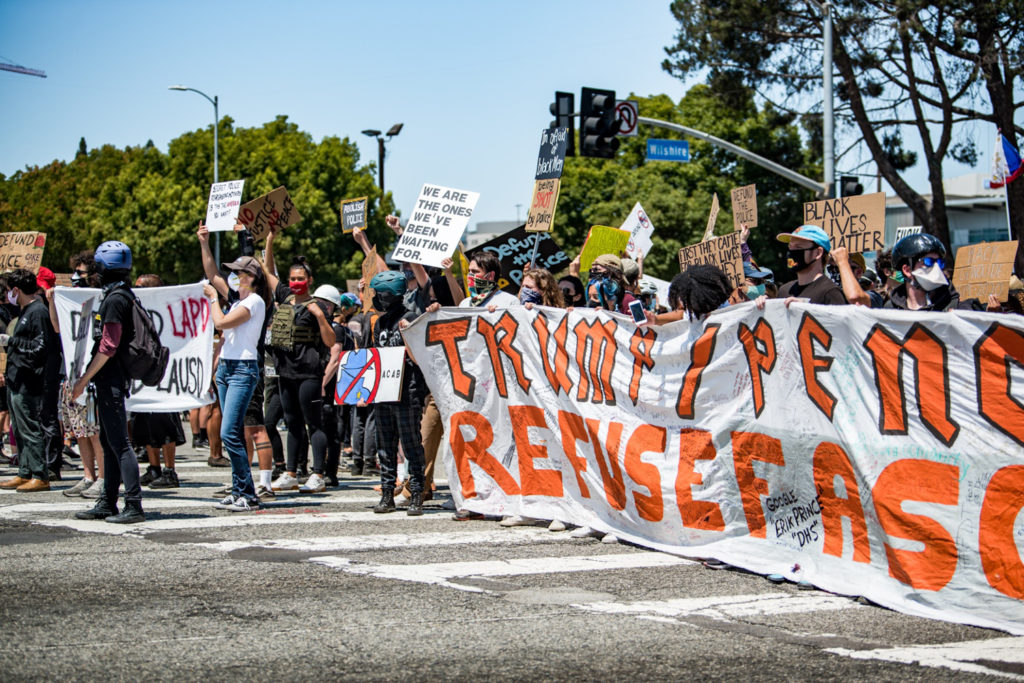 Protesters from Refuse Fascism blocked Veteran Avenue along Wilshire Boulevard for more than an hour holding a banner that read "Trump/Pence Out Now".
An unidentified group of counterprotesters tried to drown out the protest by chanting "Hallelujah" and engaging with verbal altercations with BLM protesters for almost half an hour.
Hershberger said changes can be made by remaining peaceful and taking to the streets.
"If we're nonviolent, the world will see who's on the right side of history," she said. "If we're saying 'Black lives matter,' and (the police) are shooting less than lethal rounds at protesters for saying that, it's clear who's on the wrong side of history."
Contributing reports by Kanishka Mehra, Photo editor.