This post was updated July 31 at 3:05 p.m.
The speculation is over, and the Pac-12 has a plan for 2020 fall sports.
The conference announced a tentative schedule for the upcoming athletics season Friday afternoon on a media teleconference, should play resume amid the ongoing COVID-19 pandemic. Competition for all sports will begin Sept. 26 at the earliest, with Olympic sports starting practice Aug. 15 and football training camp beginning Aug. 17.
The announcement comes two days after the ACC disclosed a similar plan, but while the Pac-12 agreed to move to a conference-only schedule for football July 10, the ACC is still allowing each of its member schools to play one in-state nonconference football game.
As part of the Pac-12's agreement, UCLA football will now start its season against its crosstown rival USC on Sept. 26.
"One of the aspects of the thinking that went into USC and UCLA playing early … is that we realized – at the moment – those are hotspots," said Pac-12 Commissioner Larry Scott. "Each of those could reschedule into the bye week or the December week we left open."
The only addition to UCLA's slate is a matchup against Washington in Seattle, which is set to take place Nov. 21. The only Pac-12 team UCLA is not scheduled to play in 2020 is now Oregon.
After taking on USC, UCLA will play Oregon State, Washington State, Utah, Arizona State, Stanford, Colorado, Washington, Arizona and California, in that order.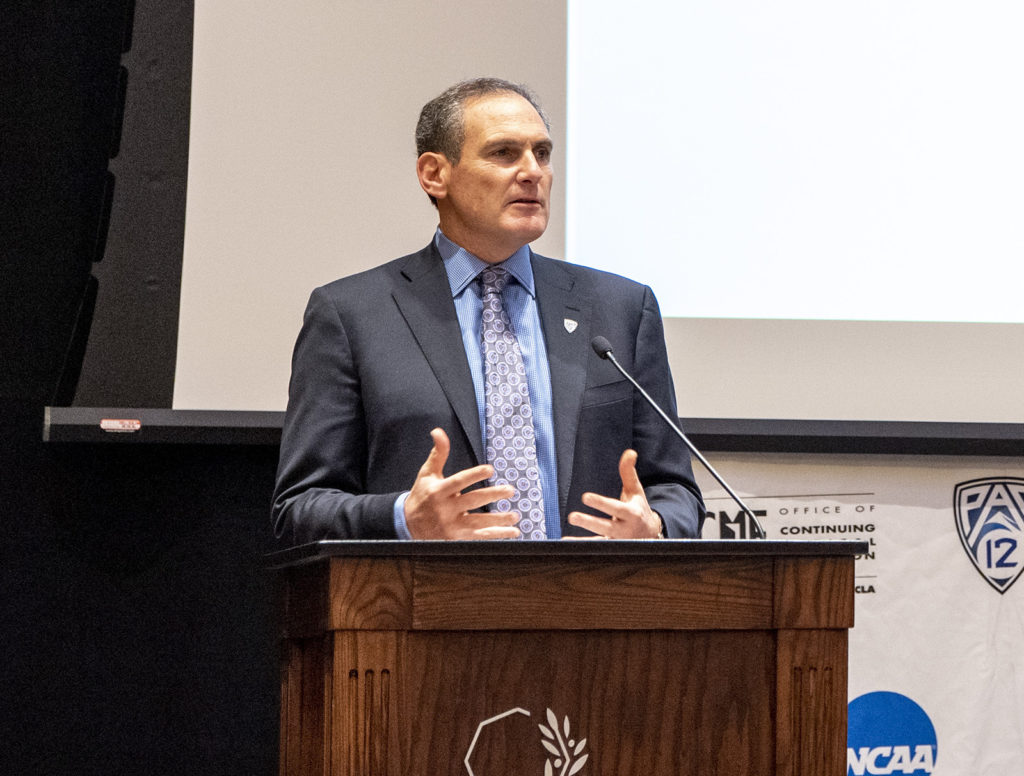 When asked point blank if he believes there will be a college football season this year, the commissioner couldn't commit.
"I don't know," Scott said. "We are cautiously optimistic, sitting here today."
The conference's new plan involves extensive health and safety protocols for all sports, but none of the policies go as far as the "bubble" concept currently being used by the NBA. As a result, Scott said some cases are expected, and a malleable schedule will be the key to keep seasons alive.
"A bubble would not be appropriate for college sports," Scott said. "It's one of the reasons why building flexibility into the schedule was so important."
In terms of what it might take for a team to back out of a game or shut down a season, Doug Aukerman – the senior associate athletic director of sports medicine at Oregon State – said there was no clear cut answer since some instances of positive tests may be easier to manage than others.
"You can't just say it's a number of players," Aukerman said. "It's hard to come up with an easy number. If it was, everybody in every conference would have had that."
UCLA women's soccer, men's soccer and women's volleyball had their nonconference schedules canceled earlier this month as well, and now their seasons will start no earlier than Sept. 26. As is the plan in the ACC, the Pac-12 could schedule the NCAA's minimum number of games for each of those programs – six for each soccer team and 10 for women's volleyball.
UCLA cross country, which is a member of the Pac-12, did not previously have its nonconference season canceled because of its lack of a defined conference and nonconference schedule to begin with. The Pac-12 is allowing the cross country season to continue with the same start date as the soccers and women's volleyball.
The impact on UCLA men's water polo – which plays in the Mountain Pacific Sports Federation – and spring sports with fall seasons, such as golf and tennis, is to be determined.
The Pac-12 Football Championship Game will now be home hosted and take place on either Dec. 18 or 19. Other sports' postseasons are still being worked out, but Pac-12 Commissioner Larry Scott said there would be "exciting" opportunities for them.
Exact schedules for fall Olympic sports will be announced at a later date.