This post was updated Aug. 23 at 2:30 p.m.
A water main break that flooded multiple structures on campus Sunday morning has been contained, UCLA officials said.
A city of Los Angeles water main burst, sending water flooding onto Charles E Young Drive, the Intramural Field and parking lots 4 and 7, according to a BruinAlert sent to students around 5 a.m. Sunday.
The 30-inch main line burst started around 2 a.m. near the intersection of Sunset Boulevard and Stone Canyon Road, said Kelly Schmader, the assistant vice chancellor of facilities management. The Los Angeles Department of Water and Power has since shut down the pipe and the flood has been contained, he added.
The water also toppled two trees along Sunset Boulevard and damaged one residential property north of Sunset Boulevard, according to a statement from Los Angeles Fire Department spokesperson Brian Humphrey.
Most of the water came onto the UCLA campus from the north through Sunset Boulevard, into Westwood Plaza, Schmader said. The water then entered parking lot 4 and flowed onto the Intramural Field, he added.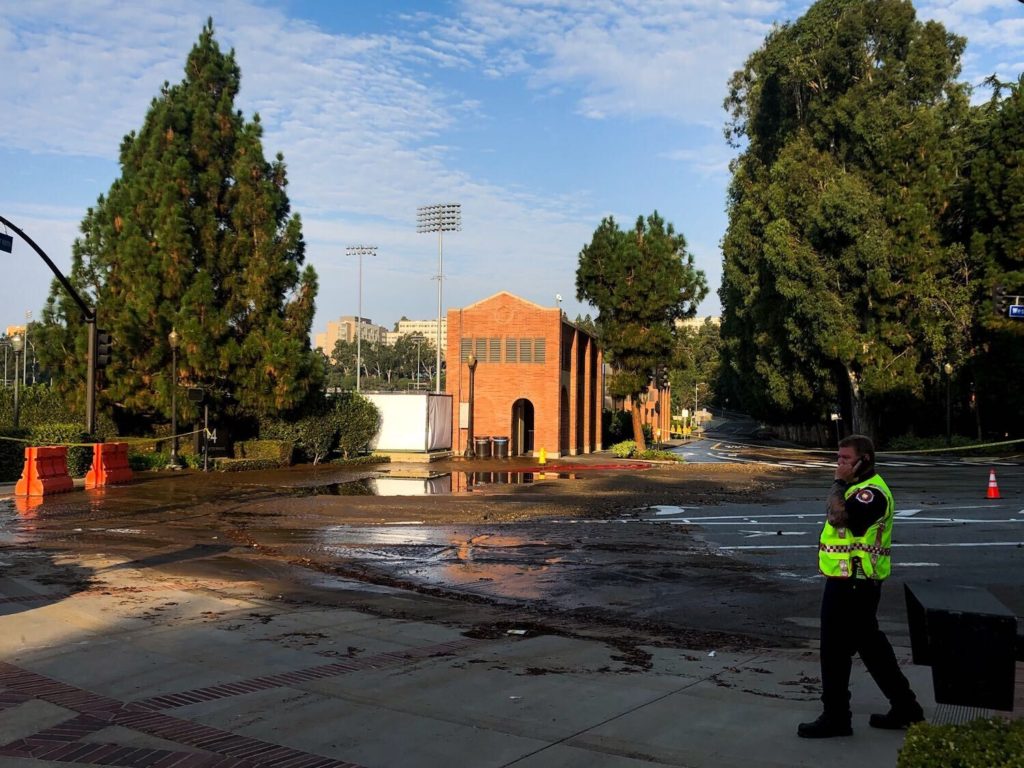 Schmader said UCLA is still assessing the damage, but added there may be some electrical damage in the parking structure and damage to the Intramural Field.
Another water main burst flooded the UCLA campus in July 2014, sending water into Pauley Pavilion, Bruin Walk and parking lots 4 and 7. UCLA later filed a claim for $13 million in damages to the LADWP.
Water from Sunday's pipe burst did not come close enough to threaten Pauley Pavilion, and the pipe that burst Sunday was not the same pipe that burst in 2014, Schmader added.
Sunset Avenue was closed between Veteran Avenue and Hilgard Avenue, according to a tweet from the LADWP.
Mud and water flow also affected some campus roadways, UCLA spokesperson Ricardo Vazquez said in an emailed statement. No injuries have been reported on campus because of the flood, and the university is still assessing the damage caused by the flood, he added.
Some LADWP customers experienced low pressure during the pipe break, which stopped once the LADWP resolved the rupture, according to a subsequent LADWP tweet.