Los Angeles Metro riders can now download a virtual fare card onto Apple devices.
LA Mayor and Metro Board Chair Eric Garcetti and Metro Chief of Staff Nadine Lee announced via Facebook Live on Sept. 3 that passengers will be able to board Metro busses and trains using a virtual TAP card. Riders do not have to go to a TAP vending machine or purchase physical cards anymore. The virtual TAP card is available for iPhones and Apple Watches but is not yet available on Android devices.
This new payment method comes at a time when minimizing physical contact in public places is more important than ever, Garcetti said.
"This step is absolutely vital, not just for access, but for making sure we're all healthy and safe in a COVID-19 environment," Garcetti said in the Facebook Live announcement. "It speaks to so many of our goals for Metro and for our transportation network."
To download the new virtual TAP card, users select the card labeled "TAP – Greater Los Angeles" in Apple Wallet. Once the virtual card is downloaded, users can hold their device near a TAP reader to pay their fare.
A new TAP app is also available on the Apple App Store, which lets riders manage their TAP accounts and buy Metro passes.
The new TAP technologies aim to make Los Angeles travel much more sustainable in the long run, Garcetti said.
"Anything we can do to get out of our cars, to have less waste and take transit means fewer vehicle miles traveled, lower emissions, less car traffic and a cleaner environment for everyone," Garcetti said.
TAP's transition to mobile devices will make the Metro rider experience more convenient but fails to address the larger problems present in the LA transportation system, said Grayson Peters, the chair of the North Westwood Neighborhood Council's Transportation and Safety Committee.
"I don't know that this was a make-or-break issue for anyone, whereas bus frequency and rider safety can be the deciding factors in someone giving up on transit," Peters said. "I hope Metro continues to work on those issues to encourage people who don't currently take advantage of public transportation to do so."
But, Peters added, the new technology could help improve ridership among tech-savvy students.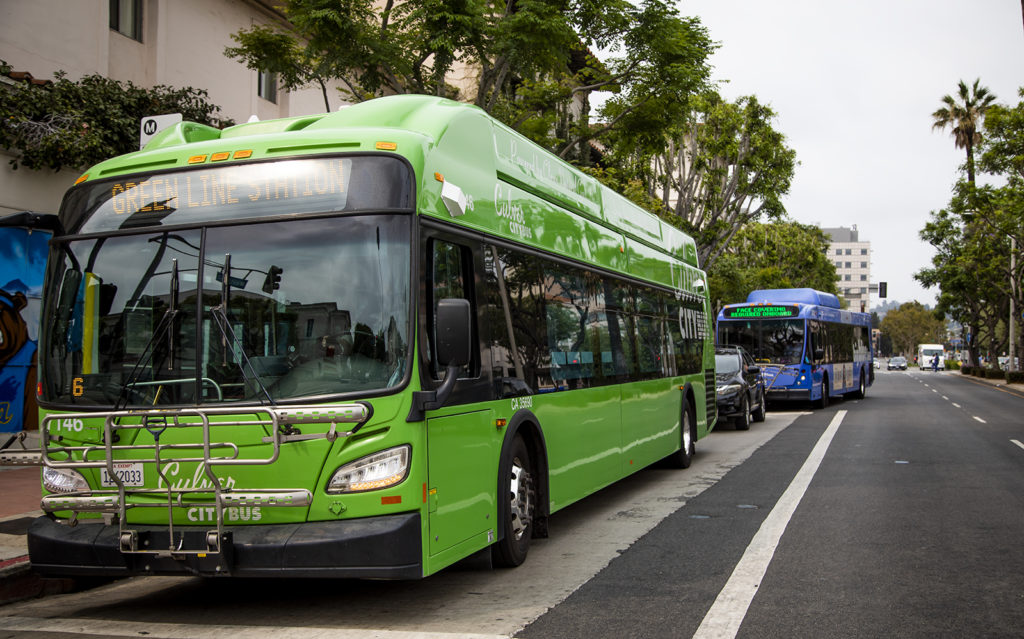 The creation of a virtual payment method for transit fares is far from unprecedented, but it still creates some potential privacy concerns, said NWWNC Transportation and Safety Committee board member Kendall Kaufmann.
"One thing I would be concerned about is security concerns about partnering with Apple, both with tracking people and data collection for profit," Kaufmann said.
Another potential problem with Metro's new technology is the inherent classism that comes with a product only for those who can afford iPhones and Apple Watches, Kaufmann added.
Kaufmann said that along with the extension of the Purple Line into Westwood, Metro's upgrades will revamp transit accessibility throughout the city.
The Purple Line Extension is another Metro project underway, that aims to improve travel between Downtown Los Angeles, the Miracle Mile, Beverly Hills and Westwood. Metro began construction on the Purple Line in 2019, which will change how UCLA students and Westwood residents commute through LA.
[Related link: Metro's Purple Line Extension to begin construction ahead of schedule]
The virtual TAP card, as well as the Purple Line extension, are intended to make the Metro system more universally available, Garcetti said.
"This is about accessibility, but it is also about equity, making it easier for our essential workers, our frontline heroes and our hard-hit households to get where they need to go, especially those without a car," Garcetti said.