Illustration: Permanent Residency
---
Posted:
September 19, 2020
10:11 pm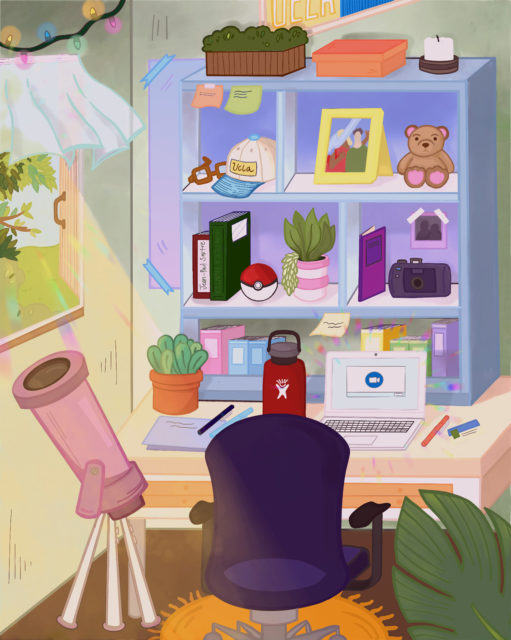 ---
Bawab is the 2021-2022 Cartoons director for the Daily Bruin. She has also contributed to the Illustrations department and PRIME. She is a third-year international development studies student with a minor in labor studies.
Dembinski is currently PRIME art director. She was previously the 2020-2021 Illustrations director. She is a fourth-year Molecular, Cell, and Developmental Biology student from Massachusetts.
Iyer is the current Science and Health editor and a reporter for News. She is also an Illustrator and Graphics contributor. She was previously a contributor for the Science and Health beat. She is a third year astrophysics student at UCLA who enjoys writing Physics and Astronomy research articles and drawing accompanying artwork.
Nghi Nguyen
---
Comments are supposed to create a forum for thoughtful, respectful community discussion. Please be nice. View our full comments policy here.
Poll

Polls Archive

Featured Classifieds

670 Kelton ave Los Angeles Ca 90024 Mgr#310-209-0006 2 bedroom + two bathroom 3 bedroom+ 3 bathroom Amenities: controlled access, underground parking, thoughtfully designed lush landscaping, dramatic views from wood roof deck, ideal for socializing State of the art gym, pool, wash/dryer in units, private balconies, C/A top of the line stainless steel kitchen appliances, luxe stone countertops, low maintenance faux wood floors Bright with natural sunlight, custom design bathrooms with stone features. Walking distance to UCLA, WESTWOOD village. • Apartments for Rent

11692 Chenault St LOS ANGELES CA 90049 AMENITIES: CONTROL ACCESS, POOL, BALCONY, ELEVATOR, ON SITE PARKING, DISHWASHER, ON SITE LAUNDRY. TWO BEDROOM + TWO BATHROOM ONE BEDROOM + ONE BATHROOM MANAGERS PH#310-208-0111 • Apartments for Rent

***PALMS*** 4 BD & LOFT + 3 BA $4195.00 / MO 3640 WESTWOOD BLVD. 3670 MIDVALE AVE. ***MAR VISTA*** 4BD + 4 BA $4195.00 / MO 3954 BEETHOVEN ST. OPEN HOUSE DAILY 10 AM TO 4 PM Gated garage, Intercom entry, Alarm, FP Central air, Dishwasher, Stove/Oven www.westsideplaces.com (310) 391-1076 • Apartments for Rent

Home office assistant in Pacific Palisades. Flexible hours. Experience using Microsoft, Quickbooks, Mac Photos (if possible). Call Nancee 310-650-0444. • Personal Assistance

More classifieds »
Content copyright © 2022 the Daily Bruin