This post was updated Sept. 22 at 2:07 p.m.
UCLA opened a temporary COVID-19 testing center at Ackerman Union on Monday morning for people taking or teaching in-person classes.
The temporary testing center will conduct tests Monday and Tuesday, according to an Associated Students UCLA press release Monday. The Ackerman Union site will reopen for testing Sept. 28-29.
ASUCLA expects to test around 1,500 people at the Ackerman Grand Ballroom testing site over the first two days. Testing is by appointment only.
Testing at Ackerman Union is only available for students taking in-person classes, some Greek life members and instructors teaching in-person classes, the press release added. People who cannot make their appointment can schedule makeup appointments next week, said ASUCLA spokesperson Trenise Ferreira.
The tests at Ackerman Union are self-administered and require testees to insert a swab into their nose. UCLA officials performed temperature checks and distributed hand sanitizer to individuals entering the ballroom for testing.
ASUCLA and the Arthur Ashe Student Student Health and Wellness Center are co-hosting the temporary testing site.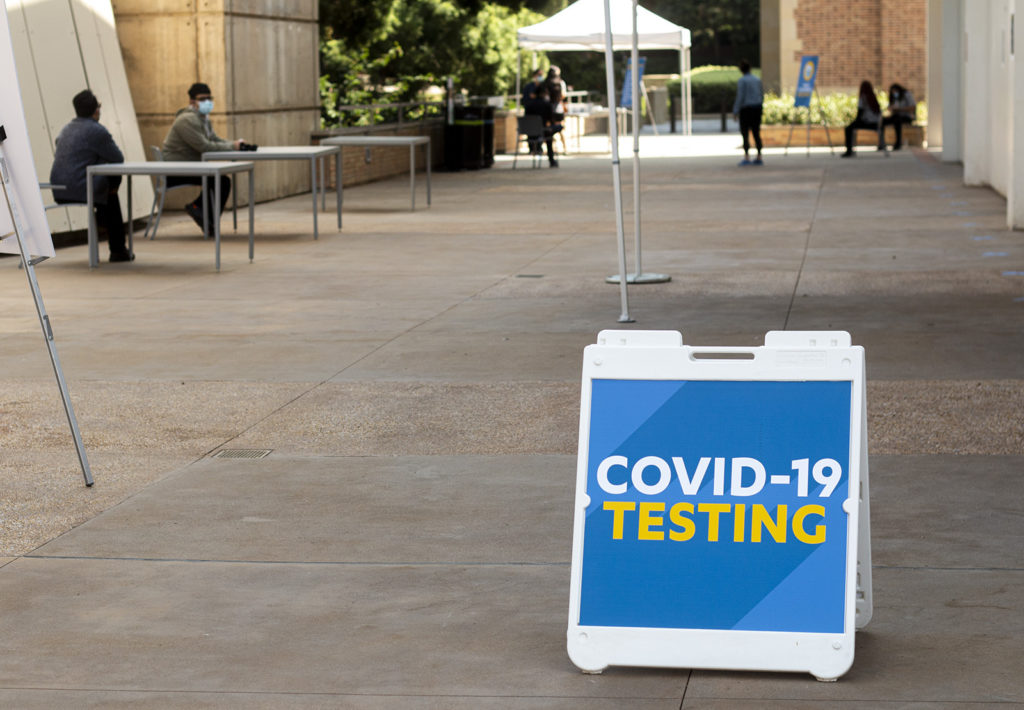 Ashe Center officials and dining hall workers helped give instructions and enforce social distancing at the test site. Officials chose the ballroom because it is the largest available indoor space at UCLA, said ASUCLA spokesperson Marisa Osborne.
UCLA will conduct contact tracing on individuals who test positive for COVID-19 at the site, Ferreira said.
An Ashe Center official declined repeated requests for comment.
UCLA also plans to test all students returning to campus in the fall as they move in, according to its Asymptomatic/Surveillance Testing Protocol. UCLA plans to use the Covel Commons Grand Horizon Ballroom and the Ackerman Grand Ballroom as testing sites this fall.
[Related link: UCLA to likely not fully reopen until effective COVID-19 treatment is available]
229 members of the UCLA community have tested positive for COVID-19 as of Sept. 20, according to the UCLA COVID-19 tracker.
Navleen Kaur, a dental graduate student who took a COVID-19 test at Ackerman on Monday, said she would have preferred to have a medical professional administer the tests, but added the self-administered test was not complicated.
Michelle Ma, a third-year physiological science student who also took a COVID-19 test at Ackerman Union, said she was required to take the test because she is taking an in-person class. Students who take in-person classes are required to test negative for COVID-19 before classes start, she added.
Students without in-person classes who want to take a COVID-19 test must register through the Ashe Center Patient Portal, Ferreira said.
COVID-19 tests from the Ashe Center are free for students with the UC Student Health Insurance Plan and a medical need for a test, according to the Ashe Center website. Students without both UC SHIP and a medical need are charged $65 to $105.
Fall quarter instruction begins Oct. 1.
Contributing reports by Bernard Mendez, News editor.