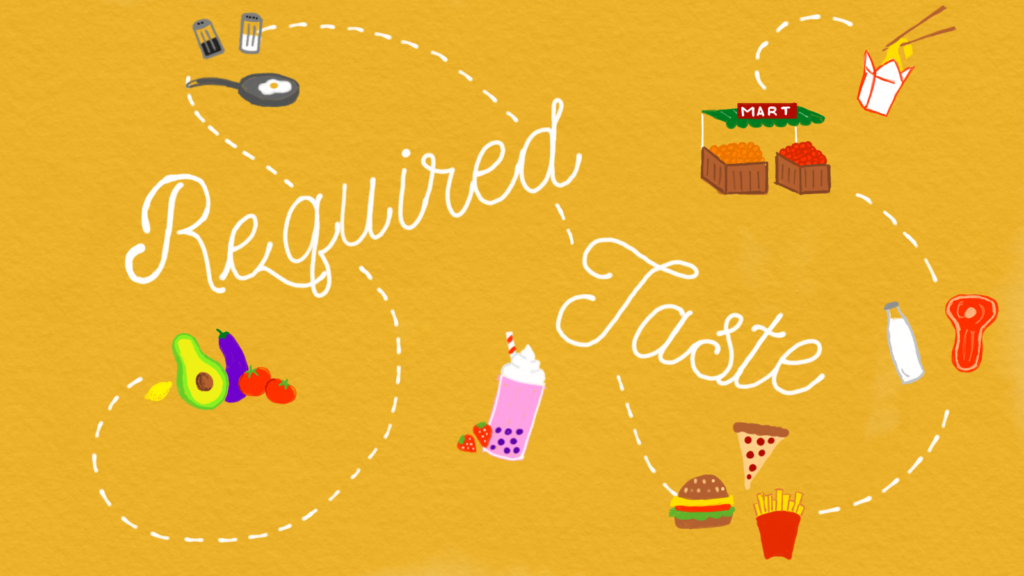 Food has become more than just fuel – alongside nourishing our bodies, it taps into our emotions and can infiltrate our minds. In a country known for its freedom, columnist Zinnia Finn will explore the extent to which American culture is tethered to food and the depths to which we each experience this relationship in everyday life.
At the intersection of social media and food, there's no lack of content to feast your eyes upon.
YouTube boasts pages of "What I Eat in Day" videos, countless Instagram accounts are dedicated to food reviews and the diet-culture side of TikTok is peppered with weight loss tips. The coexistence of food with countless other topics on the Internet brings into question why it has recently become a fixation, but sociology professor Omar Lizardo said the rise of food-related media is far from coincidental. Social platforms are inherently a vicarious way of associating with others – an attribute that is only magnified when combined with the connective ability our society has placed on food.
"The point of a lot of social media is that when you watch something, you're immediately involved," Lizardo said. "You know that you're in a community of other people watching, so there's a sense in which food becomes another way of being together with others."
[Related: Required Taste: The evolutionary basis behind our snacking habits, cravings]
The necessity to virtually connect has been exacerbated by the COVID-19 pandemic, to the point where culinary content reaches nearly every media user, Lizardo said. This increase has also been fueled by new creators, such as Jazmin Tyler, a self-proclaimed health and fitness enthusiast and third-year student at UC Berkeley. Originally sharing healthy recipes on Instagram and TikTok, Tyler said she recently started a YouTube channel to provide her subscribers with long-form content that utilizes food as a bridge for more personal connections. With an opportunity to branch out from static posts and short clips, Tyler said she's enjoyed the process of creating voiceovers for her cooking tutorials and painting a more multifaceted portrait of her life.
"I've been doing a lot of 'What I Eat in a Week,' … where I show a typical week in my life, but through the vision of what's on my plate," Tyler said. "By showing what I eat and by sharing my personal backstory and my relationship with food – I want to inspire other people to realize a healthy lifestyle is all about balance."
Sharing meals like this, albeit virtually, has proven fruitful for connection. However, Lizardo warns that when left unchecked, the positive communities that food creates can lean toward the point of exclusion – particularly over a network as expansive as social media is today.
"Food is a way to connect with others, but we know that in our larger society the food you like becomes a pretty strong marker of the group that you belong to," Lizardo said. "So food unites, but in uniting sometimes divides or classifies people."
Lizardo's sentiment is echoed by Linda Sun, a YouTuber and second-year student at the University of Western Ontario, who said she experienced the divergent power of food when she first was introduced to social media. Although watching food and fitness content ultimately inspired her to create her own videos, she said it originally damaged her relationship with food. Sun said specifically in the scope of 'What I Eat in a Day' videos, there are two main categories – those that positively reinforce healthy eating habits, and those which propagate diet culture and can result in negative out-group emotions.
After noticing a saturation of the latter, Sun started her channel at the beginning of quarantine in hopes of leveraging the beneficial effects of food. She said her biggest goal is to ensure she never makes her viewers feel like their relationship with food is right or wrong – especially because nutrition is so individual.
"I want to validate what they're feeling, and I want to make sure they know what they're feeling is normal," Sun said. "Most people that watch other people eat – they're struggling with(their relationship towards food) themselves."
[Related: Required Taste: Exploring our emotional connection with food brands, marketing]
This pressure for a perfect relationship with food doesn't just stem from what we eat – Sun said she feels that restriction or anxiety surrounding meals can be a direct byproduct of a hyper-focus on physical appearance. Not only do influencers share what they eat through social media, but they also share how these foods aesthetically impact their body. Sun said this is a prevalent issue, particularly for young girls, because so much information on these platforms is altered to emulate perfection – photos can be face-tuned and videos can be edited down to a highlight reel. Only recently have beauty standards begun to shift through a movement of body positivity, which Sun said was a major catalyst for the improvement of her emotional relationship with food and something she hopes to share with her subscribers.
"I think it's really important that young girls now see that it's okay to eat," Sun said. "It's okay to love your body no matter what it looks like."
Lizardo said the disconnect between social media and reality can add an additional layer to our clouded relationship with food – rendering it nearly opaque. This can create an over-idealized image of the meals we consume in both production and presentation, which is detrimental to our food relations in everyday life.
Although it may be an uphill battle, Sun said she hopes to eventually dissipate the pressure of bodily and culinary perfection that surrounds food-centered content. Her ideal world would be void of food-related judgment, and she said her growing sphere of influence on YouTube has inspired her to drive this mindset shift.
Luckily, a community of content creators are yearning for change. Tyler said she too shares Sun's motivation to make a difference, but acknowledges that the media we consume is only part of the equation – she's learned firsthand that the most measurable modifications to our relationships with food arise much closer to home. Media consumption can motivate us to alter an unhealthy mindset, but our personal food consumption is what firmly solidifies any emotional adjustments to our lifestyles.
"I think that the most powerful influence on (my relationship with food) now isn't really social media," Tyler said. "It's kind of just like – me."