Makailah Hernandez's medicine of choice amid a pandemic is beading jewelry.
The third-year psychobiology student is an enrolled Navajo Tribal member and founded the Indigenous jewelry brand Graymountain Beads about a year ago. She said she first began beading after making her brother an eagle feather for his college graduation as part of a Navajo tradition that runs in Hernandez's family. After realizing how rewarding beading was, Hernandez said she reached out to her brother's friend, enrolled member of the Quechan Tribe and UCLA alumnus, Donald Salcedo, for some lessons in the craft.
"It just seemed like a good way to de-stress," Hernandez said. "It was like a medicine, I would say, to get me through the quarter."
But what grew from a hobby into an established jewelry business is now Hernandez's main source of income, she said. The origin of her business's name comes from her great-great-grandmother, Wanda Graymountain, who Hernandez said lived in a Navajo reservation in Indian Wells, Arizona. As a matriarchal tribe, Navajo members always introduce themselves with the name of their mother's clan, so Hernandez said she wanted to continue that sentiment and use what had been her family's name up until recent generations for her business.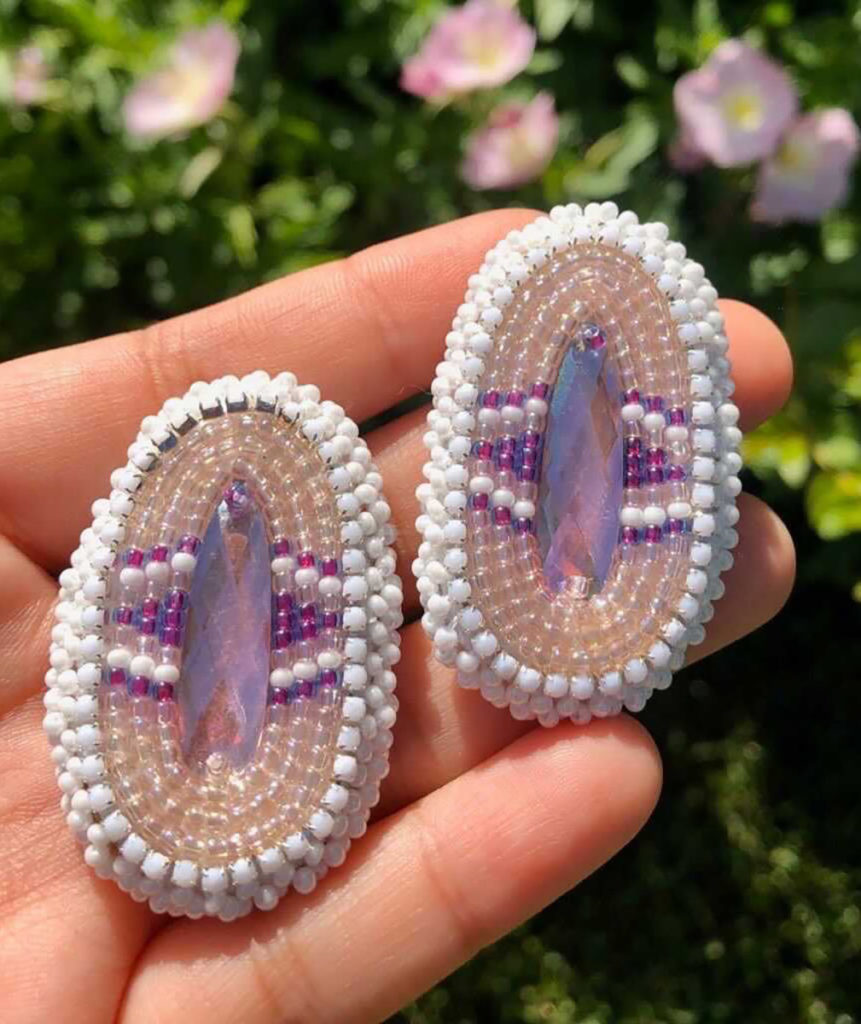 [Related: Student launches jewelry business to support women, mothers via doula training]
Family is a present theme in all aspects of Graymountain Beads. Hernandez said she incorporates her ancestry in all of her jewelry – often using berries gifted to her from her grandmother's cedar tree as "ghost beads," which are meant to keep nightmares away. After the cedar berries fall off the tree and dry in the sun, Hernandez said she boils, peels and uses a needle to poke a hole to make them into beads. It's a very long process, as she said making Indigenous jewelry is an intricate craft. When Hernandez opts to purchase beads, she said she prioritizes Native businesses – usually ordering online from a Southern California company called Dancing Bear Indian Trader.
Sharing her beading prowess, Hernandez said she lets her 11-year-old niece help her out with the business. From teaching her different styles and techniques of beading to the thought process behind picking color schemes, Hernandez said she hopes to continue the tradition of passing down her heritage and appreciation for Indigenous jewelry.
"She's really eager, she likes spending time with me … so it's pretty fun," Hernandez said. "But she does also help with packaging, and writing thank-you notes to customers – it's really cute."
Each piece she creates is for sale on the Instagram account @graymountainbeads and posts are updated when pieces are sold. But of all the earrings, necklaces and bracelets she has handcrafted, Hernandez said she has only kept three pairs for herself.
The majority of her customers are Bruins, and Hernandez said customers often request custom pieces, which gives her opportunities to experiment with new patterns and concepts. This is a challenge Hernandez gladly takes on. A customer and UCLA alumna, Nique Stumbaugh, said she saw a post of a pair of blue-and-yellow hoop earrings, and asked Hernandez if she could adapt it to a rainbow design – which she did. Given the quality and joyful designs, Stumbaugh said she went on to purchase six more pairs of Graymountain Beads' earrings – often saving them to wear for outdoor dining occasions.
"She was really nice about it," Stumbaugh said. "She can make pretty much anything you can come up with if you send her a drawing or something."
Despite the option for customization, Hernandez said she is most often asked to remake one of her original designs – her sunflower earrings. Nature is a common theme in her pieces as not only do many of the beads come from cedar trees, but most of the colors Hernandez uses also represent Earth and water. She said she finds inspiration for color schemes in television cartoons, especially "Avatar: The Last Airbender," noting the colors the characters wear and then applying them to her jewelry.
[Related: Student seeks to spread aloha spirit in Hawaiian-inspired line of wire jewelry]
Hernandez's beads also travel far, with some pieces shipped to customers in Canada and Hawaii. A recent customer and friend of Hernandez, Cheyenne Suzukawa, said she has bought seven pairs of earrings – her latest purchase being purple and blue hoop earrings. As an enrolled member of the Oglala Lakota tribe, the fifth-year American Indian studies student said she especially appreciates supporting Hernandez's endeavor.
"It's a great way to support Indigenous businesses and help with her expenses for school," Suzukawa said. "The Native population within higher education is very low, so it just encourages that."
In regard to finances, Hernandez said she gives herself an hourly wage, noting how long it takes to make each piece. The price of her jewelry is also dependent on the materials she uses – shells like abalone and dentalium are on the more expensive side, as well as other shells that are harder to come by. She also said she takes into account that her work goes beyond the scope of average, store-bought jewelry – rather, her pieces are products of her artistry and expertise.
The income generated by Graymountain Beads has become an essential aspect of the business, as Hernandez said she's a bit more reliant on it because of the impacts of the COVID-19 pandemic. However, she said she doesn't see her business really expanding in the future – or even keeping up with the pace it's at now – for fear of losing the fun and de-stressing aspect of beading. At the end of the day, the main focus of Graymountain Beads is bringing joy, tradition and Indigenous recognition to those who make and purchase the jewelry.
"I think it's important to wear jewelry," Hernandez said. "As much as I think beading itself is medicine, I think wearing Indigenous jewelry is too."