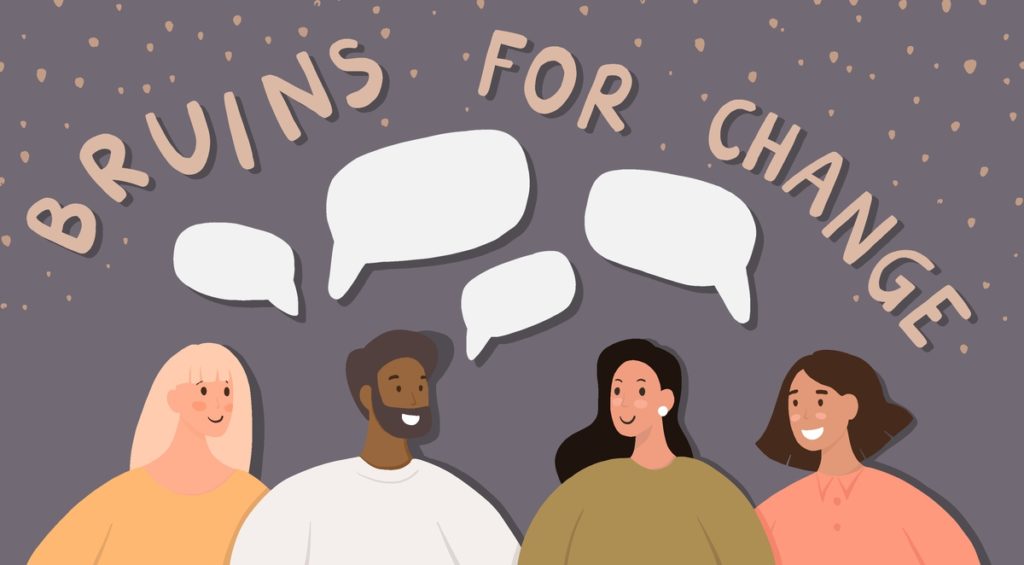 From Jackie Robinson to Cindy Montañez, many Bruins have historically been on the frontlines in taking initiative for social justice issues. Some Bruins are following in their footsteps, using their voices to make change. Bruins for Change will highlight the efforts some Bruins have made to shed light on issues important to them.
Being a nurse is synonymous with being a mental health scholar for Kristen Choi.
Choi, a pediatric psychiatric nurse and an assistant nursing professor, researches mental health services for vulnerable populations, such as victims of trauma and violence. She has also studied COVID-19's impact on mental health services and found that the pandemic has led to a decreased use of mental health services yet a spike in stress.
Choi's work of more than 30 academic articles on mental health policy research has earned her a spot on the 2021 Forbes 30 under 30 list for health care in the United States, making her the sole nurse on the list.
"After the list came out, I got a ton of messages from young nurses that I know who said, 'I never knew that nurses could be on this list, and you kind of gave me the idea that this is possible for me,'" Choi said.
[Related link: Bruins for Change: Student activist advocates for Native American community on campus]
Caitlin Choi, Kristen's younger sister and a nurse at Michigan Medicine, said she thinks the Forbes recognition will help to raise awareness of the research and perspective that nurses can bring to health care.
Johnny Choi, Kristen's younger brother, said his sister's research showed him he could use nursing to advocate for underserved communities. Johnny Choi is a nurse at the Cleveland Clinic and hopes to one day pursue research on access to health care in prison systems.
Currently, Choi said she is working on a study about a model she developed with the help of the Gateways Hospital and Mental Health Center to help people experiencing homelessness and mental illnesses. The model she helped create allows patients to stay in the hospital until they have supportive housing where someone can help them manage their mental illness.
The current health care system causes many people experiencing homelessness and mental health illnesses to constantly be coming and going to and from the hospital, Choi said. Choi added that she hopes the model will help to break this cycle by providing patients experiencing homelessness with appropriate support.
MarySue Heilemann, one of Choi's mentors and an associate nursing professor, said Choi's willingness to work with others and find new and relevant research opportunities helped advance her career.
"She was always listening and open to seeing when there was a door or a window that she could walk through and simply came up with other people who cared about the same issue," Heilemann said.
In the summer of 2020, during the height of the Black Lives Matter movement, Choi collaborated with 19 other researchers on an article about police brutality and nursing.
The article, published in the International Journal of Nursing Studies, focused on how racism can manifest in nursing practices – such as by withholding treatment – and how nurses can address the issue by emphasizing the role of nurses in the community, challenging racism in health care and involving patients in the decision-making process.
6/ – Detain patients involuntarily for psychiatric treatment
– Place patients into seclusion/restraints
– Surveil patients in their homes to enforce treatment compliance
– Function as gatekeepers between patients & healthcare resources, policing patient movement & agency

— Kristen Choi, PhD, RN (@kristenrchoi) August 5, 2020
Choi said she was inspired by UCLA students and faculty, who at the time wrote letters to department chairs and program directors to address racism. Choi added that she was motivated to write the article because, while she read several publications on the impact of racism in medicine, she did not see any that focused on nursing.
Alex Fauer, a mentee of Choi's and a co-author of the article, said the article raised awareness of the role of nursing in restorative justice and is reshaping the way nurses learn about social justice and racism.
Expressing her ideas about mental health research wasn't easy, Choi said.
At the age of 25, Choi completed her nursing doctorate at the University of Michigan. Sometimes, Choi said, people did not take her ideas seriously because she completed her doctorate at a relatively young age. Many people, especially nurses, don't pursue a doctorate until much later in their career, she added.
To overcome these obstacles, Choi has a threefold approach: believing in her own ideas, surrounding herself with colleagues who are passionate about reforming the health care system and connecting with patients.
"Seeing people get better is just the most rewarding thing in the world," she said. "It really inspires me to know that this is important."
Choi said she became a mental health researcher because of her exposure to the foster care system.
Growing up, Choi's family involved themselves in the foster care system. As a result of her upbringing, Choi said she gravitated toward patients who have a turbulent history or mental health issues when she pursued her undergraduate degree in nursing at the University of Michigan.
"I saw firsthand how damaging abuse and neglect and other kinds of violence can be to kids when it happens early in their lives, and I always had an interest in addressing that," Choi said.
Kia Skrine Jeffers, an assistant nursing professor, said Choi blends her nursing practice and research to create applicable work.
"Her awareness about people and her engagement with the world informs her research in a way that it's actionable, (and) it helps to address problems that are happening right now," said Skrine Jeffers, who is also associate director for the arts at the Center for the Study of Racism, Social Justice & Health. "It's not research that you want to have an impact in 20 years, but it's relevant, timely, impactful."