This post was updated April 3 at 3:52 p.m.
INDIANAPOLIS — As I was driving home from the Pac-12 tournament in Las Vegas three weeks ago, I thought I had covered the Bruins in person for the final time.
I had spent three years on the UCLA men's basketball beat for the Daily Bruin and had been in the press box for 25 games at that point. The second-half collapse against Oregon State seemed like it would be the last of such games, with the Bruins barely hanging onto the NCAA tournament bubble and travel plans for March Madness looking shaky at best.
And now, here I am in Indianapolis, following the team and making one last hurrah before graduation.
I'm not alone either – there are actual fans at these games for the first time all season for UCLA. The atmosphere, as a result, is vastly different than it was at the near-silent Pauley Pavilion, and Indianapolis being decked out in Final Four decorations doesn't hurt either.
I could rave about how great it is to be in Indianapolis from a basketball perspective – and trust me, I have to my friends and family since arriving for the Sweet 16 on March 27 – but I thought it would be best to take some time to reinforce the importance of boots-on-the-ground student journalism, especially in these weird and stressful times.
To get to where I am today, covering the Bruins on an unexpected Final Four run, took a lot of work from a lot of people. Coordinating and paying for the trip was quite the complicated process, but I had Sports Editor Jack Perez and Editor-in-Chief Melissa Morris on my side to help bring it all together.
Not everyone else is so lucky.
UCLA isn't the only team in the Final Four, which means I'm not the only student journalist trying to cover the event. Baylor Lariat Sports Editor DJ Ramirez was hoping to make the trip to Indiana in her senior year, but the university told her the student paper was barred from traveling for any sport for the entire spring semester.
"For me, it's my senior year, and that's an experience I was really looking forward to as a student journalist," Ramirez said. "We probably would have had more in-depth coverage of the tournament if we were in the bubble."
Ironically, Baylor Student Activities announced it would be stuffing a select number of students on a bus and driving them up to Indianapolis for Saturday's game, all while still locking the Baylor Lariat Sports section on campus for the weekend. Ramirez said it wasn't a budget problem that led to this, just a misalignment of COVID-19 protocols.
Gonzaga's student paper, the Gonzaga Bulletin, didn't have anyone in town to cover the first few rounds of the NCAA tournament, but it did get permission, funding and credentials to send a writer to the Final Four. That was until there were some last-second issues that wound up canceling the trip, meaning they too will have to cover the games from their own apartment, roughly 2,000 miles away.
Gonzaga Bulletin Sports Editor Asher Ali said his publication will certainly miss out on some major moments by not being in town for the weekend, but also said it pushed them to get creative with their coverage.
"If anything, we're definitely ramping (our coverage) up more, just because we're trying to compensate for the fact that we're not there," Ali said. "We're just trying to find more unique angles since it's such a weird year and there's so much more of a novelty element to this tournament."
That leaves Daily Cougar Sports Editor Andy Yanez and I as the only two student journalists in Indianapolis covering their schools' teams.
Talking to Yanez, I found our experiences have been pretty similar so far. Both of us had turned plane and Airbnb snacks into meals and rescheduled return flights at the last second when our stays went longer than expected.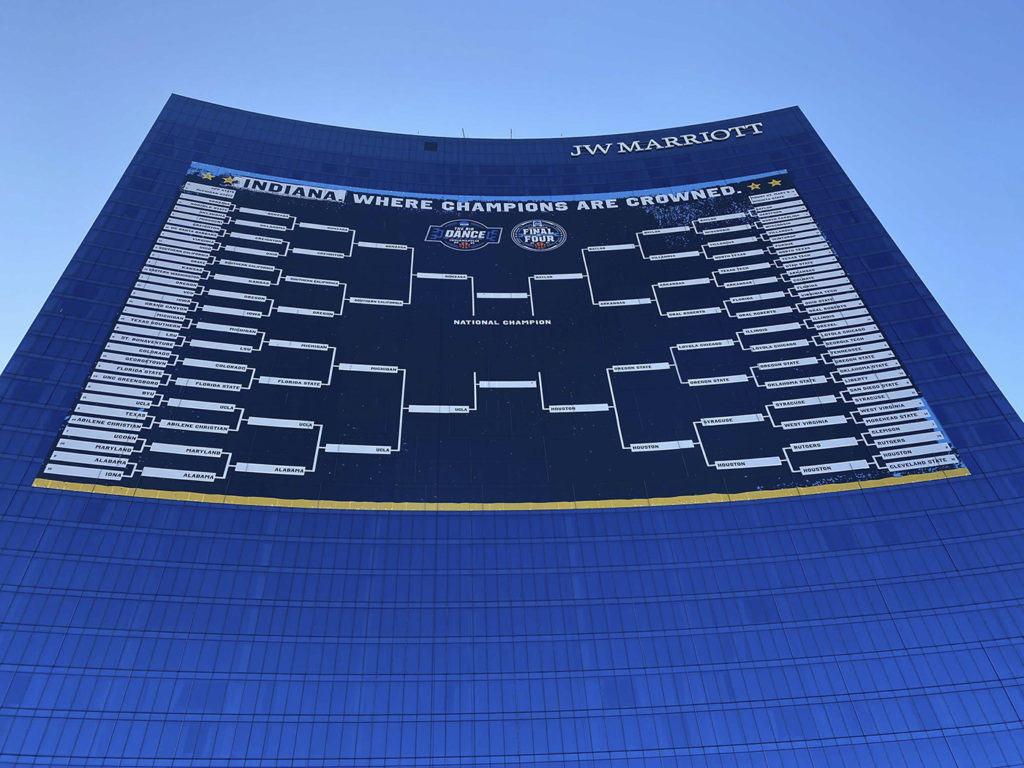 Tracking the team alongside reporters from the Houston Chronicle and other professional outlets gave Yanez a new perspective, he said, since none of them had been around when Houston made its last Final Four in 1984.
"These guys have been covering them much longer than I have," Yanez said. "Here I am, (in) my first real full year where I covered the team, and they have a chance to go to the Final Four."
Yanez was also able to say "Hello, friend," to iconic CBS Sports play-by-play announcer Jim Nantz at the Cougars' open practice Friday morning, and even found out Nantz had read and enjoyed some of his work for the Daily Cougar this season.
While I can't say I've bumped into any national treasures with silky smooth voices on my trip to the Hoosier State, I've still done things I never would have been able to back in Westwood.
I've met and talked to some of the players' parents, captured videos of wholesome moments not seen on TV and actually interviewed sources face-to-face for the first time since the pandemic started, all while sitting courtside at the biggest games of the year. I've spent hours on end working in the downtown media hub and been invited on podcasts, radio shows and local news stations to talk about my experience covering UCLA throughout the week.
When student papers treat their reporters like professionals, audiences do too. When student journalists show they can step outside their campus bubbles and follow in the footsteps of national publications, people notice. The editorial staff at the Daily Bruin knows this, and I'm glad we were able to put it all into motion this week.
It's not impossible to cover major events from afar – the past 13 months of the COVID-19 pandemic have shown us that. But as was the case before the pandemic, being somewhere in person will almost always lead to more in-depth, well-rounded journalistic coverage and an improved reputation for everyone involved.
Fingers crossed that can become the new "new normal" sooner rather than later.