Around 100 individuals gathered near the Wilshire Federal Building on Sunday in protest of the recent Israeli-Palestinian conflict, supporting either Israel or Palestinians.
Demonstrators supporting Israel began gathering on the south side of the intersection of Wilshire Boulevard and Veteran Avenue on Sunday afternoon. Pro-Palestinian protesters gathered on the northeast corner that afternoon, raising Palestinian flags.
International scrutiny of the Israeli-Palestinian conflict, which has spanned decades since 1948, has risen in recent weeks as some Palestinians have been forcibly evicted. In the recent escalation of violence, Israeli strikes against Gaza have killed at least 126, according to The Associated Press. Hamas, a pro-Palestine organization with an armed wing, has reciprocated with rocket attacks, killing at least seven as of Friday, according to the AP.
Sunday's protest was the second on Wilshire this weekend; hundreds of pro-Palestinian protesters took to the streets the day before.
[Related link: Hundreds protest Israeli attacks on Palestinian territories at Wilshire Federal Building]
Demonstrators supporting Israel carried signs on Sunday reading "Israel we stand with you" while those supporting Palestinians carried Palestinian flags. Neither side organized a formal street march.
LAPD responded to Sunday's protest with more than a dozen vehicles and several motorcycles monitoring both groups of demonstrators.
The LAPD did not immediately respond to a request for comment.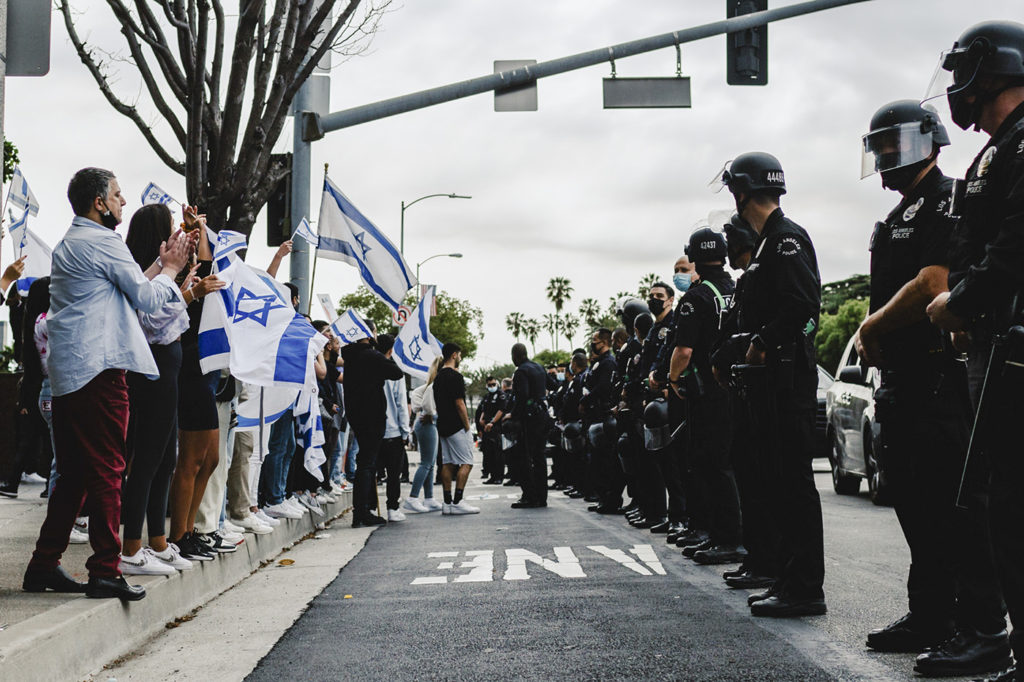 Yosi Feldman, a pro-Israeli demonstrator, said he believes that Israelis and Palestinians can live together peacefully, referring to a two-state solution for Israel and Palestine.
On the other side of the intersection, Yahia Abdalla, one of the pro-Palestinianprotesters, said he came to fight for his country. Abdalla, who was also present at the pro-Palestinian protest Saturday, said the Israeli government is evicting Palestinians to take more of their land. He also said he thinks a two-state solution is unfeasible because Israel does not respect Palestinian land.
Hamza Kafi, who supports Palestinians, said Israel has grown stronger because of the backing of the United States. The U.S. contributed about $3.3 billion in military aid to Israel in 2019, according to the United States Agency for International Development.
"I'm going to come here because I'm not in Palestine," Kafi said. "I cannot go fight Israeli soldiers. I cannot go protest with my Palestinian brothers and sisters in Palestine. So I'm out here in America to show my support to my Palestinian brothers and sisters."
Contributing reports by Naveed Pour, Daily Bruin contributor.