This Pride Month, a few Bruins discuss what it is like to be a transgender athlete amid political conversations.
The recent wave of anti-transgender legislation in America has honed in on athletics. According to ABC News, at least 31 states have proposed or passed bills that would ban transgender athletes from competing under the gender identity they identify with.
Legislators and politicians hoping to ban transgender students from participating in their respective sports say cisgender athletes are at a disadvantage compared to their transgender counterparts, according to NPR.
But for Wren Exley, a fourth-year psychobiology student and UCLA club gymnast, this argument is just another way to alienate transgender athletes.
"I almost feel like people don't care a lot about women's sports, which is a problem. They don't pay the same attention that they pay to men's sports until it comes to barring trans people from competing," Exley said. "Stop alienating trans people in so many ways because I just feel like so many aspects of our lives are medicalized."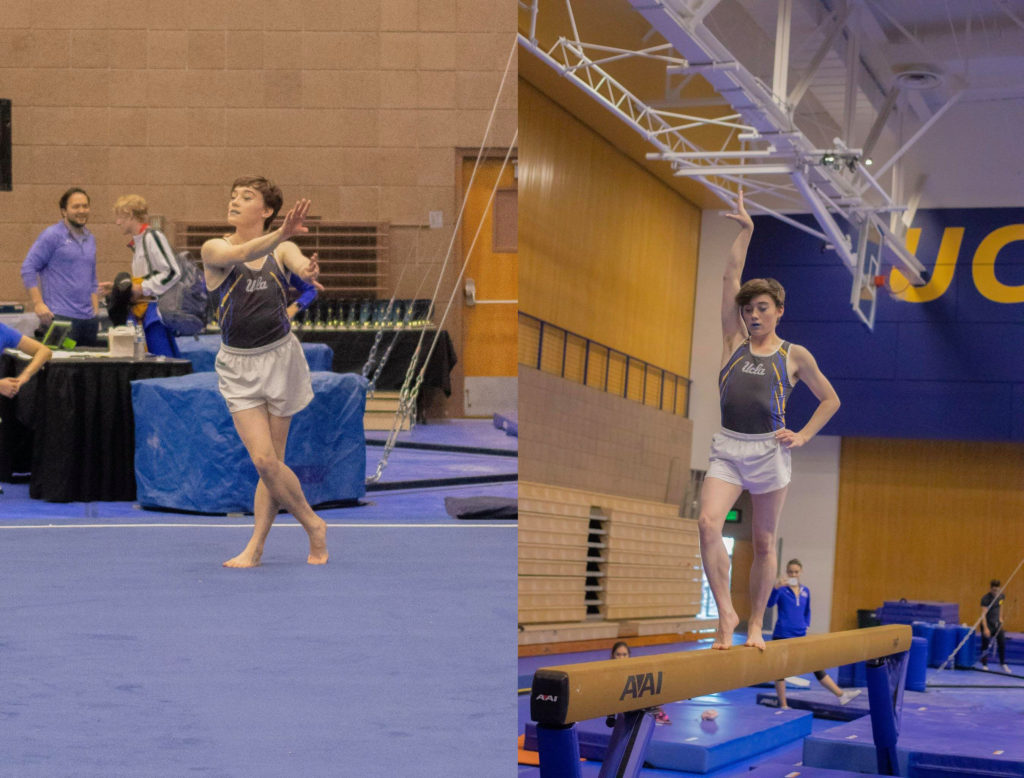 Exley added that while he has found a supportive group of gymnasts on the collegiate circuit, there's still a bit of animosity in his hometown.
"When I came back to visit my coaches there were a lot of comments about how I've changed. And so in my home gym, I didn't really feel very accepted," Exley said. "It was hard because when you're in doing a sport like gymnastics … your coaches kind of become like your second parents. It was almost like being rejected by the people who raised me."
Exley's personal experiences with discrimination as a transgender athlete may have to do with longstanding American ideologies.
Gender studies doctoral student Sarah Montoya said in an emailed statement it's not surprising anti-transgender legislation is passing through states when the United States has a history of targeting marginalized communities.
"The targeting of people who fall outside state and socially sanctioned normative categories is pervasive and characteristic of U.S. history. Ultimately, these actions sanction violence toward the communities it polices," Montoya said. "The policing of bodies furthers the project of state surveillance and upholds heteropatriarchy."
Montoya's sentiments are also reflected in the absence of real-life cases of transgender athletes adversely affecting athletic programs, according to Associated Press, despite legislators claiming otherwise.
Furthermore, according to the National Women's Law Center, biological differences in athletes' bodies are normal, and creating policies targeting these differences may lead to further gender discrimination.
According to Title IX of the Education Amendments of 1972, it is illegal to discriminate based on a student's sexual identity. An executive order issued by President Joe Biden on Jan. 21 also upheld the ideals of this amendment.
As to how America will support its transgender athletes if these legislative efforts become widespread, there is no clear solution. But for Exley, change starts with properly educating and informing people.
"I had a class the other day where … my classmates were presenting on like the difference between cisgender and transgender brains and how the science is going to help us make advances for trans people," Exley said. "I feel like that's not the point. … We don't need science and medicine to justify our existence."
But change may not be the answer for everyone.
Emery Moberg, a fourth-year biophysics student and UCLA figure skater, said the figure skating community has never addressed transgender athletes. Moberg believes sudden support or solidarity with the transgender community would make transgender skaters feel singled out.
"I don't (think) that any sort of gesture of acceptance would feel genuine. I think at this point, it has gone unsaid for so long," Moberg said.
This isn't without going to say silence from the figure skating community is completely welcomed by Moberg. In fact, the seemingly never-ending debate on transgender students' rights to participate in athletics has created a sense of uncertainty for him.
Moberg added that a lack of discussion on transgender athletes has created a newfound fear of what his future in athletics might look like.
"There hasn't been much public discussion of trans figure skaters. And as a result of that, there have not been any rules made about who can compete in what divisions," Moberg said. "If we (do) have a conversation about what can we do to make trans skaters feel welcome, it might also turn into a conversation about how should we control when trans skaters can compete."
For Exley, this feeling of uncertainty may be rooted in society itself.
"The problem is with society and these boxes that we try to put people into where you have to do this, this and this to be a woman, (and) you have to do this, this and this to be a man," Exley said.
Moberg said it is important to practice self-care despite the uncertainty of navigating the athletic fields at these times.
"Sports already put a lot of pressure on everyone to perform at their best, and it's certainly difficult to perform your best when you have to worry about all of these rules and extra testing that you might have to go through," Moberg said. "If you love your sport, don't let anyone drive you away from it."