This post was updated July 18 at 4:41 p.m.
Nala and Ryder are cutting deep with their Ultimate podcast.
Alumni Maddy Fisher and Frankie Clarke are using their podcast "The Ultimate Talk" to update listeners on the college Frisbee scene. With topics ranging from other schools' teams to various types of toast, the pair explore Ultimate Frisbee while informing listeners inside and outside of the community on recent Frisbee events. The monthly podcast episodes are released on Spotify and aim to educate listeners while providing commentary on the world of Ultimate Frisbee from the perspective of two college athletes.
"We can talk about Frisbee so easily for a long time, and we really like to do that," Clarke said. "We think that with this podcast, it would be fun to have an outlet to really talk about college Frisbee, and we didn't see anyone doing that because Frisbee (is) still a growing sport."
When recording the podcast, the alumni chose to go by their Frisbee nicknames: "Ryder" for Fisher and "Nala" for Clarke. These nicknames, Clarke said, are a UCLA Frisbee norm, and players are granted special names at a Friendship Night toward the end of the fall quarter that correspond with quirks or stories associated with the players. Clarke said her nickname comes from the character Nala in Disney's "The Lion King" and Fisher's nickname references actress Winona Ryder. Many Frisbee teams at schools on the West Coast, including the men's team at UCLA, use nicknames as well, she said.
[Related: Students delve into diverse narratives of popular films in new 'Iridescence' podcast]
Fisher said they started the podcast in 2019 because they realized how much they enjoyed talking about Ultimate Frisbee together. After gaining traction and posting regular episodes, she said the feedback they received from listeners inspired them to continue recording weekly episodes. Fisher said getting messages from listeners asking how to get involved in the college Frisbee community motivates them to continue making their episodes more informative and personable.
"Our podcast really focuses around college, and I think that's super interesting because we're in college," Fisher said. "It's not like we're 40-year-olds looking at college Frisbee. We know how people train in college right now, so I think that's why people are pulled into our podcast."
When the COVID-19 pandemic hit, Clarke said the podcast's content shifted to featuring special guests and talking about their post-graduation plans because of the decrease in Frisbee activities in the community. Also, because of social gathering restrictions, the pair had to cut their posting down to once per month instead of once per week. Clarke said the main goal of the podcast amid a relatively quiet time in the Frisbee world has been releasing quality content that is fun for listeners. By inviting special guests and speaking on topics such as mental health and the duo's favorite shows, Clarke said they have continued putting out podcasts that listeners respond positively to.
"It's so hard to talk about Frisbee when Frisbee is not happening," Clarke said. "To really try and be creative and think of topics that we can talk about for 30 minutes to an hour is really difficult. To get a quality episode every month is the main goal without it being boring."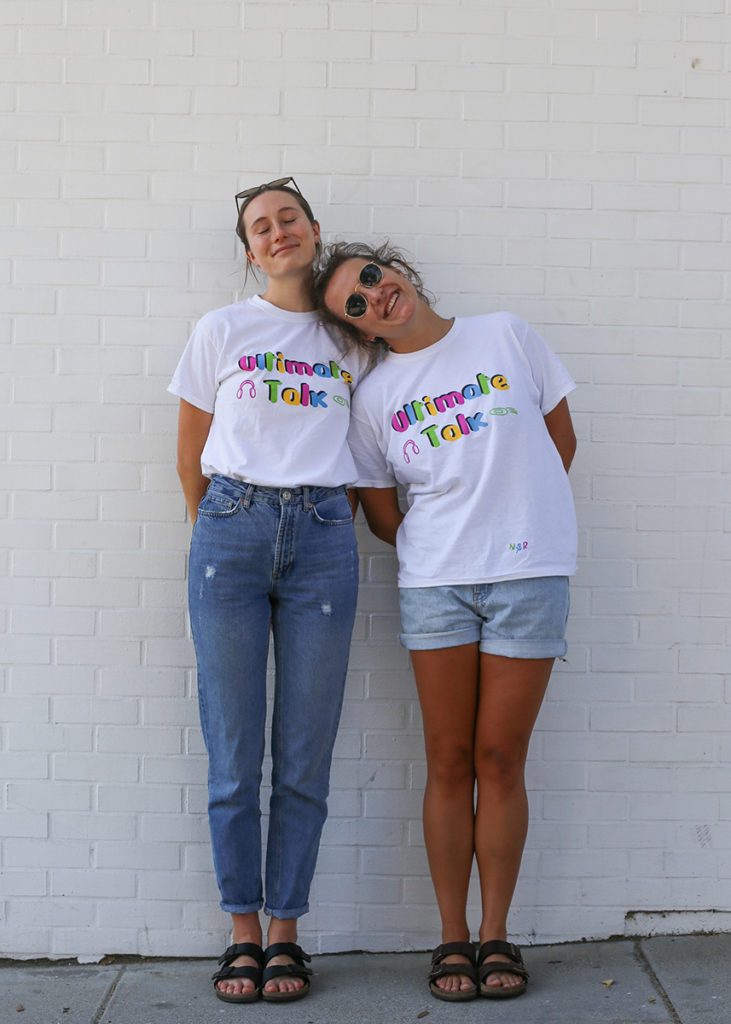 [Related: Alum's 'Finding Founders' podcast seeks to highlight, humanize business leaders]
Fourth-year cognitive science student Elliot Shin said he likes that Fisher and Clarke have created a space for Ultimate Frisbee within the growing world of podcasts. Watching incoming students discover more about the college Frisbee community is fun to witness, and he said the pair's ability to be personable in their episodes mimics the welcoming environment of Ultimate Frisbee. Shin said the lack of Frisbee-related podcasts also makes listening to the pair compelling because the general public can get a sense of the sport's college scene.
"They are primarily focused around Ultimate Frisbee and they talk about Ultimate-related things," Shin said. "I haven't really come across many podcasts that do that, so I think it's really fun."
For Fisher, the gradual shift away from COVID-19-related topics inspires her to keep posting monthly episodes. As the transition back to in-person practice approaches, Fisher said she looks forward to experiencing tournaments and hopes to comment on them soon. Despite their status as recent graduates, Clarke said the alumni hope to continue commenting on club Frisbee at the college level in their podcast. With a rescheduled national tournament set to take place in December, she said the ability to speak on college Frisbee still looks like a possibility.
"We're definitely not out of the Frisbee community and have so much fun still talking about it," Clarke said. "I think (the podcast) will still go because we love it so much and people are so supportive."