Though the Bruins' squad is rife with experience from its returning veterans, there are still a few "firsts" to look forward to come Saturday's Rose Bowl kickoff.
UCLA football will be looking for its first nonconference win under coach Chip Kelly after going a combined 0-6 against nonconference opponents since 2018. With its first matchup of the season against a Hawai'i squad that went 5-4 in the Mountain West conference a year ago, UCLA has a golden opportunity to start the season with a tally in the win column – something the Bruins haven't been able to do since 2017.
Saturday will also mark the first time in over a year that fans will be allowed back into the Rose Bowl, after COVID-19 restrictions barred audiences throughout the 2020 season.
"Today, at practice, it felt like the first day of school," said senior quarterback Dorian Thompson-Robinson. "Just having a packed crowd out there is going to make guys more excited. So we're excited to hear that Bruin roar and just get things going."
After finishing fall camp last week, the Bruins began preparations for the Rainbow Warriors on Saturday. With an off-day Sunday, UCLA was back out on the practice field Monday. The media was only allowed to stay for the first 20 minutes of practice and got a look at kickoff drills on the north-side practice field.
On the far side, Thompson-Robinson – along with redshirt freshman quarterback Ethan Garbers and redshirt sophomore quarterback Chase Griffin – was practicing handoffs with the tailbacks. Per the reporting from Sports Illustrated's All Bruins site, Thompson-Robinson was seen working with redshirt senior running back Brittain Brown, while Garbers and Griffin handed the ball off to junior running back Zach Charbonnet and redshirt sophomore running back Keegan Jones, respectively.
UCLA is expected to release an official depth chart by the end of Monday.
Last season, Hawai'i was ranked No. 105 in stopping the run, allowing over 200 yards on the ground per game. Brown – the Bruins' presumed lead back for Saturday's game – said his team's gameplan should involve plenty of touches for the Bruin tailbacks.
"I'm pretty sure we're going to want to get out there and run on these boys," Brown said. "I think I'm going to get plenty of touches going into this game."
Adding to the depth of the Bruins' running backs is redshirt senior running back Ethan Fernea, who will spend his first collegiate season officially listed as a running back. Entering his sixth season with the program, Fernea was converted to the position in the offseason after playing wide receiver and special teams for the previous five years.
"(Fernea)'s transition's been seamless," Brown said. "He's like a natural runner with the ball, he knows what he's doing, he's an experienced guy, a sixth-year guy just like myself, a football player, so he moves like a running back and he looks like he's been there his whole life."
Though Brown will be entering his sixth season of NCAA football, Saturday's game will still present another "first" in the veteran's collegiate career. After transferring from Duke following the 2019 season, Brown will play for the first time in front of fans in Pasadena.
"I'm hoping the atmosphere is everything it's supposed to turn out to be," Brown said. "I'm hoping we can fill that stadium up."
A Cold Shoulder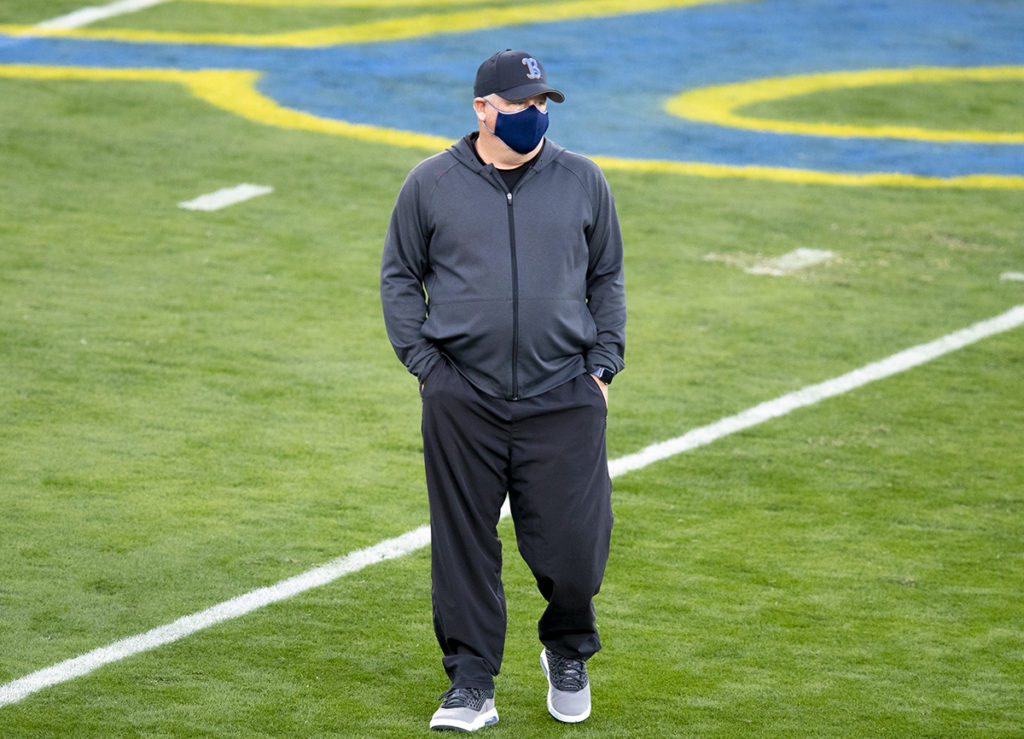 Though Thompson-Robinson and Brown were excited for the return of Bruin fans to the Rose Bowl on Saturday, Kelly said he didn't understand the sentiment behind questions about his own fan outreach.
"Well it's been two years now since we've had fans, so you're going back a ways there in terms of the (2019) season, so I really don't understand what that means," Kelly said in response to a question about his efforts to connect with fans.
UCLA Athletics hosted a kickoff dinner Friday for donors to the program – the first time Kelly and the team have been able to interact with fans in nearly two years.
But Kelly said his focus was elsewhere when asked about his experiences with booster events.
"I go to whatever they ask me to go to here, so I'm not in charge of the scheduling of that," Kelly said. "That's all coordinated through the athletic department."