This post was updated Sept. 6 at 8:24 p.m.
Editor's note: Editorials are intended to serve as the jumping-off point, not the conclusion, to discussion. As part of the Daily Bruin's commitment to its readers, the board hopes to present a responsible and clear analysis of relevant events and news items affecting the lives of those we serve, but our editorials are not representative of the Daily Bruin's views on issues as a whole. We encourage all readers to reach out to our board members and to respond to our editorials.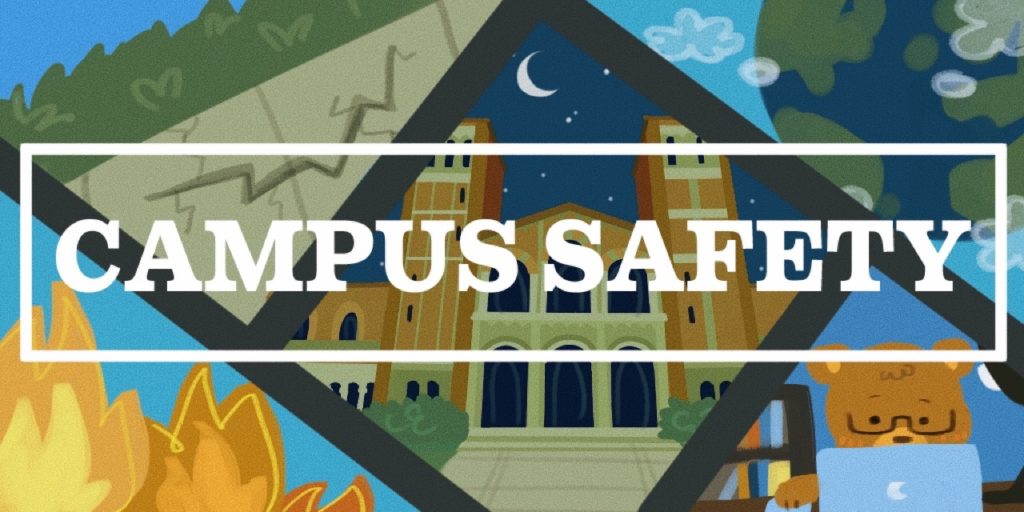 UCLA's campus is almost 100 years old and with old age comes problems. In the face of an ever-changing world, the editorial board examines what the university can do to keep Bruins safe from a torrent of dangers, whether they be natural or man-made.
Heat waves are an all-too-common phenomenon for Californians.
Earlier this summer, California faced scorching weather with temperatures reaching triple digits in the state's inland regions. This summer also featured a deadly heat dome in the Pacific Northwest, where hundreds of people were killed because of the heat. Both June and July of this year were California's hottest June and July on record.
Heat waves in Southern California have grown in intensity, frequency and duration and will likely put many in harm's way. As students get ready to return to campus in less than a month, UCLA must commit itself to improving campus safety by implementing infrastructure-related initiatives that mitigate the potential dangers of heat waves. The health, well-being and educational prospects of the Bruin community are at risk.
According to the World Health Organization, heat waves can expose impacted individuals to severe health risks such as fainting, headaches, heat rashes, severe dehydration and even acute cerebrovascular accidents.
Heat waves also increase the likelihood of work-related injuries and may exacerbate behavioral and physical stressors.
Clearly, no one is safe from heat waves. An issue as pervasive as this demands a robust response from UCLA.
Not to mention, heat waves pose a threat to the university's physical campus. Extreme heat increases the likelihood of wildfires, which can endanger lives and structures alike. For example, the Getty Fire in 2019 burned at least 745 acres before being contained. Additionally, they can lead to blackouts.
However, these costly impacts can be mitigated by proper infrastructure and campus preparedness.
Small environmental acts such as planting more trees and increasing campus greenery are essential first steps to keep surface temperatures low. UCLA should also rethink its urban design, as locations with more asphalt experience a greater impact from heat waves.
The university can also ensure mitigating measures, such as air conditioning, green roofs and energy efficient equipment, are available in all buildings on campus to protect as many students, faculty and staff as possible.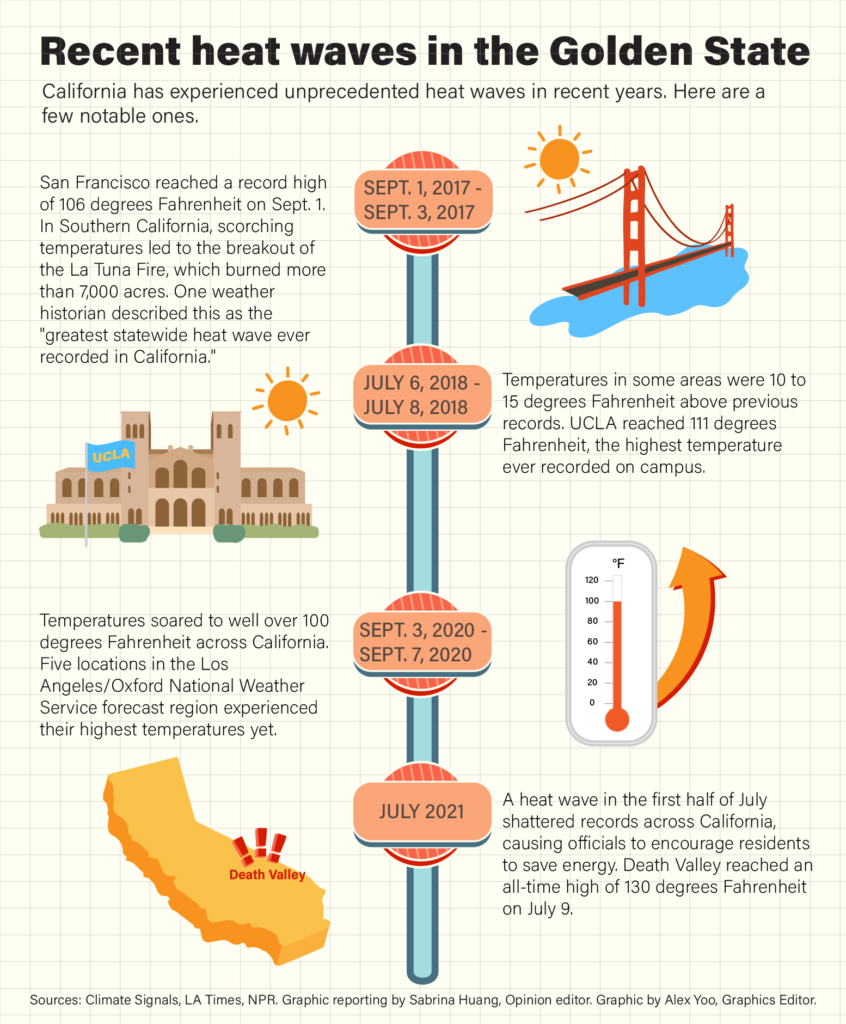 While UCLA has not outlined specific campus infrastructure efforts, it has made significant strides in improving its response to heat waves, which deserve to be applauded.
Nurit Katz, UCLA's chief sustainability officer, said UCLA is collaborating with campuses across the University of California to develop a climate resilience plan grounded in justice, equity and inclusion that will address the impacts of climate change-related disasters. Campus entities such as UCLA Environment, Health and Safety also host heat-illness training and programs for their staff, Katz added.
Furthermore, UCLA is doing great work within the community. In the same statement, Katz mentioned a team of 10 professors was recently awarded more than $950,000 to spearhead a project that will examine the rise in the number of extreme heat days in Los Angeles.
While these efforts are certainly steps in the right direction, UCLA needs to develop transformative plans for its own campus that prevent Bruins from experiencing the dangers of heat.
Sustainable urban infrastructure is key to mitigating heat wave risks, but so is the university's commitment. With both in full force, rising temperatures will hopefully be one less thing for Bruins to worry about.