Editor's note: Editorials are intended to serve as the jumping-off point, not the conclusion, to discussion. As part of the Daily Bruin's commitment to its readers, the board hopes to present a responsible and clear analysis of relevant events and news items affecting the lives of those we serve, but our editorials are not representative of the Daily Bruin's views on issues as a whole. We encourage all readers to reach out to our board members and to respond to our editorials.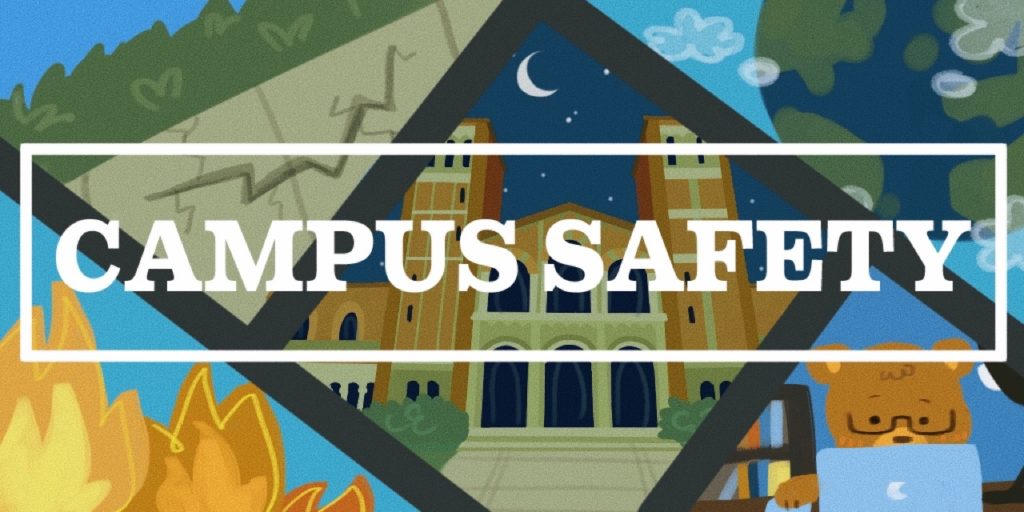 UCLA's campus is almost 100 years old, and with old age comes problems. In the face of an ever-changing world, the editorial board examines what the university can do to keep Bruins safe from a torrent of dangers, whether they be natural or man-made.
For Bruins who attended UCLA before the pandemic, the scene is all too familiar.
Apocalyptic clouds shrouding a blood-colored sun. Flares of red glowing menacingly from the other side of the I-405 Freeway. Ash is raining from the sky.
Unfortunately, these horrific sights are doomed to return. Los Angeles Mayor Eric Garcetti warned Angelenos on Aug. 23 to prepare for the peak fire season in Southern California. California has already seen almost 7,000 fires in 2021 which have seared more than 1.9 million acres of land, according to the California Department of Forestry and Fire Protection. Record heat waves and the extreme drought in the state only compound the problem.
Therefore, the question is no longer if there will be wildfires near UCLA; it is when they will appear next and whether the university is ready.
However, UCLA's track record shows it still has a lot to do in terms of preparing the campus community for wildfires.
Whether it was the Skirball fire in 2017 or the Getty fire in 2019, administrators failed to communicate the situation to students as soon as information came in. The university also dragged its feet in canceling classes, putting students, staff and instructors – particularly those who commute or have disabilities – at risk.
The lack of a timely response forced many students to risk their physical health to attend lectures.
Moreover, few students likely know of or understand UCLA's protocol for evacuating. For a campus with tens of thousands of students, faculty, staff and visitors, lack of preparedness could have devastating consequences. Getting students ready before a wildfire can significantly improve the outcomes during an emergency.
To be fair, UCLA does have the infrastructure needed to communicate effectively with students about its plans in the event of crises such as wildfires.
Lisa Martin, executive director of emergency management for UCLA Environment, Health and Safety, said in an emailed statement that UCLA uses the BruinAlert system and social media to notify the community of emergencies. Anyone with contact information in the university directory or MyUCLA will automatically receive emails or text messages. In emergencies, Bruin Safe Online will also communicate changes to classes, campus operations, activities and other essential functions.
These tools will do well to serve students only if UCLA learns from its past missteps and provides updates frequently and in a timely manner.
Martin also said UCLA Transportation developed an evacuation plan to ensure community members' safety, adding that the university will discuss the importance of emergency kits and evacuation preparedness at New Student Orientation and other events.
The plan, however, offers no clear guidance for what steps students, faculty and staff should take in the event of an evacuation. To ensure community members' safety, UCLA needs to teach them what to do during a wildfire before the start of the academic year.
The university also cannot forget that its students won't just be impacted by fires in the area surrounding campus, but by fires in the vast Los Angeles metropolitan area as well. When a wildfire's impact becomes clear, the university has to swiftly provide academic accommodations or utilize the virtual infrastructure built up during the pandemic to provide online instruction.
Climate change has intensified the occurrence of extreme weather and made wildfires more likely. Administrators must take action to protect the campus community.