Graphic: UCLA Dorm Essentials
---
Posted:
September 18, 2021
10:00 am
---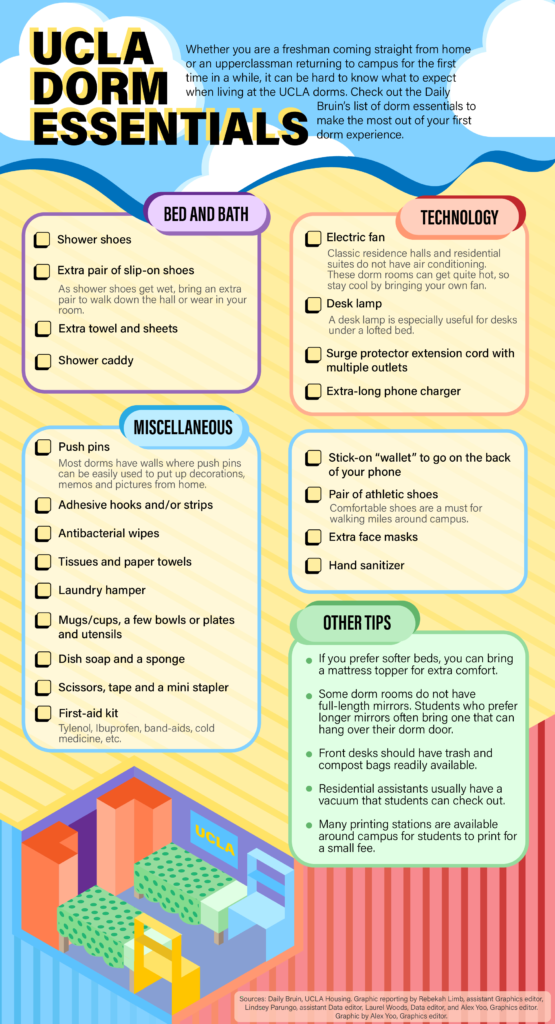 Yoo is the 2021-2022 Graphics editor and was previously a 2020-2021 Graphics contributor for the 2020-2021. She is pursuing a B.S. in cognitive science with a specialization in computing and a minor in digital humanities.
Assistant Graphics editor
Woods is the 2021-2022 Data editor. She is also a fourth-year cognitive science student.
Parungo is the assistant Data editor. She was previously a developer for The Stack. She is a third-year financial and actuarial mathematics student.
---
Comments are supposed to create a forum for thoughtful, respectful community discussion. Please be nice. View our full comments policy here.
Poll

Polls Archive

Featured Classifieds

Accounting Paid Internship. Seeking accounting student with excellent communication skills for a local CPA firm. Flexible hours and remote work available but few onsite office training may be required . Email or fax resume to: [email protected], or fax: (323)694-7413. • Internships

Remote Linux System Administrator I need someone to install updates, complete some projects and to be available for emergency issues that come up now and then with my web server/asterisk PBX servers. Experience required: apache/lets encrypt, sendmail/dovecot, asterisk/freePBX, php/mysql, DNS management and configuration of network gateways Reliability, dependability and excellent communication skills are essential. In an emergency I need someone who can respond immediately, trouble shoot and diagnose the problem and fix the issue. Please call 1.805.322.0005 • Help Wanted

More classifieds »
Content copyright © 2021 the Daily Bruin