This post was updated Sept. 26 at 10:00 p.m.
Editor's note: Editorials are intended to serve as the jumping-off point, not the conclusion, to discussion. As part of the Daily Bruin's commitment to its readers, the board hopes to present a responsible and clear analysis of relevant events and news items affecting the lives of those we serve, but our editorials are not representative of the Daily Bruin's views on issues as a whole. We encourage all readers to reach out to our board members and to respond to our editorials.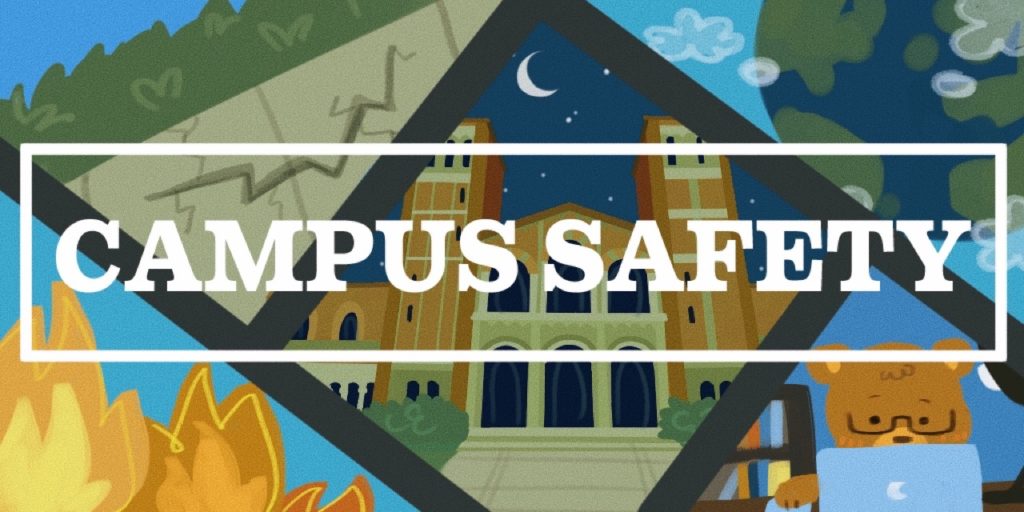 UCLA's campus is almost 100 years old, and with old age comes problems. In the face of an ever-changing world, the editorial board examines what the university can do to keep Bruins safe from a torrent of dangers, whether they be natural or man-made.
In 1994, the Northridge earthquake took a major toll on UCLA's campus.
Buildings faced chemical spills, floods and extensive physical damage. The university evacuated students and canceled classes.
While UCLA has made improvements since then, it must ensure that it's prepared for the next earthquake. A major earthquake with a magnitude of 7.8 or higher could hit the San Andreas fault at any moment, which means that discussions about campus safety must bring earthquake preparedness to the forefront.
Most students are returning to campus for the first time in over a year, and it is essential that UCLA ensures the facilities they are learning in are safe.
UCLA needs to provide consistent inspection and maintenance of buildings. Seismic safety reports in 2019 outlined the danger that some buildings are in, and while updates have been made since then, there is more work to be done. In addition to retrofitting buildings that are at risk of sustaining damage, the university should modernize facilities to prevent future seismic complications.
Seismic safety ratings of UCLA buildings, Sept. 2019

Source: UCLA Capital Programs (Seismic Safety Review). Graphic reporting by Sabrina Huang, Opinion editor. Graphic by Aditi Kumar, Daily Bruin Staffer and Alex Yoo, Graphics editor. Interactive by Catherine Hu, Daily Bruin Contributor.
It is also important that UCLA regularly evaluates buildings for compliance with the University of California's seismic safety policies so students and staff know they are safe while living and working on campus. Currently, some of the UCLA Seismic Review Committee reports on the UCLA Capital Programs website are from two years ago. The next set of reports should have been completed in June 2020, according to the website.
Developing an intuitive website that tracks the safety reports of campus buildings can provide peace of mind for many and facilitate a method of accountability for administrators. Community members could also track the progress of each building and understand the risks associated with each structure.
In the wake of tragedies like the condominium collapse in Florida, it is more important than ever to consistently monitor buildings and swiftly address inadequacies. While the Florida event was not due to an earthquake, UCLA can learn from the incident.
An earthquake, after all, is never far on the horizon.
In addition to structural retrofitting and monitoring, UCLA should equip each classroom and residence hall with an earthquake emergency kit. The kit could provide instruction documents that help reduce confusion during a disaster and could also include battery backups and flashlights.
Since cell service often fails during disasters, keeping emergency radios in the kits would allow for rapid communication. Having these kits built-in throughout campus with students and staff aware of their presence and their directions for usage will vastly improve the response to an earthquake.
It is great that UCLA spent billions of dollars in recent decades for seismic upgrades. The university has also received praise for developing Ronald Reagan UCLA Medical Center as one of the first in California to satisfy updated seismic requirements. UCLA recently completed earthquake retrofitting of the Pritzker Hall as well.
These projects show what is possible when it comes to earthquake safety.
As the majority of students return to learning inside campus buildings, UCLA must continue to focus on seismic-compliant infrastructure so Bruins only need to worry about what they are learning in the classroom – not about the classroom itself.