About 20 students and Westwood community members gathered Sunday for an urban hike through Westwood Village and UCLA.
Scott Epstein's campaign for Los Angeles City Council District 5 organized the urban hike and featured students and community leaders discussing topics such as homelessness and transportation.
Epstein, a case investigator and contact tracer for the Arthur Ashe Student Health and Wellness Center, is one of seven candidates currently registered on the LA City Ethics Commission website for the 2022 district race. The other candidates are Molly Basler, Jimmy Biblarz, Jeff Ebenstein, Kristina Irwin, Sam Yebri and Katy Young Yaroslavsky.
Sunday's urban hike started with a 10 a.m. meet and greet at the Janss Dome, the location of Broxton Brewery and Public House. The group hiked northwest toward the construction site of the future Le Conte Apartments, before turning east to head north on Westwood Plaza. After stopping at UCLA parking lot 7, the participants went to their final destination at Kerckhoff Patio by around 12:30 p.m.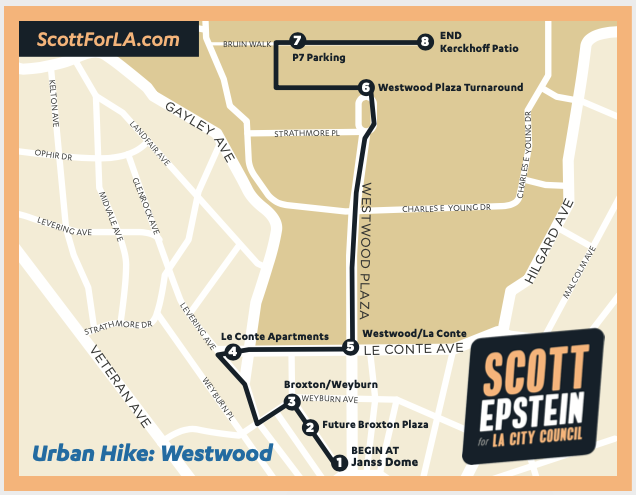 Andrew Thomas, the executive director of the Westwood Village Improvement Association, spoke about current plans to create a pedestrian-only plaza on Broxton Avenue.
Thomas said that the space on Broxton Avenue between Weyburn and Kinross Avenues is already primed for use as a pedestrian plaza because the one-way road does not receive much vehicle traffic and has wide sidewalks.
Thomas added that he hopes the conversion process will begin by the start of 2022, with furniture and programming available for visitors.
Another speaker, fourth-year public affairs student Evan Farrar, said that housing is one of the most important issues facing students, noting that Westwood is among the nation's least affordable places to rent.
[Related: LA City Council candidates address homelessness ordinance at NWWNC forum]
Farrar, a North Westwood Neighborhood Council organizational stakeholder, said zoning and parking restrictions have made it more difficult to develop affordable housing in Westwood, adding that students need nearby housing options because many don't have cars or access to public transportation.
"Living nearby is a fundamental part of the student experience," said Farrar, who was previously the president of Bruin Democrats. "Landlords know this, and they're determined to squeeze every last penny out of renters."
As of Oct. 12, the average rent for a one-bedroom apartment in Westwood was $2,550, and $3,909 for a two-bedroom, according to Zumper.
On transportation, Epstein said he is committed to adding low-stress bike lanes connecting campus to the Metro Expo Line. Such options could take the form of physical barriers protecting bikers or separate bicycle boulevards, he added, but regardless of the type, they must be safe and comfortable for all riders.
Epstein also said he would support a subway station located directly on the UCLA campus, amid reports that LA Metro is currently considering the proposal.
The final student speaker, Sachi Cooper, said that she worked on advocating for safe parking spaces for students experiencing housing insecurity and sleeping in their cars overnight. Cooper, a North Westwood Neighborhood Council undergraduate student representative, said that UCLA parking lot 7 would be a suitable location for safe spaces due to its proximity to existing bathrooms and showers in the John Wooden Center.
While UCLA administration has previously rejected proposals for overnight safe parking spaces, it opened BruinHub on Sept. 27, offering overnight and temporary stay for commuters and students experiencing housing insecurity.
[Related: BruinHub first step in providing resources for commuter, housing-insecure students]
Some students need to commute to Westwood for as long as two hours from Orange County, so they sleep in their cars to avoid the long drive on consecutive class days, added Cooper, who was previously the Facilities commissioner for the Undergraduate Students Association Council.
After the hike, Epstein said that he is excited to connect with students, whom he said are at the center of his campaign's attention.
"Students have not been well served," Epstein said. "I think students understand that. They're looking for a champion for their needs, so I think that's what our campaign is all about."