This post was updated March 28 at 12:45 a.m.
PHILADELPHIA — With two minutes remaining, the Bruins led by three.
Then came Caleb Love.
The Tar Heel guard hit back-to-back 3-pointers – his fifth and sixth of the night – to steal the game in the closing minutes and send the Bruins home in the Sweet Sixteen.
No. 4 seed UCLA men's basketball (27-8, 15-5 Pac-12) couldn't overcome Love – who scored 27 of his 30 points in the second half – and No. 8 seed North Carolina (27-9, 15-5 ACC) in Philadelphia on Friday night, losing by a final score of 73-66. The Bruins entered the second half with the lead but were outlasted by the Tar Heels' 45-point second-half effort in a back-and-forth contest from start to finish.
The long-range shots from Love spearheaded a 12-2 North Carolina run to close the battle between the two college basketball blue bloods.
"One hot player can send you home," said senior guard Jules Bernard.
After falling behind 10-5 early, redshirt junior guard Tyger Campbell gave the Bruins their first lead at 14-12 with a pullup jumper just over six minutes into the game. With North Carolina held scoreless for the next four minutes, the blue and gold extended its lead to eight – the largest of the first half for either side.
But on North Carolina's next two possessions, forward Brady Manek and guard RJ Davis converted back-to-back 3-pointers to bring it back to a two-point game. The Tar Heels then cut the Bruins' lead to as low as one before junior guard/forward Jaime Jaquez Jr. sank a fadeaway jumper to help UCLA hang onto its lead and head to the halftime locker room up 31-28.
Four Bruins got on the scoreboard in the first half, with each scoring at least seven points in the opening frame. Bernard led the way with nine points, and Jaquez – whose status for the game was in doubt while dealing with a right-ankle injury – added eight of his own.
Two minutes into the second half, the Tar Heels managed to take their first lead since early in the first period after two straight looks inside for forward/center Armando Bacot.
Buoyed by jumpers from Bernard and redshirt senior forward Cody Riley, the two teams then traded baskets until Jaquez slammed in a fast-break dunk off a steal to give the Bruins a 40-37 lead and send the UCLA contingent in Philadelphia into a frenzy.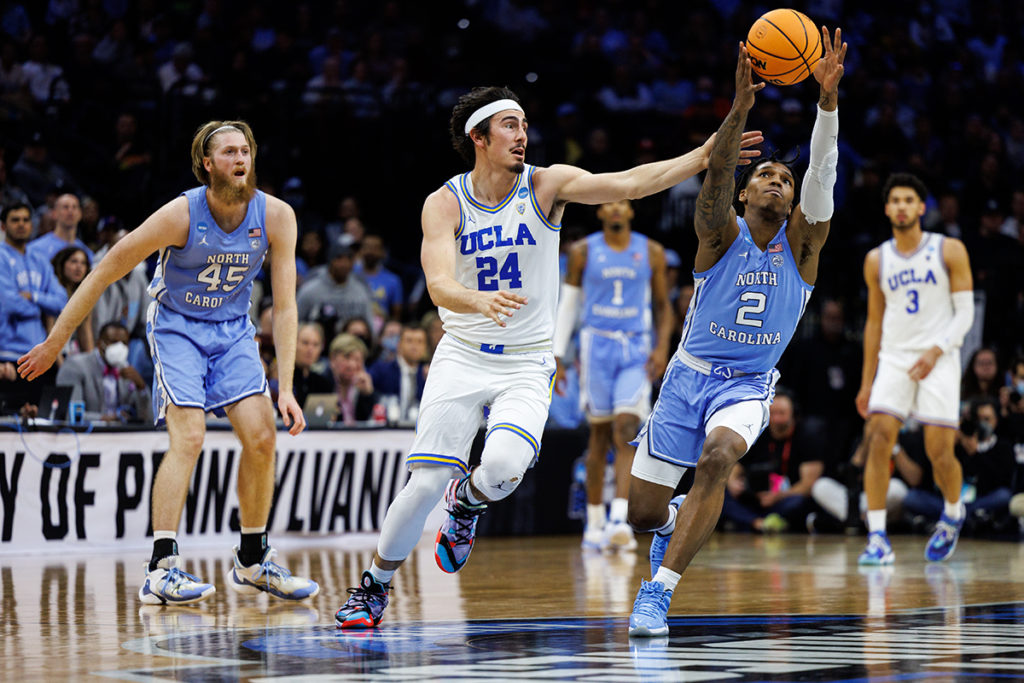 Jaquez – who finished the night with 10 points on 5-of-18 shooting – said his ankle didn't factor into his play despite the day-to-day designation entering Friday.
"It wasn't bothering me," Jaquez said.
But after redshirt senior center Myles Johnson cleaned up a Jaquez miss to make it a two-possession game, North Carolina responded with a 9-2 run bookended by layups from Love before the two sides again traded baskets – and the lead – on the following five possessions.
Junior guard Johnny Juzang broke the back-and-forth stretch with a jumper followed by an assist inside for Bernard – who finished with a team-high 16 points – but Love responded with five straight points to tie it up again with just under eight minutes remaining. Love became the first player to reach the 20-point plateau despite putting up three points on 1-of-9 shooting in the first frame.
Bernard said the team's mindset was to gain separation through its defensive efforts, but it was unable to execute, as it gave up big shot after big shot.
"Just do whatever it takes to get a win and get a stop. … That's our mentality," Bernard said. "But obviously, that's not how it went. They had players who made big shots and big plays."
The back-and-forth affair continued, as the two teams traded scores for the next five minutes. But after Campbell gave the Bruins a three-point lead with a layup, it was Love again who proved to be UCLA's kryptonite.
A save from Bacot led to a second-chance triple from Love, who came right back with another long-range bomb after a missed 3 from Jaquez with just over a minute, giving North Carolina a three-point lead.
Coach Mick Cronin said the second-chance effort from the Tar Heels marked the turning point of the contest.
"That changed the game," Cronin said. "We get that rebound, it's a different (story). … Obviously, that's going to keep me up at night."
Bacot – who finished with 15 rebounds, including eight on the offensive end – then hauled in another miss from Jaquez before pulling the game out of reach with a putback layup with 15 seconds remaining. As a team, the Bruins gave up 15 offensive boards – the second most they've allowed in a game all season – and lost the rebounding battle 43-34.
"We didn't get the job done on the defensive glass. They've got too much firepower to give them second shots, third shots at times," Cronin said. "It would be fitting that our downfall where we had the lead was another offensive rebound."
After UCLA brought back its entire squad from last year's Final Four run, Juzang said he felt the team truly had a chance to recreate the magic. He added that the tightly contested nature of the contest makes the end of his team's season hurt even more.
"For it to end the way it did, it hurts," Juzang said. "I felt like we had a real chance to do something really big."