For Jocelyn Gonzalez, pearls are a girl's best friend.
Through Instagram and Depop, the first-year architectural studies student sells assorted jewelry for her business, Jewels by Jocy. Having created her own jewelry for two years and drawing inspiration from beading materials such as pearls, Gonzalez said social media provided her with a community and platform to showcase her products such as earrings, necklaces, bracelets and rings. As a painter and sewer as well, she said she enjoys crafting her own accessories because the process blends the problem-solving skills of her major with creativity and self-expression.
"It's a lot of wire-bending, getting things to stay together, and it can be very small and tedious sometimes together," Gonzalez said. "That was a lot of the fun of it."
Prior to Jewels by Jocy, Gonzalez said she had entrepreneurial experience running an account on Redbubble, a site where artists can upload art to turn it into merchandise. Using the website to sell her paintings, she said she became more familiar with color theory, which helped her with crafting jewelry. However, one of the challenges of her new business was marketing her products.
After teaching herself how to create accessories through trial and error, Gonzalez said she spent most of her time figuring out how to take advertisable photographs of her accessories. She said she had to learn different light and camera settings, as well as programs such as Adobe Photoshop, to create her own logo and develop her social media brand.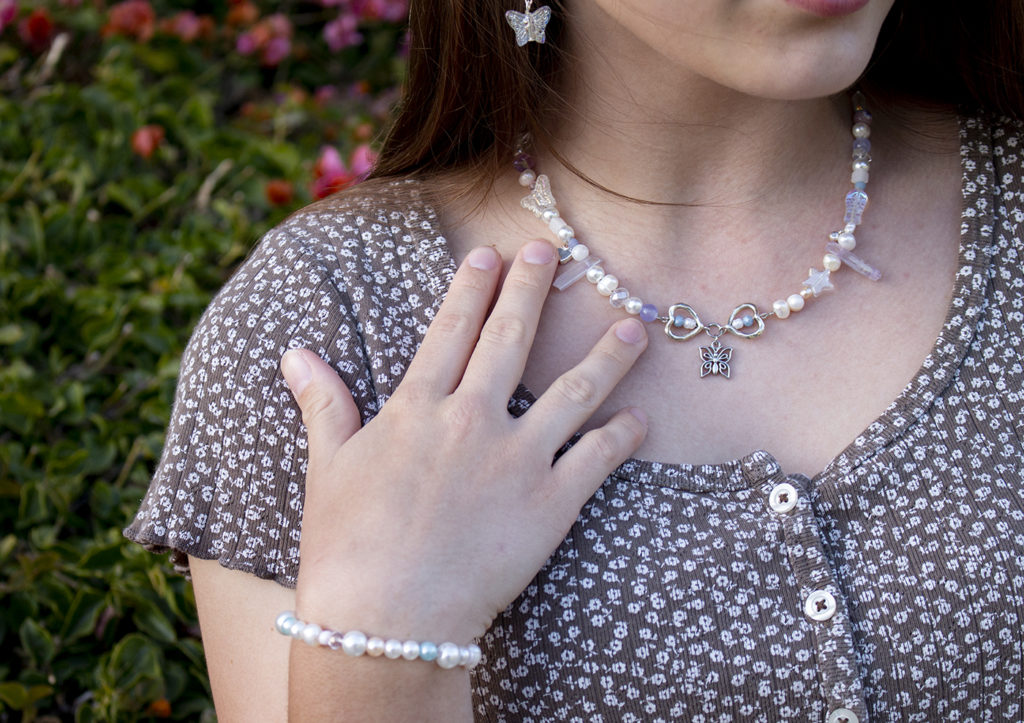 [Related: Bruin cooks up plan to promote culinary skills through meal kit, social media]
By looking at social media, Gonzalez said she is able to find creative inspiration for her designs from other digital businesses, such as sugar plum 4 angels, and consider different ways to distribute her products. Jewelry makers online either sell one-of-a-kind items through scheduled drops or remake the same product for sales, and Gonzalez said Jewels by Jocy incorporates both of these models.
When crafting jewelry, Gonzalez said she often begins with a name that determines the aesthetic of the accessory. The Coraline necklace, for example, is predominantly blue and yellow to correspond with the character's appearance in the animated film, but she said other pieces are titled descriptively after being made, such as the rose quartz necklace. While Gonzalez said she gravitates toward materials such as silver for their stylistic versatility, she likes to keep the fashion sense of her business eclectic, drawing from beaded Y2K jewelry to more simple pearl earrings.
"You're supposed to have a certain niche to your business," Gonzalez said. "(But) I don't want to cut off any part of what I love, so I just do it all."
As one of Gonzalez's customers, first-year theater student Sara Lowe said what she appreciates about Jewels by Jocy is its attention to detail. To ensure the best consumer experience, Lowe said Gonzalez asked her questions about jewelry pricing and design so that her products would be affordable and satisfying to wear. When she bought earrings from her business at the Student Committee for the Arts' Student Flea Market, Gonzalez added in effort to packaging her products as well, placing her business card in with each purchase, according to Lowe.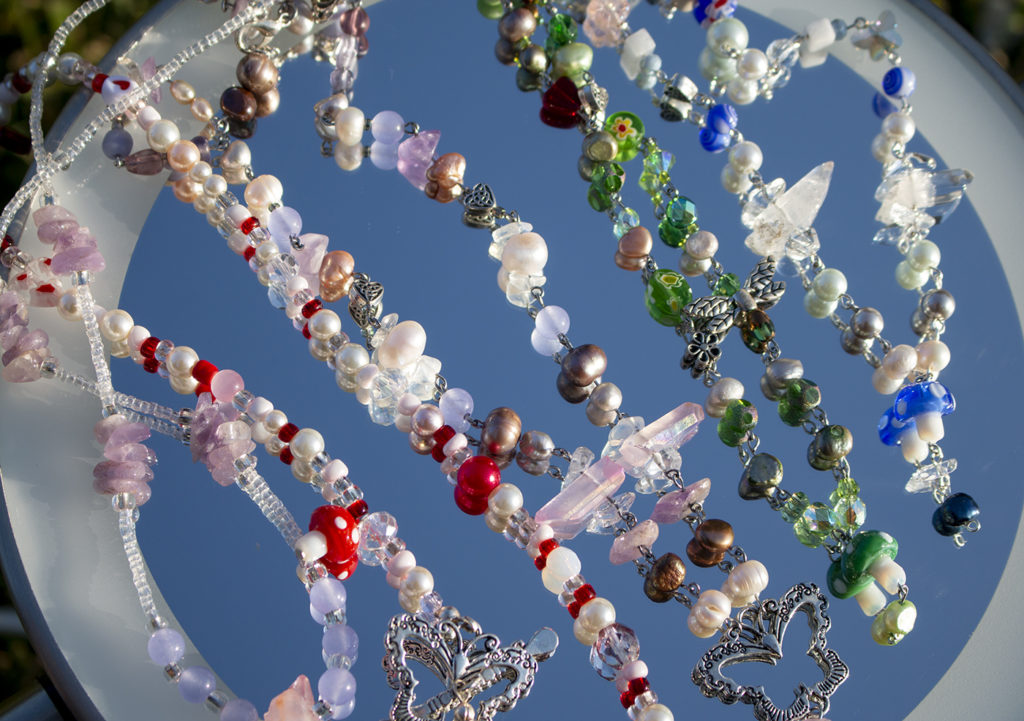 [Related: UCLA student sculpts business turning internet memes into figurines]
As another customer of Jewels by Jocy, first-year theater student Isabella Durand said she found out about Gonzalez's business through SCA's Student Flea Market. While purchasing a necklace, Gonzalez organized her booth professionally like a mini boutique, with mirrors to try on accessories and a Venmo QR code, Durand said. Despite the business's angelic and ethereal aesthetic, Durand said what made her purchasing experience enjoyable was Gonzalez's customer engagement and care for her products.
"She was really great with helping people decide on pieces that would look best on them, … and (she) really helps (make) my shopping experience to be super personal," Durand said.
Moving forward, Gonzalez said she hopes to transition from selling online through Depop to in-person commerce. After applying to sell her jewelry at SCA's Flea Market, she said she realized she enjoys making connections with buyers face-to-face and would like to continue forming on-campus relationships. Stylistically, Gonzalez said she also wants to diversify more, experimenting with gaudy aesthetics such as Victorian necklaces. Beading jewelry is a process that starts in solitude, but Gonzalez said the most rewarding part of the business is seeing her accessories out in the world, enjoyed by her customers.
"(It's) just me alone in my room, making that (jewelry), and now, there it is on you (customers) at the beach," Gonzalez said. "It's really cool to see people … express themselves through my jewelry."