No Bruin has had their name called in the NBA draft since 2019, but that is likely to change Thursday night.
UCLA men's basketball has a pair of players with the potential to be selected in the 2022 NBA draft in guard/forward Peyton Watson and guard Johnny Juzang. Watson marks the Bruins' first one-and-done player in the coach Mick Cronin era, while Juzang has been the team's leading scorer in each of the last two seasons. Both opted to skip combine scrimmages but have spent the past month working out with numerous NBA teams.
With both players in or around draft range, Daily Bruin senior staffer Jon Christon made his picks as to where the two players will land.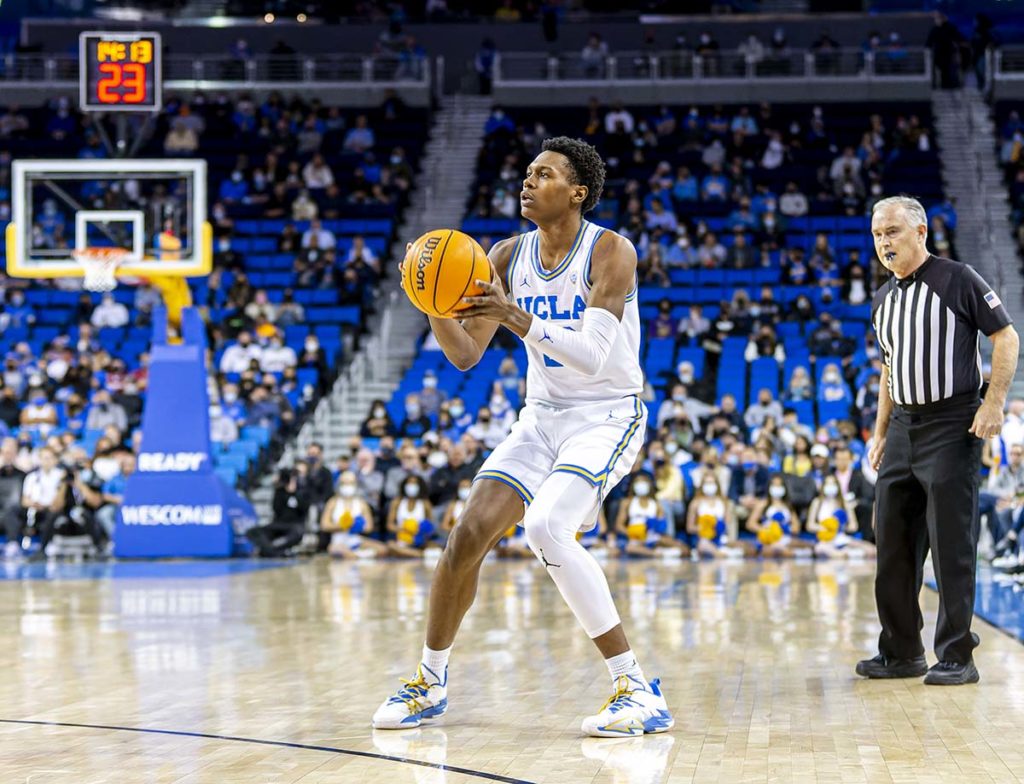 G/F Peyton Watson
2021-2022 stats: 12.7 MPG, 3.3 PPG, 2.9 RPG, 0.6 BPG, 0.6 SPG, 32.2/22.6/68.8%
Official measurements: 6'8", 203.4 lbs, 7'0.5" wingspan
Rookie Scale consensus big board: No. 37 (updated June 21)
Peyton Watson is arguably the biggest unknown in the draft.
At 6'8″ with a wingspan over 7-foot, the wing has the physical tools of a lottery pick, but he looked far from it during his time in Westwood.
A five-star recruit out of Long Beach Poly High School, Watson notched only 12.6 minutes a night in his lone season with the Bruins. Most of his struggles came on offense, where he mustered a measly 3.3 points per game on 39.7% true shooting.
Watson's offensive future in the league depends on his jump shooting. His shot mechanics need a lot of work – he holds the ball too low for too long when winding up to shoot – and the results were poor with UCLA, connecting on a team-worst 22.6% clip from deep.
It is imperative Watson develops into a serviceable catch-and-shoot 3-point shooter at the next level. He does little in the half court, and his abysmal numbers at the rim suggest a future liability on offense if he can't spread the floor.
The majority of Watson's impact is on defense. At UCLA, he translated his long frame into standout deflection numbers, averaging nearly two steals and two blocks per 40 minutes. In fact, his 5.5% block percentage ranked in the 99th percentile at his position, as did his combined steal and block percentage.
It's unclear if Watson will ever have the lateral speed or the strength to be a lockdown defender on the ball, but all the advanced metrics point to him being a menace in help-side rotations.
So where does this leave Watson?
NBA teams love projects, and Watson certainly fits that billing. Most mock drafts have him going in the early-to-mid second round, and there are two teams in that range that often gamble with picks like these.
The Toronto Raptors and Orlando Magic draft at No. 33 and No. 35 respectively, and each have shown a willingness to gamble on length at the expense of offensive polish.
With most of the high-upside plays going off the board in the first 30 picks, expect NBA deputy commissioner Mark Tatum to be saying Watson's name early in round two.
Christon's Pick: No. 35, Orlando Magic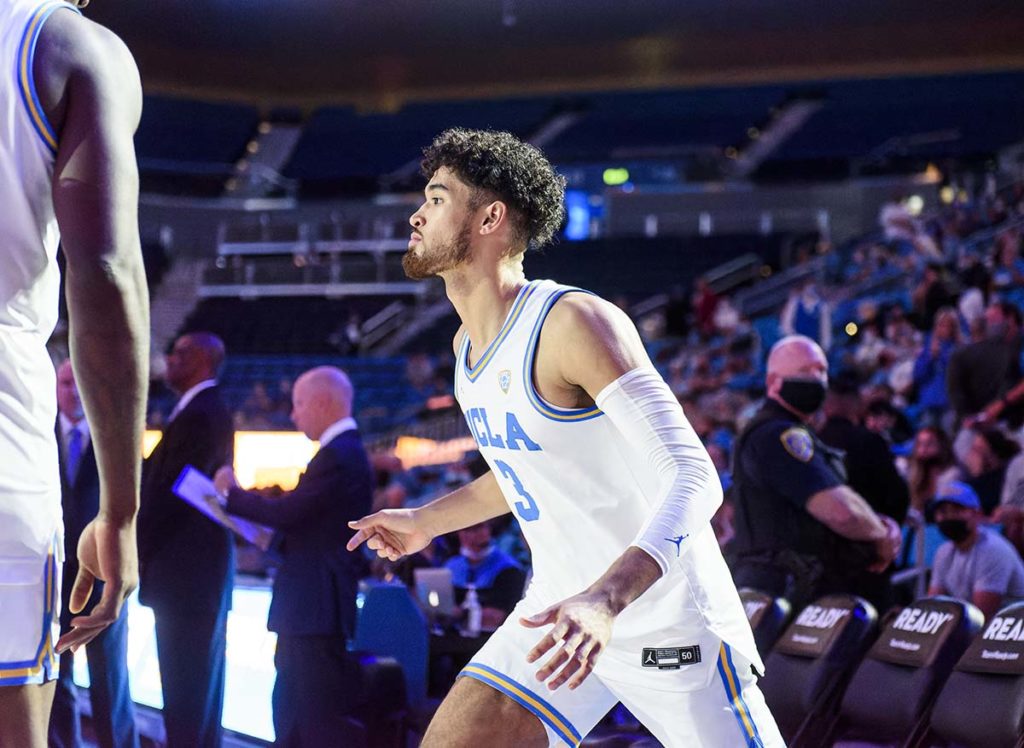 G Johnny Juzang
2021-2022 stats: 32.1 MPG, 15.6 PPG, 4.7 RPG, 1.8 APG, 0.7 SPG, 43.2/36.0/83.5%
Official measurements: 6'6.5", 208.6 lbs, 6′ 11" wingspan
Rookie Scale consensus big board: No. 65 (updated June 22)
At this time a year ago, Juzang's magical NCAA tournament run nearly catapulted him into first-round status.
Now, he will be lucky to hear his name is called at all Thursday.
This change has little to do with his play on the court, however. His box score numbers between his sophomore and junior years are staggeringly similar after he paced the Bruins with 15.6 points per game in 2021-2022. He also played largely the same role in both years as the catalyst of UCLA's half-court offense.
This role let Juzang highlight his skills, but it also gave him nowhere to hide.
He is largely a difficult shot maker that needs the ball in his hands to be effective. This looked great when he was scoring more than 20 points a night in March 2021, but likely drove scouts mad when he shot one contested mid-range jumper after another the following regular season, highlighting a lack of growth after his standout sophomore season.
Juzang relies heavily on his pull-up shooting, particularly from 10 to 20 feet. The mid-range is too often described as dead by analytics-hating NBA observers, but that description feels apt here: Juzang simply isn't efficient enough to warrant high usage in that area at the next level.
Instead, Juzang will have to focus on shooting off the catch to find a niche on that end of the floor – something that will likely translate given his 52.4% on corner 3s in 2021-2022.
But even if Juzang can provide enough offense in an auxiliary role, the other end of the floor remains a whole different ball game.
Juzang's defense has always been a question mark. His 6'6.5″ frame and subpar athleticism put him in a strange tweener position: too slow to contain guards on the perimeter and too small to guard big forwards. He competes enough when defending the ball and his long wingspan helps, but he often loses focus navigating screens.
Some of his defensive lapses can be chalked up to his high usage on offense, but he will need to show more on that end of the floor to warrant a selection Thursday.
While it's not impossible a team in the 50s takes a flyer on him, it's more likely Juzang takes his chances with undrafted free agency where he can pick his situation.
And what's more appealing than playing for the hometown purple and gold?
Juzang worked out with the Los Angeles Lakers in early June, and the team is in desperate need of shooting to surround its three ball-dominant stars. They've bet on big-school names in the past with Oklahoma's Austin Reaves and Texas Tech's Mac McClung in 2021, and Juzang's LA star status would be a cherry on top.
Christon's pick: Undrafted two-way contract with the Los Angeles Lakers