This post was updated July 18 at 12:02 a.m.
The Bruins have produced numerous successful professional athletes in the past couple decades. With UCLA sports on pause and professional sports in full swing, the Daily Bruin Sports editors debate which UCLA Athletics alumni currently in the professional ranks stand above the rest.
Russell Westbrook, Los Angeles Lakers (NBA), UCLA men's basketball (2006-2008)
Sam Settleman, Sports editor
Let's kick off this conversation with a controversial pick – one that really shouldn't be controversial.
Former UCLA men's basketball star Russell Westbrook is on the receiving end of constant hate from NBA fans across the globe. "Stat-padder" and "Westbrick" are just a few of the names commonly hurled at the current Los Angeles Laker.
But Westbrook is a basketball and Bruin legend, and he deserves to be treated as such.
After a breakout sophomore season with UCLA in 2007-2008, Westbrook was selected with the No. 4 overall pick in the 2008 NBA Draft. He proceeded to play all 82 games in each of his first three years with the Oklahoma City Thunder en route to an All-Star campaign in his third season.
For the next nine years, Westbrook would miss only one All-Star nomination as he accrued multiple scoring titles and averaged a triple-double in three consecutive years. Only one other player had ever done it in a single season before Westbrook.
He won the NBA Most Valuable Player award in 2016-2017, is on the verge of cracking the top 10 on the all-time NBA assist leaderboard and was named a top-75 player ever by the league last year.
While Westbrook has received a lot of criticism for his play as a Laker, he notched over 18 points, seven rebounds and seven assists per game in his first season with a team on which he's the clear third option.
Wherever he ends up playing next year and the rest of his career, make no mistake – Westbrook will continue to be great. And when it's all said and done, a spot in the Naismith Memorial Basketball Hall of Fame awaits the former Bruin.
Jordin Canada, Los Angeles Sparks (WNBA), UCLA women's basketball (2014-2018)
Lauryn Wang, assistant Sports editor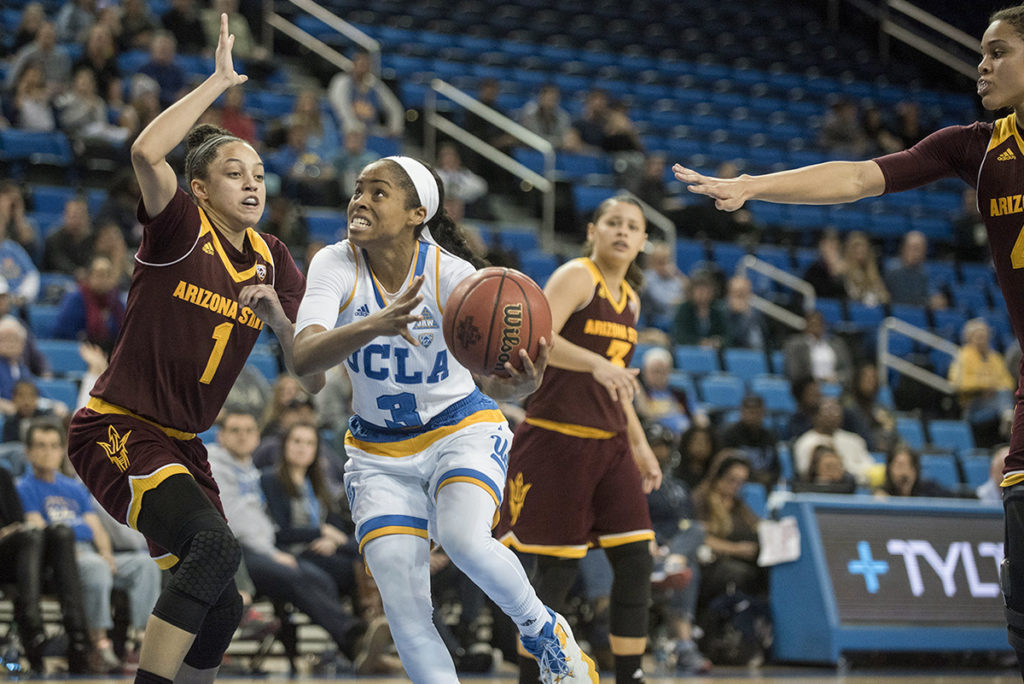 From Windward School to UCLA to the Los Angeles Sparks, former UCLA women's basketball star Jordin Canada takes "hometown legend" to a new dimension.

Canada was a 2014 McDonald's All-American and led Windward School to three California Interscholastic Federation Southern Section championships and one state championship. The five-star recruit then became a four-year starter under coach Cori Close from 2014 to 2018.
She immediately made an impact in the backcourt in Westwood, achieving 2014 Pac-12 Freshman of the Year honors before being named Pac-12 Defensive Player of the Year in both 2017 and 2018.
Her extensive resume with the blue and gold is etched in the record books. Canada is UCLA's all-time leader in assists, ranks second in points and third in steals. Her collegiate campaign came to an end in 2018 when she was drafted No. 5 overall by the Seattle Storm.
After four seasons with the Storm, Canada added two WNBA championships and an All-Defensive First Team honor to her trophy case. She also led the WNBA in steals in 2019 at 2.3 per game and has exceeded the 500 assists mark in her professional career.
Now, she finds herself back in LA, signing with the Sparks as a free agent Feb. 8 before the 2022 season.
While the Sparks are currently in the middle of the pack in the league, they have shown momentum as the end of the regular season nears. Even while managing an injury, Canada has played 20 games with the Sparks and averaged 9.4 points and 5.1 assists per game.
Moving forward, she has undeniable potential to rise to a larger role with the Sparks than the Storm, where she learned from Sue Bird in her understudy position.
As she returns to her roots and grows her professional career in front of friends and family, Canada has truly demonstrated her versatility and skill at all levels.
Gerrit Cole, New York Yankees (MLB), UCLA baseball (2009-2011)
Amy Ionescu, assistant Sports editor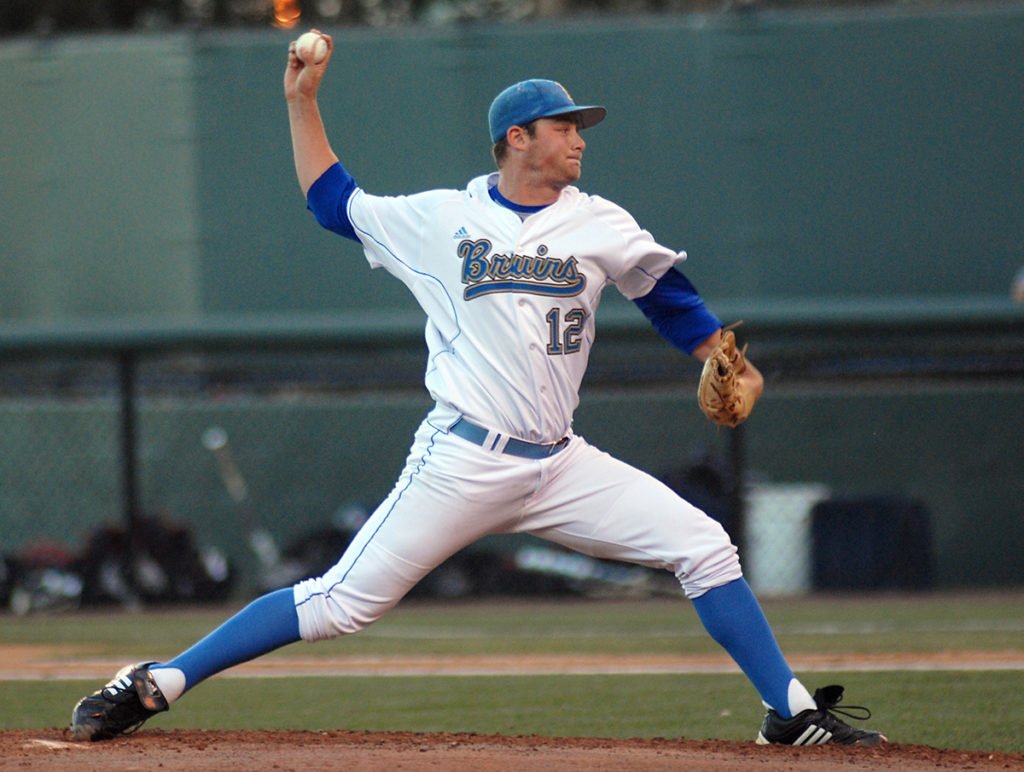 Gerrit Cole could have been a Yankee in 2008.
Instead, the right-hander chose to be a Bruin.
While donning the blue and gold, Cole cemented his place as a UCLA baseball legend. He ranks second in career strikeouts and tallied three consecutive seasons of at least 100 strikeouts – the only Bruin ever to do so.
The two-time all Pac-10 selection made UCLA history his sophomore season by leading the Bruins to a 50-15 overall record – their second best – and a College World Series Finals appearance.
As such, there's no denying the validity of his induction into the UCLA Athletics Hall of Fame in 2022. Just like there's no denying the validity of his inclusion in this list.
In 2011, he became the first – and only – No. 1 MLB Draft pick for the Bruins, hopping on a plane across the country to join the Pittsburgh Pirates.
Two years later, the former Bruin struck out the first major league batter he ever faced. In just two months, he was awarded the National League Rookie of the Month title, followed by a National League Pitcher of the Month award in April 2015 and multiple playoff appearances in the rest of his time with the Pirates.
The year 2018 saw him traded to the Houston Astros, where he racked up his second of five American League All-Star appearances. In his next season with the Astros, Cole secured second place in voting for the 2019 Cy Young Award, leading the American League with a 2.50 ERA and 326 strikeouts.
And, just over a decade after his first MLB Draft experience, the former Bruin journeyed back north to the Yankees as the then-highest paid pitcher in MLB history.
Kevin Love, Cleveland Cavaliers (NBA), UCLA men's basketball (2007-2008)
Grace Whitaker, assistant Sports editor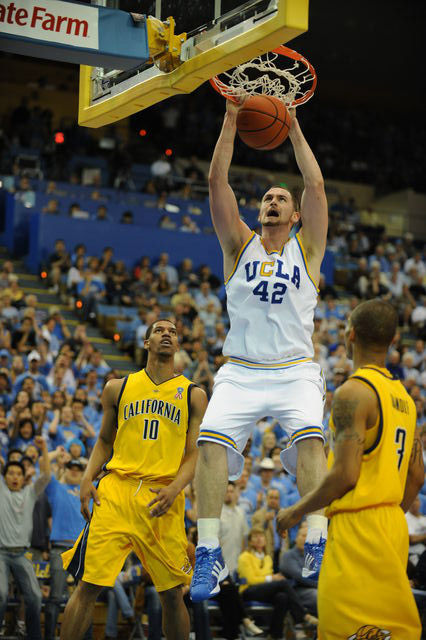 If success is measured in an NBA championship, Kevin Love takes the cake.
With five NBA All-Star appearances and an Olympic gold medal, Love's accomplished career culminated in 2016 when he was a starter on the Cleveland Cavaliers' first and only NBA championship-winning team.
Beginning his career with Lake Oswego High School in Oregon, Love led his team to three consecutive state championship games and finished his pre-collegiate years by winning the coveted Gatorade National Player of the Year award. From there, Love took his talents to Westwood where he played for the Bruins for one year in 2007-2008.
During his time donning the blue and gold, Love was the leading scorer – averaging 17.5 points per game – which launched the Bruins into their third straight Final Four appearance. After earning Pac-10 Player of the Year and Pac-10 Freshman of the Year honors, Love registered for the draft and was selected fifth overall by the Memphis Grizzlies in the 2008 NBA Draft and was swiftly traded to the Minnesota Timberwolves.
In his six years with the Timberwolves, Love earned the NBA Most Improved Player title, was the NBA rebounding leader and took the title of NBA Three-Point Contest champion.
In 2014, Love was traded to the Cleveland Cavaliers where he has resided for the last eight seasons, averaging double digits in points in each season he has played in the league.
The 2015-2016 season proved different for the former Bruin, as it culminated June 19 in game seven of the NBA Finals. Love, alongside NBA All-Stars LeBron James and Kyrie Irving, brought the first championship in the history of its program home to Cleveland with a four-point victory over the Golden State Warriors.
Because of his successful post-UCLA career, Love landed himself a spot in the UCLA Athletics Hall of Fame in 2020, a full circle moment acknowledging his success from Bruin to Cavalier and everywhere in between.
Dave Roberts, Los Angeles Dodgers (MLB), UCLA baseball (1991-1994)
Joseph Crosby, assistant Sports editor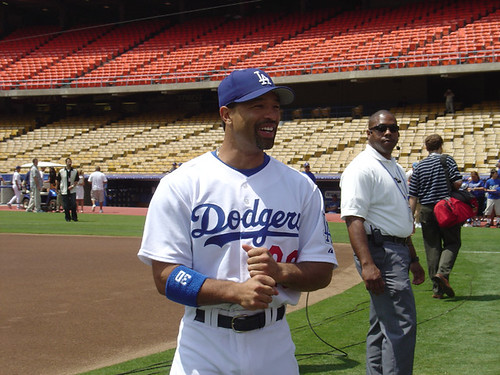 The best professional Bruin isn't taking the field every day.
Instead, he sits in the dugout, drawing up lineup cards and making pitching changes.
UCLA baseball legend Dave Roberts is leading the Los Angeles Dodgers from the manager's chair, winning multiple National League Pennants and a World Series in the process. Roberts joined the Dodgers in 2016, picking up Manager of the Year honors and leading the team to its first of five consecutive divisional titles.
Since then, the Bruins' all-time steals leader collected pennants in 2017, 2018 and 2020 and claimed his first World Series title as a manager in 2020. His leadership has resulted in three 100-win seasons for the Dodgers in 2017, 2019 and 2021 – and is on pace for a fourth in 2022.
Prior to starting his managerial career, Roberts took to the field and played for five teams over a 10-year career, which included a three-year stint with his current team and a World Series win with the Boston Red Sox in 2004.
Now, the UCLA Athletics Hall of Famer has launched himself into the record books, sitting at fifth all-time in managerial win-loss percentage and solidifying his name alongside Major League Hall of Famers and Dodger legends Walter Alston and Tommy Lasorda.
If the recent seasons are any indication, Roberts' success as a big league manager is set to continue for years to come. Prior to the 2022 season, the skipper was given a three-year contract extension, keeping him in LA through the 2025 season.
As Roberts aims to lead the Dodgers to a sixth division title in seven years and searches for his second World Series ring as a manager, he's in a position to add on to the success he's already found and further build his legacy.
Matthew Slater, New England Patriots (NFL), UCLA football (2003-2007)
Jack Nelson, assistant Sports editor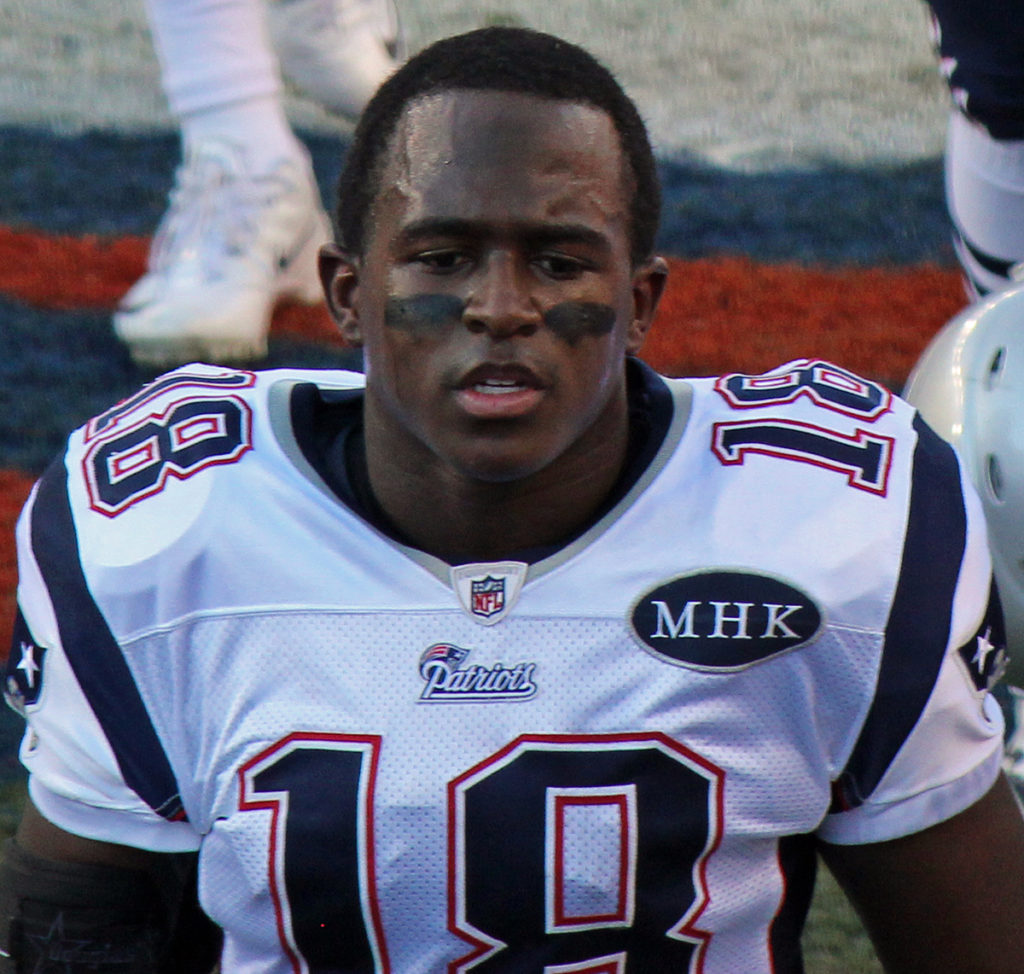 Matthew Slater is listed on the Patriots' roster as a wide receiver.
And in more than a decade spent in the NFL, the former Bruin has accumulated a breathtaking singular catch for 46 yards and zero receiving touchdowns.
But Slater hasn't needed the aid of statistics to seal his spot in Canton.
A staple of the Patriots' dynasty that held a two-decade chokehold on the NFL, Slater is a three-time Super Bowl champion and five-time All-Pro. The longtime gunner for coach Bill Belichick has been selected to the Pro Bowl 10 times, including seven consecutive selections from 2011 to 2017.
Even now in the twilight of his career, Slater has continued to perform at a high level. Look no further than his three consecutive All-Pro and Pro Bowl selections in the past three seasons.
Slater entered the pros coming off a record-setting season at UCLA. He returned three kickoffs for touchdowns, good for not only the program single-season and career records, but also the then-Pac-10 season record. With a school-record return average of 29 yards, Slater racked up 986 kickoff return yards, also a new single-season record for the Bruins.
That's where the ability to quantify his greatness ends.
Since his time with the blue and gold, the 153rd pick of the 2008 NFL Draft has built a 14-year career in New England by exemplifying the character of a championship culture and by becoming synonymous with "The Patriot Way." His leadership outside of the spotlight has made him a Patriot legend.
Slater's career has been defined by the little things highlight reels overlook, such as setting up his team's defense by helping to pin the opposing offense inside their own five-yard line. Perfecting the details of the game has earned him the all-time record for most Pro Bowl selections by a special teams player.
He doesn't have the star power of Westbrook or Cole, but Slater has been the best at what he does for nearly his entire career.
You'd be hard pressed to find another former Bruin that can say the same.