With a trio of 2021-2022 UCLA men's basketball players making their professional debuts at the NBA Summer League in Las Vegas, Daily Bruin Sports takes a look at how the three Bruins performed.
Peyton Watson, Denver Nuggets
2022 Las Vegas Summer League Stats (five games): 24.5 MPG, 8.4 PPG, 5.6 RPG, 1.4 APG, 1.0 BPG, 0.8 SPG, 31.6/11.8/36.4%
The only first-round pick of the bunch, Watson looked every bit of the project work in progress he was billed as – especially on the offensive end.
Watson averaged 8.4 points per game across five contests – all starts – playing 24.5 minutes a night, which was up from his 12.6 minutes per game average with the blue and gold. The increased playing time allowed Watson to flash more of an offensive repertoire than we are used to seeing, highlighted by a 19-point performance in a game against the Cleveland Cavaliers July 10.
But for the most part, Watson's increased usage established just how raw he is on that end of the floor.
The swingman shot 31.6% from the field, a mark that includes three consecutive contests in which he shot below 25% to end the tournament. And even though the coaching staff trusted him to play point guard from time to time, Watson finished his run in Vegas with a putrid 7-to-15 assist to turnover ratio.
The Nuggets clearly drafted Watson based on his theoretical potential rather than where he is right now, and the lackluster performance on offense shouldn't be too much of a surprise given how he played in Westwood.
On the other end of the floor, Watson looked more NBA-ready.
The forward showed signs he could become an elite help-side defender, blocking a shot per game while disrupting a number of drives in weakside rotations. Watson also used his length and athleticism to grab 5.6 rebounds per game, marking one skill that will almost immediately translate to the next level.
If Watson can continue blocking shots, grabbing rebounds and running the break in open space, he will be able to carve out a niche in the NBA.
For now, though, the former collegiate one-and-done will have to find a way to be more than a liability on offense to earn minutes next season.
Johnny Juzang, Utah Jazz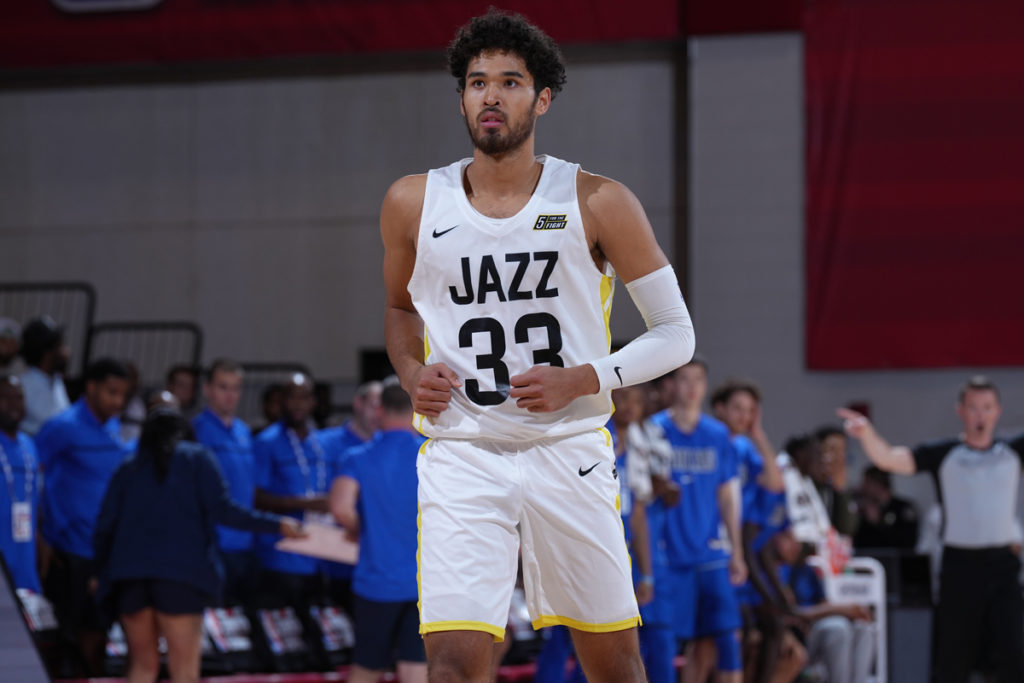 2022 Las Vegas Summer League Stats (five games): 24.1 MPG, 8.6 PPG, 4.6 RPG, 0.8 APG, 0.6 BPG, 0.2 SPG, 26.1/32.3/81.8%

Like Watson, Juzang will also have to adjust his game to the next level.
Unlike his former teammate, though, he will have to get used to having the ball less rather than more – and the summer league was the first step in that transition.
Juzang totaled 8.6 points per game in his five appearances in Las Vegas, his lowest output since averaging 2.9 points per game during his lone season with Kentucky in 2019-2020. He occupied a supplementary role in Utah's offense, deferring to guards Jared Butler and Leandro Bolmaro – two players expected to slot into the Jazz's rotation next season – while taking fewer than 10 shots per game.
That tracks for Juzang's offensive role at the next level: an off-ball wing who will be asked to shoot off the catch with occasional secondary and tertiary playmaking duties.
Safe to say that transition is still a work in progress.
Juzang connected on only 32.3% of his looks from deep in Vegas, with most of the attempts being of the catch-and-shoot variety. This is down from 35.6% while at UCLA, though you can probably chalk up the difference to a small sample.
While his outside shooting left a bit to be desired, everything else was even worse for the former Bruin, as he shot 26.1% from the field. Using some simple math, that means UCLA's former leading scorer shot an abysmal 13.3% from inside the arc, with Juzang somehow only finding the bottom of the net on two 2-point field goals in Vegas. He reverted to some bad habits, taking far too many contested mid-range jumpers after failing to get to the rim time and again.
As more responsibility fell on his shoulders later in the summer league, Juzang's efficiency only plummeted. Despite his shot failing to fall, Juzang scantly looked for his teammates, notching only four total assists across five games.
Now, there are two major caveats to Juzang's poor play.
For starters, he missed the Salt Lake City Summer League earlier in July because of concussion protocols after a car accident, and everything in the summer league should be taken with a huge grain of salt, especially for first-year players.
But the early returns on Juzang's pro career aren't great. Lucky for him, he'll get ample opportunity to play through the struggles with a freshly signed two-way contract on a newly rebuilding Jazz team.
Jules Bernard, Detroit Pistons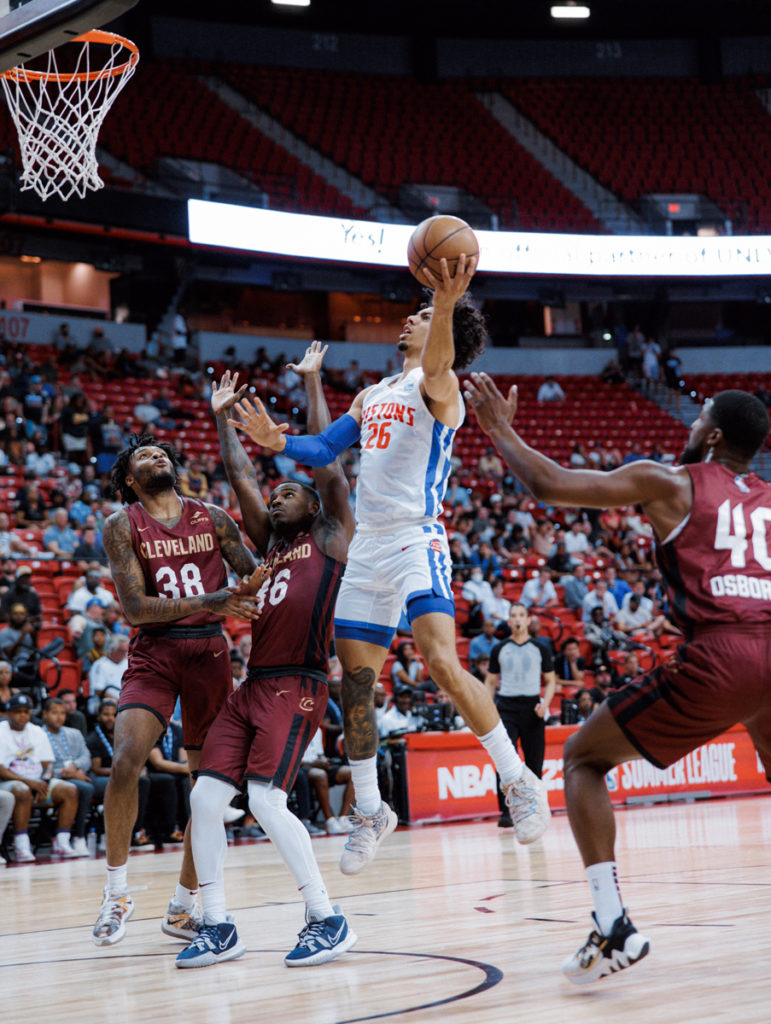 2022 Las Vegas Summer League Stats (five games): 13.1 MPG, 9.2 PPG, 3.4 RPG, 1.4 APG, 0.2 BPG, 0.0 SPG, 37.5/29.4/94.4%

Bernard got the least run of the three Bruins in Vegas as an undrafted free agent without a deal for next season.
But as the desert days continued to tick away, with the top-end Pistons sitting out the final summer league contests, Bernard got more and more playing time – and looked more and more comfortable.
After playing less than four minutes in Detroit's opening contest, Bernard's minutes continued to climb, culminating in a 19-minute, 22-point performance in the Pistons' summer league finale against the Orlando Magic Saturday. It marked the second straight game in which Bernard paced the Pistons in scoring, with the former Bruin putting up 14 points in a game against the Cavaliers Thursday.
In fact, Bernard performed well enough in the Pistons' penultimate contest to have a play drawn up for him in the game's final seconds. With the confidence of the coaching staff, Bernard took further command of the offense Saturday. He helped his team take a lead advantage against the Magic after scoring 14 third-quarter points, a stretch that included three straight makes from beyond the arc.
The 3-point stroke was a sight for sore eyes for Bernard, who was 2-of-14 from downtown in his four appearances entering the weekend. Like Juzang, Bernard will need to have an above-average outside shot to make it in the league, though the latter Bruin also showed encouraging signs off the dribble in Vegas.
Bernard – who often played the role of backup point guard for the Bruins – was always an underrated driver in his time with the blue and gold, and he was able to showcase some of those skills in the desert. He continuously put pressure on the rim, got to the line 18 times across five contests and boasted an above-one assist to turnover ratio.
But while Bernard's late play likely earned himself a training camp invite from the Pistons, it's unlikely to materialize into anything beyond that – at least for this season. Both the Pistons' two-way spots are occupied by similarly sized wings, and Detroit already has 15 players projected to make the opening-night roster.
Look for Bernard to latch on to the Motor City Cruise – or perhaps a different NBA franchise entirely – as he tries to prove his value at the next level.
Bonus: Shareef O'Neal, Los Angeles Lakers
2022 Las Vegas Summer League Stats (four games): 11.5 MPG, 4.8 PPG, 3.8 RPG, 0.3 APG, 0.3 BPG, 0.3 SPG, 44.4/0.0/50.0%

As the saying goes: once a Bruin, always a Bruin.
With UCLA for half of the 2019-2020 season, O'Neal finished his collegiate career at LSU and has since earned a summer league invite with his hometown Los Angeles Lakers.
O'Neal hovered around 11 minutes a night in Vegas, averaging 4.8 points and 3.8 rebounds per game across four contests.
While it makes for a feel-good story, going from LSU to the Lakers like his dad Shaquille O'Neal, this will likely be O'Neal's first and only chance to touch an NBA floor.