UCLA's move to the Big Ten may be the talk of the town, but not for Chip Kelly.
"We got to keep the main thing the main thing. The young kids that we have right now that are playing football are awesome," the UCLA football coach said. "We should be talking about the season that all of them are going to have here in 2022 and not talking about expansion at this point in time."
While speaking at Pac-12 Football Media Day on Friday afternoon, Kelly repeatedly noted that his focus is set on his team's 2022 season rather than the future ramifications of UCLA's move to the Big Ten in 2024.
Kelly added that while he has been grateful for his time as a member of the Pac-12 – including his stint at Oregon – he simply wants to focus on what he can control.
"It's realignment. It's going on, governed by television – those are things out of my control," Kelly said. "I didn't have a vote. I didn't have a say. I'm going to coach my guys."
While UCLA will retain its storied rivalry with USC in the Big Ten, it will also lose out on other historic Pac-12 matchups, such as its rivalry with California.
Rising fifth-year senior defensive back Stephan Blaylock won't be in Westwood when the Bruins switch conferences, but he said he's happy the blue and gold can at least keep its main rival.
"Things happen," Blaylock said. "Change happens. You lose things in life. You got to move on from certain things. I'm just glad that we're able to take at least one rivalry as we move over to the Big Ten."
Kelly said regardless of the ramifications of conference realignment, the level of college football across the country is at its peak.
"I don't know if expansion is done. I don't have a crystal ball. I don't know where this is," Kelly said. "One thing I do know about this game: Everybody complains about the game, where it's headed, but I think the product on the field is as good as it's ever been."
Roster turnover in 2022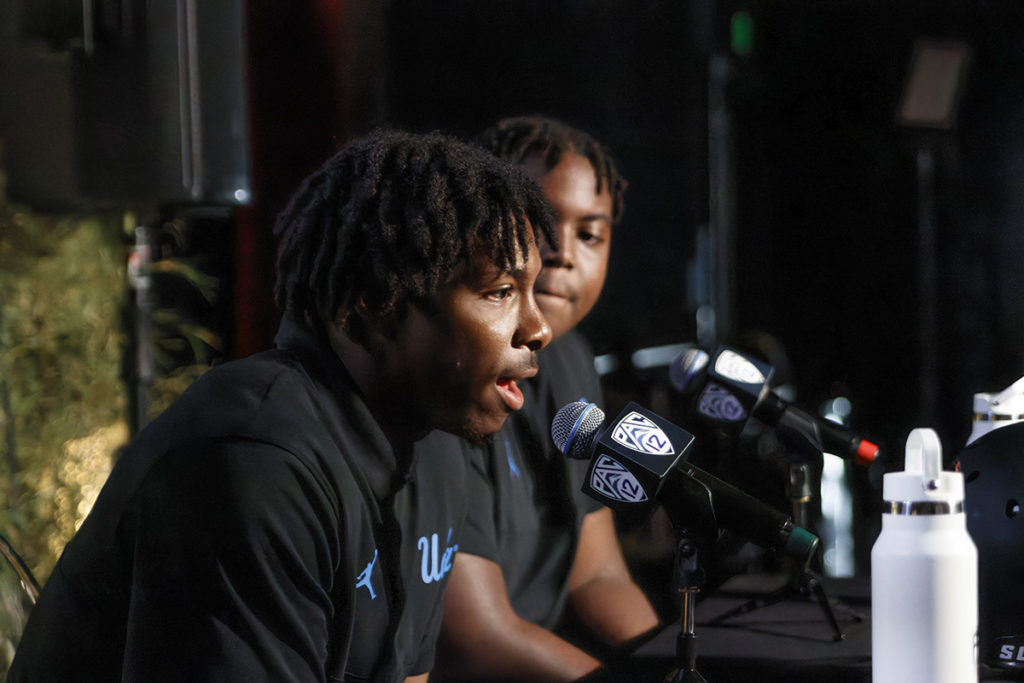 For the Bruins, the change isn't limited to off the field.
While its top signal-caller will be back with the blue and gold, UCLA will bring out a retooled roster in 2022 after losing its top three receivers and a pair of defensive leaders, among other starters.
"We had six players drafted off of last year's team, the most in the conference," Kelly said. "(We) had another six players sign free agent contracts. So we have to replace 12 players that are now on NFL rosters."
Nevertheless, UCLA will bring back an experienced squad in 2022 because of extra years of eligibility granted courtesy of the COVID-19 pandemic, Kelly said.
The long list of veterans begins with quarterback Dorian Thompson-Robinson, who will return to lead UCLA's offense for a fifth season in 2022. Kelly said Thompson-Robinson's experience will not only bolster the Bruins, but also help the quarterback develop into a more complete NFL prospect.
"The amount of snaps he's taken are invaluable," Kelly said. "The chance that he had to come back and play another year, get some more snaps underneath his belt, I think is beneficial. I know when he made the decision to come back, we were all very excited."
In addition to the returning veterans, a plethora of underclassmen will also have the opportunity to continue their development, including rising sophomore defensive back Devin Kirkwood, who is set to slot into the top cornerback spot for the Bruins in 2022.
Rising redshirt senior offensive lineman Jon Gaines II said he takes pride in seeing younger players, such as Kirkwood, improve.
"To watch freshmen transition to their sophomore year, sophomores transition to their junior year, people become more confident in themselves and become more comfortable where they're at," Gaines said. "To see that competitive drive kind of kick into that too because you realize your clock's winding down a little bit, I feel like a proud older brother."
UCLA also made numerous additions to its 2022 squad via the transfer portal, including graduate transfer wide receiver Jake Bobo, who recently was named to the 2022 Biletnikoff Award watch list. According to Kelly, Bobo has already emerged as a weapon on the perimeter.
With a new-look roster in tow, the Bruins will kick off their season Sept. 3 at the Rose Bowl against Bowling Green. More than eight months after his squad last played a football game, Kelly said he is simply ready to get back to the gridiron.
"I've always said the best part of football is actually football," Kelly said. "We get to get back to doing that."