Gallery: UCLA women's soccer advances in NCAA tournament with wins over UCF, Northwestern
---
Posted:
November 21, 2022
12:24 pm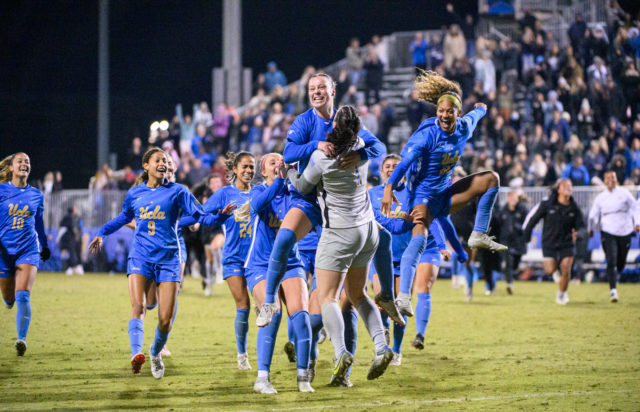 ---
UCLA women's soccer defeated UCF and Northwestern this weekend to move on to the quarterfinals of the NCAA tournament.
Yu is currently a Sports contributor on the men's volleyball beat. She was previously a contributor on the cross country and track & field beats.
Anya Yakimenko
Chen is the 2022-2023 assistant Photo editor on the Sports beat. He is a third-year cognitive science student pursuing a minor in film, television, and digital media. He was previously a staff photographer, and he is from Alameda, California.
---
Comments are supposed to create a forum for thoughtful, respectful community discussion. Please be nice. View our full comments policy here.
Poll

Polls Archive

Featured Classifieds

I need a tennis playing partner. Im looking to play 3 times a week in the mornings. Im located in Sherman Oaks (its close to ucla).... we can play at courts in the area. Im intermediate level. Im looking to play someone around the same experience, or better. Gender doesn't matter. . please TEXT me at: 310-254-7929 PAY: $35/HR • Misc. Announcements

1 Bedroom & 1 Bathroom condo in an excellent location in Westwood.1300 Midvale Ave Unit 409 Open living room is met by a kitchen which boasts floor-to-ceiling cabinets and a separated dining area. Master bedroom is bright and equipped with hefty closet space.The recently remodeled master bathroom includes a double vanity, bathtub and shower. The unit also comes with its very own private very large balcony!The building also includes a pool, spa, recreation room, gym, laundry room on each floor, subterranean community garage parking, and sun deck! Please Noushin Ahobim (310)-863-4325 or [email protected] • Condo/Townhouse for Sale

Artistic, energetic, creative, and hard-working team needed to help create amazing large-scale sculptures and balloon bouquets. This is a FUN and FAST-PACED job, unlike anything else. [email protected] $20-30 per hour. 3 miles west of UCLA in Santa Monica. 310-458-4422 Resume to [email protected] • Help Wanted

Amazing Brentwood family seeking tutoring for JHS student in all subject areas. Monday thru Thursday 4:30p - 6:30p only. Current student or recent graduate. Please call Sunita at 310.887.1818. • Tutoring Wanted

More classifieds »
Content copyright © 2022 the Daily Bruin