UCLA Health assembled a giant inflatable colon March 3 to engage and inform patients, Bruins and the local Westwood community on colon cancer in recognition of Colorectal Cancer Awareness Month.
Assembled at the Ronald Reagan UCLA Medical Center, the inflatable colon is an annual exhibit that attendees can walk through to observe the progressive stages of colorectal cancer in the body, said Dr. Fola May, director of UCLA's Melvin and Bren Simon Gastroenterology Quality Improvement Program. Colorectal cancer is a disease in which cells of the large intestine or rectum grow uncontrollably and develop into cancerous tumors.
It is the second most common cause of cancer-related deaths in the United States, and any person, regardless of gender, is at risk to develop it. However, one in three American adults remains unscreened or untested.
The inflatable colon is one of many campaigns by UCLA Health to help educate adults on the risks and symptoms of colorectal cancer and increase public awareness of the importance of getting screened at ages 45 and older, May said.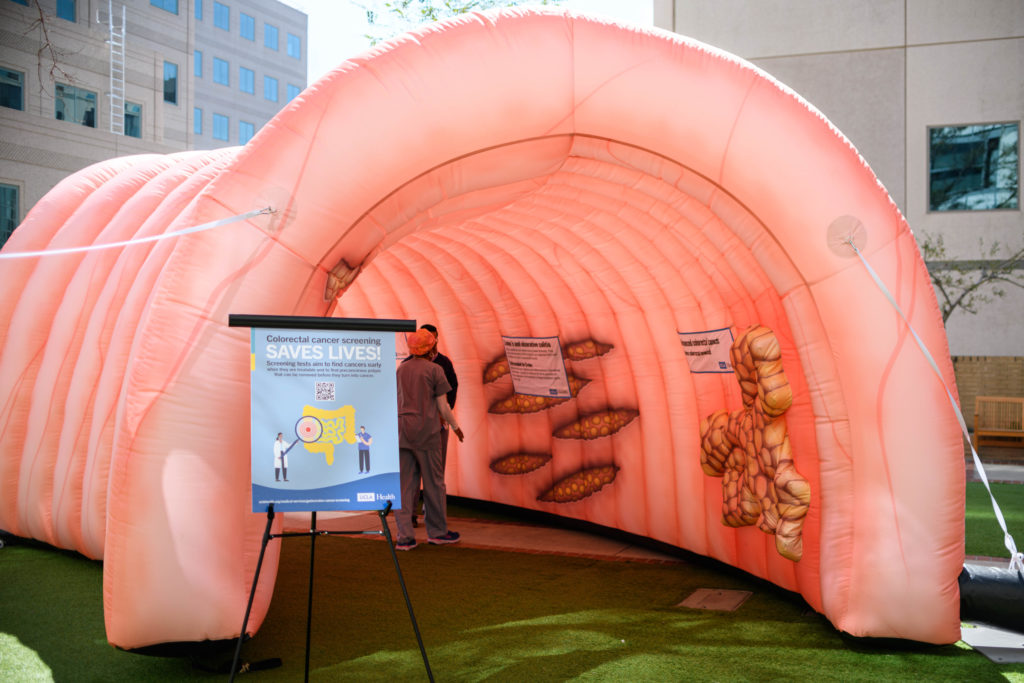 "The scariest thing about colon cancer is that it can be happening for a long time without us noticing," she said. "This is also why screening is so important and to do it at the right age, even when you don't have symptoms, because people can have cancers growing for years."
Colorectal cancer is one of the most preventable types of cancer if found early, said Dr. Bernard Katz, a family medicine physician and medical director for the primary care network at UCLA Health. Colorectal cancer begins with polyps – small outgrowths or bumps – in the walls of the colon or rectum that can be precursors to cancer, he said. It takes about 10 years for polyps to become cancerous, but removing them before they become more dangerous can reduce the risk of colorectal cancer, he added.
Katz said screening for colorectal cancer is recommended starting at age 45 and is commonly done at UCLA Health in two ways: a colonoscopy or a fecal immunochemical test. A colonoscopy is a procedure in which a flexible tube with a camera is inserted into a patient's rectum to examine the walls of the colon, he said, adding that any polyps detected will be taken out.
In contrast, a FIT can be done at home, Katz said. Patients are mailed a FIT kit to collect a small sample of their stool in a tube, and the sample is mailed back to the lab and tested for traces of blood, he said. If a patient has a positive FIT test, which can happen when polyps bleed, they are then referred for a follow-up colonoscopy, he added.
It is a common misconception to start screening only when symptoms occur, May said, adding that the purpose of screening is to catch cancer early when patients are asymptomatic.
"The problem with colon cancer is that when the symptoms occur, it's often fairly advanced," Katz said. "The symptoms of colorectal cancer can be changed bowel habits where the stool becomes thinner and constipation occurs, and this is because the colon gets smaller and gets narrowed. … When that happens it's already pretty advanced, and it's much much harder to treat and to cure."
Age is the biggest risk factor for developing colorectal cancer, May said. Although the recommended age for colorectal cancer screening is 45, it is still important for health professionals and educators to be proactive and share information with the general population, including college students, said Dr. Eric Esrailian, chief of the UCLA Vatche and Tamar Manoukian Division of Digestive Diseases. With awareness of colorectal cancer from campaigns like the inflatable colon exhibit, students can be more prepared for the future and be aware of the need for people in the at-risk age group to get tested, he said.
While at the inflatable colon event, May said she enjoyed seeing the interactions between patients and doctors as they discussed the importance of colorectal cancer screening. She said she also loved seeing patients – who may not know each other – walking through the exhibit together and conversing.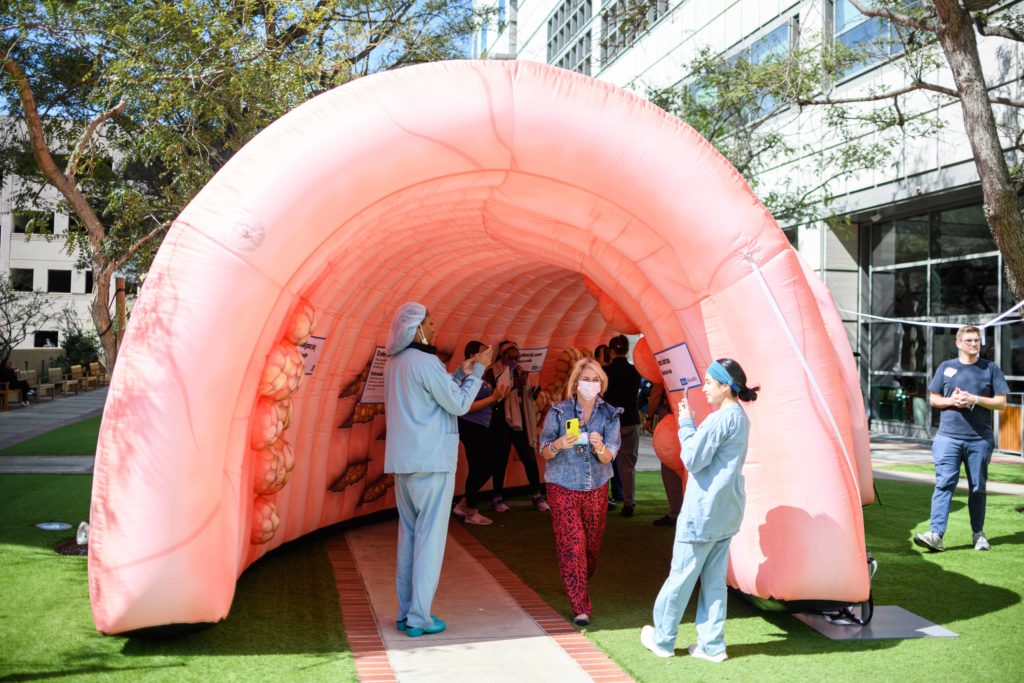 "Our hope is if we can just touch a few lives by convincing a few people to go home and call in to schedule their appointment," she said.
Adam McKnight, an event attendee and a case management nurse at the Ronald Reagan UCLA Medical Center, said it was fascinating to be able to see the stages of colorectal cancer in person. He said he was surprised to hear the screening age for colorectal cancer was 45 years old and not older, adding that the exhibit has made him more conscious of colorectal cancer.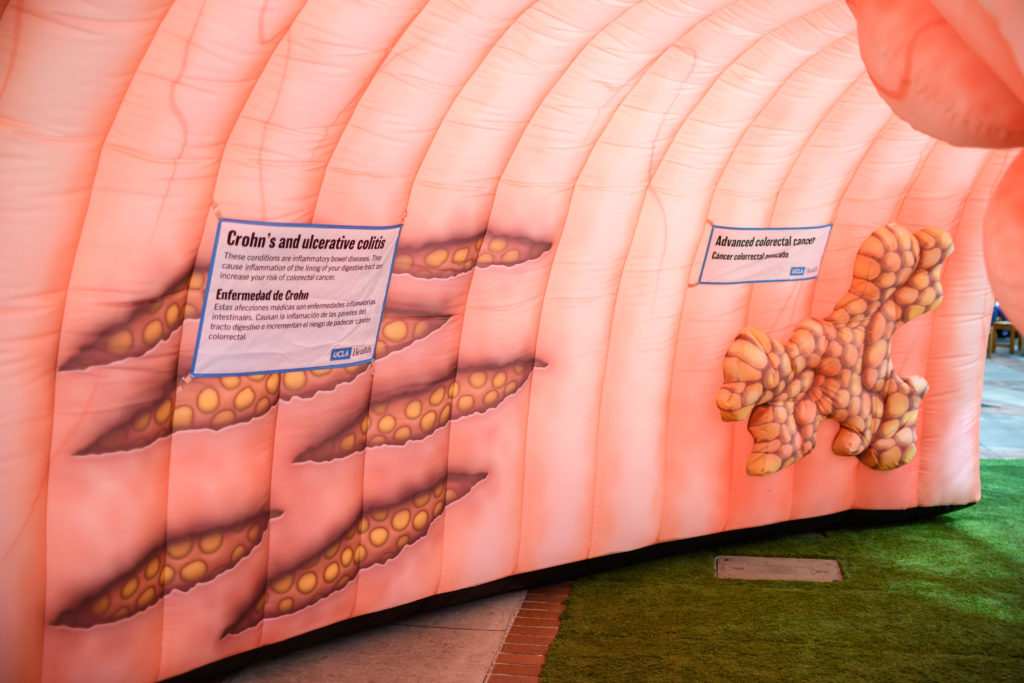 Esrailian said it was only recently that the screening age for colorectal cancer was reduced to 45 years old from 50 years. As more young patients have been developing cancer, he said it is important that UCLA leverages its position as a champion for colorectal cancer awareness and continues to provide up-to-date information and screening opportunities for its community.
"At UCLA Health, we are here and committed to this being a healthy campus, and we want it to be the healthiest campus," he said. "We want students and faculty and staff and basically the UCLA Bruin family to be well taken care of. … If we can't take care of our own, then we're not doing something right."