No. 2 seed UCLA men's basketball (30-5, 18-2 Pac-12) will look for a third straight NCAA Tournament Sweet 16 appearance with a second-round matchup against No. 7 seed Northwestern (22-11, 12-8 Big Ten) on Saturday night in Sacramento. The Bruins enter the contest as 7.5-point favorites with a 84.8% chance to win, according to ESPN's Men's College Basketball Power Index. Here is this matchup's scouting report from senior staff writer Jon Christon – who did not get into Northwestern.
Personnel:
Coach: Chris Collins
Starting lineup: G Boo Buie, G Chase Audige, G Ty Berry, F Robbie Beran, C Matthew Nicholson
Best player: G Boo Buie
X-factor: G Chase Audige
Northwestern boasts one of the most intimidating backcourts UCLA will face all year.
Led by a pair of starting senior guards in Boo Buie and Chase Audige, the Wildcats are a force to be reckoned with on the perimeter.
Buie is the team's offensive engine. He leads Northwestern in scoring at 17.3 points per game – a mark that ranks sixth in the Big Ten – while still adding 4.5 assists a night. Only two other high-major players tout those averages.
Though Buie is a willing shooter from outside – shooting 31.3% on six attempts a game from deep – most of his damage comes from inside the arc. The guard is about as crafty as they come in the painted area, excelling from floater distance and at finishing through contact around the rim.
When the game gets close, there is no doubt where the ball is going for the Wildcats.
Audige, meanwhile, is solid, yet unspectacular, offensively at 14 points per game on 36.9% shooting; but he butters his bread on the other end of the floor.
A Big Ten co-Defensive Player of the Year and one of four Naismith National Defensive Player of the Year finalists, Audige has a legitimate claim to being the best defender in college basketball. He thrives on and off the ball in Collins' help-side defense, using his 6-foot-4, 200-pound frame to play anywhere on the court. He's one of the smartest defenders in college basketball, too, knowing exactly when to crash hard on a drive and when to stay back on his man.
Audige's 80 steals – good for a 2.4 steal per game average – rank sixth in the entire country, a figure he added to with four takeaways against No. 10 seed Boise State on Thursday. He leads a Northwestern defense that ranks second in the Big Ten in points allowed.
Northwestern plays a three-guard lineup, with Ty Berry starting alongside Buie and Audige. Berry was the Wildcats' most consistent shooter his first two seasons in Evanston, but has struggled so far this season at 29.5% from deep.
Robbie Beran is the only other Wildcat to start every game and the 6-foot-9 forward can stretch the floor, though his minutes have fluctuated with the season winding down.
Collins has increasingly opted to close games with Brooks Barnhizer at the four instead of Beran. The 6-foot-6 guard in Barnhizer rebounds the ball well enough – ranking second on the team in rebounds per minute – for the Wildcats to play four-guard lineups consistently.
Center Matthew Nicholson mans the middle for the Wildcats, while forwards Tydus Verhoeven and Nick Martinelli both get rotation minutes off the bench.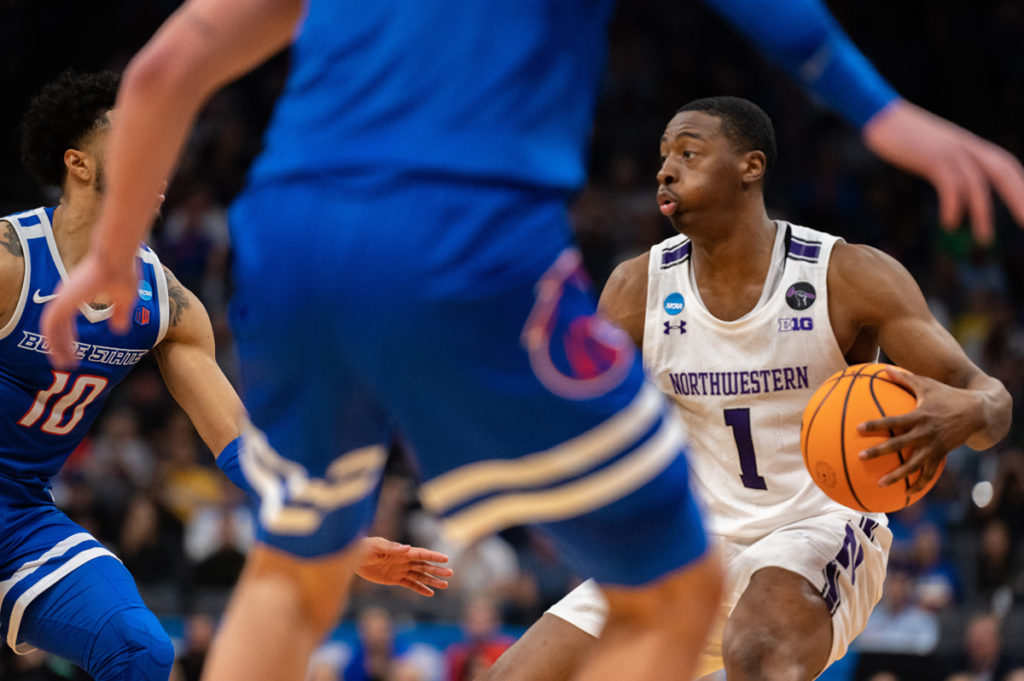 Stat Profile:
KenPom ranking: 36
Adjusted offensive rating: 109.6 (98th)
Adjusted defensive rating: 94.0 (18th)
Adjusted tempo: 64.7 (309th)
Very rarely are 6-foot-4 guards the anchor of an elite defense.
But that's exactly what Audige is for this Wildcat team.
Collins and company switch between man-to-man and matchup zone defenses, though sometimes the line between the two is blurred. Whatever defense the Wildcats are in, they protect the paint hard with a heavy help-side rotation, sending frequent double teams into the post.
Fittingly, Audige is among the best help-side defenders in the nation.
He serves as Northwestern's free safety, so to speak. Collins doesn't always put Audige on the other team's primary ball-handler, but instead the coach puts him away from the ball so he can lurk in the lane on help-side rotation. If someone drives into the paint, Audige and his quick hands are almost always the first person to meet them.
Audige's presence helps the Wildcats force the second-most steals and the second-most turnovers overall in the Big Ten at 7.9 and 14.1 per game, respectively.
The Wildcats do not have five Chase Audiges, though, and their strong help-side presence leaves them susceptible to open 3s. They ranked in the bottom third of the Big Ten in opponent 3-point percentage, struggling against teams who stroke it frequently from deep.
The Bruins will be in a good spot if they don't panic in the paint and are able to find open guys along the perimeter.
Audige – along with Buie – is central to Northwestern's offense, as well.
Collins tries to feature his two star guards as much as possible on that end of the floor, running sets predicated on dribble hand-offs on the perimeter.
That starts with Buie and his ability to penetrate a defense at will. Buie is next to impossible to stop running downhill off a handoff, while Audige is a sneaky playmaker with the ball in his hands as a secondary ball handler. Together, they force defenses to help early and often.
In theory, this should be a recipe for an elite offense. But Northwestern simply does not have the perimeter shooting to capitalize on the chaos Buie and Audige create.
The Wildcats have just two other rotation players – outside of Buie and Audige – who consistently shoot it from deep in Berry and Beran, and both are having career-worst seasons from behind the arc. Collins, as mentioned before, often gets creative with four-guard lineups to open up the team's spacing, though the team still shoots just 32.2% from deep, tied for the third-worst mark in the Big Ten.
The lack of spacing forces Buie to play hero ball far too often. He is certainly capable – particularly in a March Madness environment – but any 3-point shots he takes is a win for the defense, especially if he's taking them off the dribble.
If Northwestern's role players – specifically Berry, Beran and Barnhizer – can knock down shots on the perimeter, Buie will have the space to do what he does best and the Wildcats have the ability to upset the Bruins.
If Northwestern goes cold, however, UCLA will assuredly move on to the Sweet 16 in blowout fashion.