This post was updated May 25 at 9:53 p.m.
Seventeen hits and 17 runs.
The Bruins exploded at Scottsdale Stadium for the second-most runs they scored this season.
Even senior right-hander Kelly Austin kept the Huskies off balance with 12 strikeouts.
But neither of the contributions to No. 7 seed UCLA baseball's (28-24-1, 12-16-1 Pac-12) seven-inning 17-4 victory over No. 3 seed Washington (33-17, 17-12) could wedge the Bruins out of Pool C and into the Pac-12 tournament semifinals. Coach John Savage's team was mathematically eliminated from advancing just 45 minutes before first pitch Wednesday, making its season-ending win all for naught.
"It's kind of bittersweet," Savage said. "Obviously, knowing that your season ended and you played the way we did, and we pretty much handled the three seed like nobody's business. What could've been and should've been – unfortunately, we're not there."
Senior outfielder/left-hander Josh Hahn hit his first home run of the season, collected four RBIs and was a triple shy of the cycle, while sophomore infielder Duce Gourson went 4-5 and added two RBIs to UCLA's final total.
Each hitter in the Bruins' lineup recorded a hit against the Huskies, while eight of them – minus junior outfielder Carson Yates – earned an RBI.
After scoring three or more runs in the second-through-fourth innings, the Bruins pushed across seven runs in the fifth, capped off by Gourson's RBI single.
Hahn said it was important for the offense to end the season with a strong performance.
"It was a really big game," Hahn said. "Just to do it for each other and end the year on an exclamation point – on a high note. We can't be hanging our heads too bad after that."
On the mound, Austin struck out seven of the first eight batters he faced before allowing a run in the bottom of the third. To close out the frame, the Bruins' ERA leader struck out his eighth batter of the game and 100th of the season, making him the lone Bruin to eclipse the triple-digit mark.
Austin is the first UCLA pitcher to reach 100 strikeouts since right-handers Ryan Garcia and Jack Ralston did so in 2019.
"It goes down as a personal accomplishment in the record books, but really, that doesn't happen without a team," Austin said. "I was not only proud of what I ended up doing but proud of the people around me that helped with it."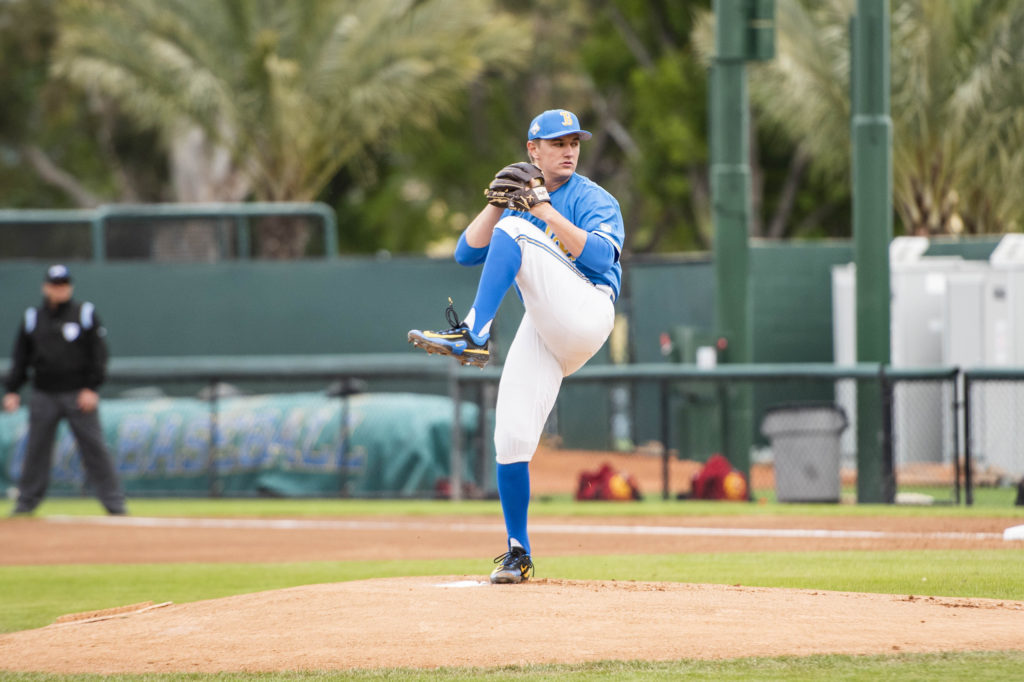 Despite allowing four runs – three of which were earned – Austin ended his final outing of the season by striking out the side in the fifth and leaving the bases loaded, exiting the contest in line for his fifth win of the season.
Austin said he convinced Savage to let him stay in the game after the 19-year coach made a mound visit with the bases loaded. The former junior college pitcher added that Savage's trust is part of what makes him unique.
"That's a great thing about coach Savage is you work your butt off, and he sees you do it every day because he's always here," Austin said. "He knew that I had a shot to do it based on what I said. He gave me that opportunity, and it was pretty cool."
Savage added that Austin's efforts set an example for the rest of the team moving forward.
"Whenever you compete like that and you work like that, you build trust," Savage said. "It's just a lesson for all our guys – the younger guys – just in terms of his commitment to the pure fight of making pitches. He deserved to stay out there, deserved to get to win."
Right-handers redshirt sophomore Chris Aldrich and freshman Cody Delvecchio tossed scoreless sixth and seventh innings en route to the Bruins' run-rule win.
No. 8 seed Arizona's Wednesday morning victory caused No. 5 seed Arizona State and No. 2 seed Oregon State to hold 0-1 records heading into their Thursday's matchup. Both teams hold the tiebreaker over UCLA with higher tournament seeds, meaning the Bruins' postseason run has concluded despite having a 1-1 record and a positive-11 run differential.