The Bruins and Sooners were deadlocked at 25 apiece in the fourth frame on Saturday.
Two outcomes hung in the balance – falling victim to a series sweep or orchestrating a four-set victory to depart Oklahoma with a win.
In line with their clutch performances throughout the series, sophomore Grayce Olson and senior Iman Ndiaye delivered a point each to seal the set at 27-25 and lock in the victory.
The opposite/outside hitter duo spearheaded UCLA women's volleyball (8-2) in its doubleheader against Oklahoma (6-3), where the Bruins conceded a 3-2 defeat Friday before cementing a four-set win Saturday. Ndiaye and Olson notched the highest kill counts among UCLA players and displayed vital performances in crunch time.
After Ndiaye carved out 13 kills on a .435 hitting clip Friday, she showed her mettle in Saturday's final frame. The Dallas local brought UCLA back to a one-point margin in the fourth slate and later positioned a tip over the net to guarantee the victory.
"One of my goals this season was to be more consistent on the court, so I think it's great that I've seen tangible results," Ndiaye said. "It motivates me to keep going and keep performing for the team so that we can keep performing the rest of these games or going into conference play."
The reigning All-Pac-12 mention recorded her seventh- and eighth-straight games of double-digit kills as well as the first double-double of her career with 16 kills and 10 digs in the series' finale.
Associate head coach Jen Malcom said Ndiaye helps enhance the team's versatility.
"Her being able to stay in and play six rotations gives us another dimension that our team thrives off of," Malcom said. "I know she's been working really hard on the backwards defense that allows her to stay in there and just adds another wrinkle to our offense too."
The Bruins were on the verge of suffering a three-set sweep as the third set began in game one. But a 15-kill exhibition from the Bruins in the frame eliminated the prospect of a Sooner sweep.
Following the redaction of Olson's legal service ace after a camera operator obstructed the play, she continued her impact from the service line late in the fourth set to strike two more aces – fueling a comeback run and knotting the match at two.
"We all kind of knew what it would take to win that set," Olson said. "And I think it's just pressure from the service line. We did a great job of staying disciplined, staying calm – I don't think that the score dictates how we play, which is good."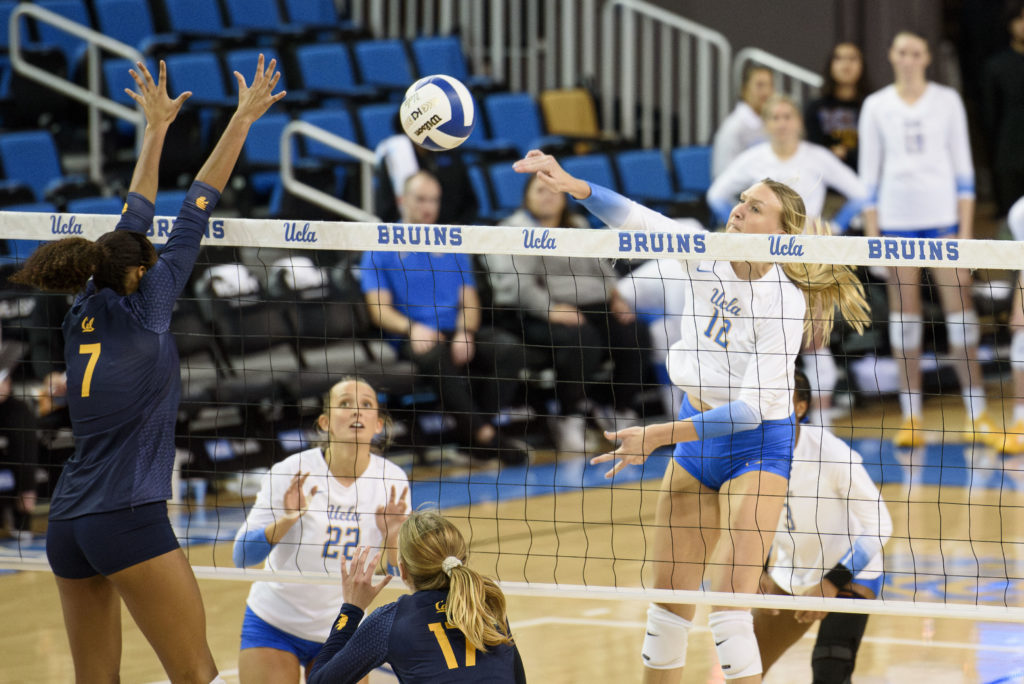 Although UCLA's hope of a reverse sweep was quelled after an eight-point loss in the fifth set, Olson's reign continued in game two with a 15-kill showing on a .270 clip, as well as a career-high eight digs.
Olson narrowly preserved a positive hitting percentage in Saturday's first two frames with five kills against four errors, but she quickly rebounded from an offensive slump and found her stride with 10 kills in the latter half of the game.
Malcom said Olson's performance speaks to her resilience on the court.
"She's been doing fantastic, and I think she's just adding to our game every time," Malcom said. "Just proud of the progress that she's made and hope that she can continue this run that she's on right now."
The Bruins not only reversed their fortune from Friday to Saturday, but they also outperformed the Sooners in every statistical category in the second game. This was after Oklahoma bested UCLA in both kills and blocks in game one.
Saturday's four-set showdown vaulted the Bruins to an 8-2 record against nonconference foes – a record unparalleled since 2016.
"We just kind of take on one game at a time," Olson said. "We have a lot of confidence in how we're going to do this season."