This post was updated July 18 at 9:22 p.m.
On July 1, new name, image and likeness legislation was introduced by the NCAA, meaning, for the first time ever, collegiate athletes are able to make money off their brands through endorsements. The new group of Daily Bruin Sports editors will debate which current UCLA athlete – with one exception – will benefit from this legislation the most.
Margzetta Frazier
Sam Settleman, assistant Sports editor
Most people already know Margzetta Frazier, the mold-breaking gymnast.
The UCLA gymnastics rising senior challenges the norms of the sport with her floor performances and celebrates a hit routine with elbow slams straight out of the WWE.
But most people haven't met Margzetta Frazier, the singer and songwriter. The same Frazier that has become a three-time All-American with the Bruins also has plans to release her own R&B music.
Whether she's in the gym or not, Frazier is an entertainer. And there's nothing more marketable than that.
But don't take it from me – take it from the brands themselves.
Five days into the new name, image and likeness landscape, Frazier had already inked herself a deal with The Player's Trunk to sell her own merch, becoming the first female NCAA student-athlete to do so under the new NIL legislation.
That is likely just the tip of the iceberg for Frazier, who has 128,000 followers on Instagram.
In the first competitive floor performance of her Bruin career, Frazier got a small taste of the famed UCLA floor routine virality, amassing nearly 500,000 views between YouTube and Twitter. But it was last season's floor routine that turned Frazier into a household name – at least in Janet Jackson's home.
Frazier's 2021 floor routine, inspired by Jackson, earned her millions of views on social media, an appearance on Good Morning America and a FaceTime call from the pop star herself. But like Nia Dennis, and all the other UCLA gymnasts before them to go viral, monetary compensation was never a consideration.
Dennis went viral in her final two years with the Bruins, accruing tens of millions of views on social media and receiving shoutouts from Michelle Obama among other famous figures. But NCAA rules barred Dennis from profiting off her newfound fame. Now, things have changed.
With Frazier looking like the heir to UCLA's viral throne and her personal ventures already set for takeoff, don't be surprised if she ends up as one of the highest-earning student-athletes in all of college athletics.
Johnny Juzang
Olivia Simons, assistant Sports editor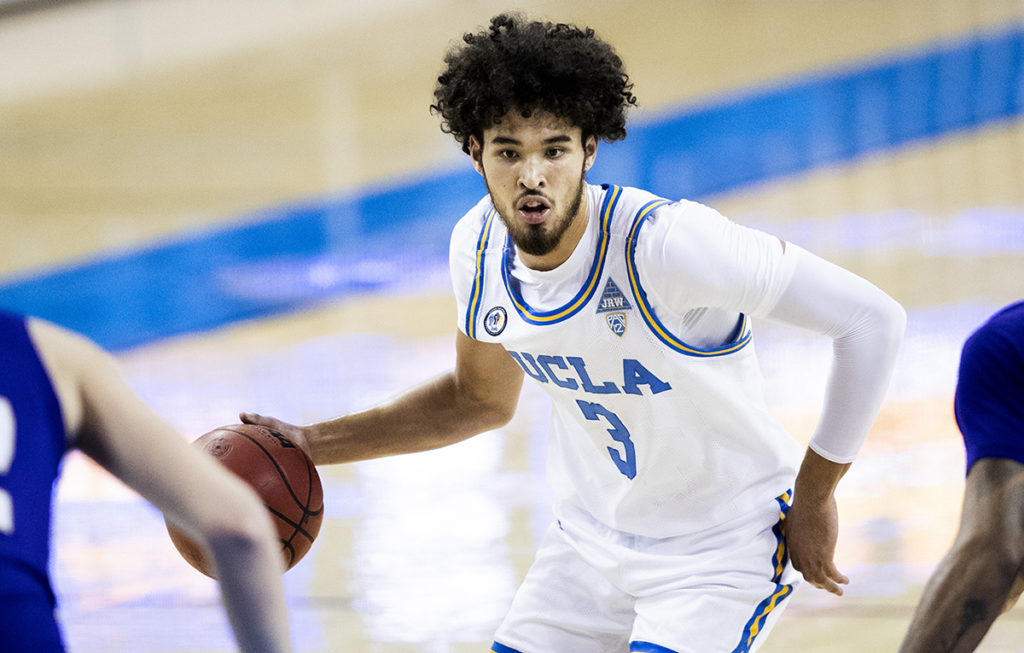 After being plastered across millions of televisions throughout March, the Bruins' brightest star is primed to cash in on his newfound fame.
UCLA men's basketball rising junior guard Johnny Juzang carried the team from the First Four to the Final Four in the NCAA tournament last season and made a name for himself in the process. The team's Final Four buzzer-beater loss to Gonzaga amassed nearly 15 million viewers and later won the Best Game ESPY award.
The Bruins' Cinderella run brought the team back into the national eye, with Juzang's name, image and likeness at the forefront of their media coverage.
With the entire active postseason roster returning in the fall, UCLA is primed to make another deep run in March Madness, and Juzang will have ample time to build on his brand between now and when the storied NCAA tournament rolls around.
The guard entered his name into the NBA Draft pool in April but withdrew after falling in mock drafts.
Along with Juzang's poor mock draft projection, the NIL legislation went into effect just six days before the deadline to withdraw from the draft. With the opportunity to take advantage of his newly established national fame, it's not a stretch to assume the new legislation played into his decision to run it back for a second season.
UCLA's Mr. March has both the reach and the recognition to profit heavily off potential brand deals and other sponsorships. The guard boasts about 17,800 followers on Twitter and over 100,000 followers on Instagram, and he has also appeared on several talk shows and television programs since the end of the Bruins' tournament run.
Juzang also recently promoted his new Cameo account, which is likely just the tip of the iceberg for his future money-making endeavors. The guard and his growing brand have a long season ahead full of media coverage and games with fans eager to watch and support their team in person for the first time in over a year.
Rachel Garcia
Jon Christon, Sports editor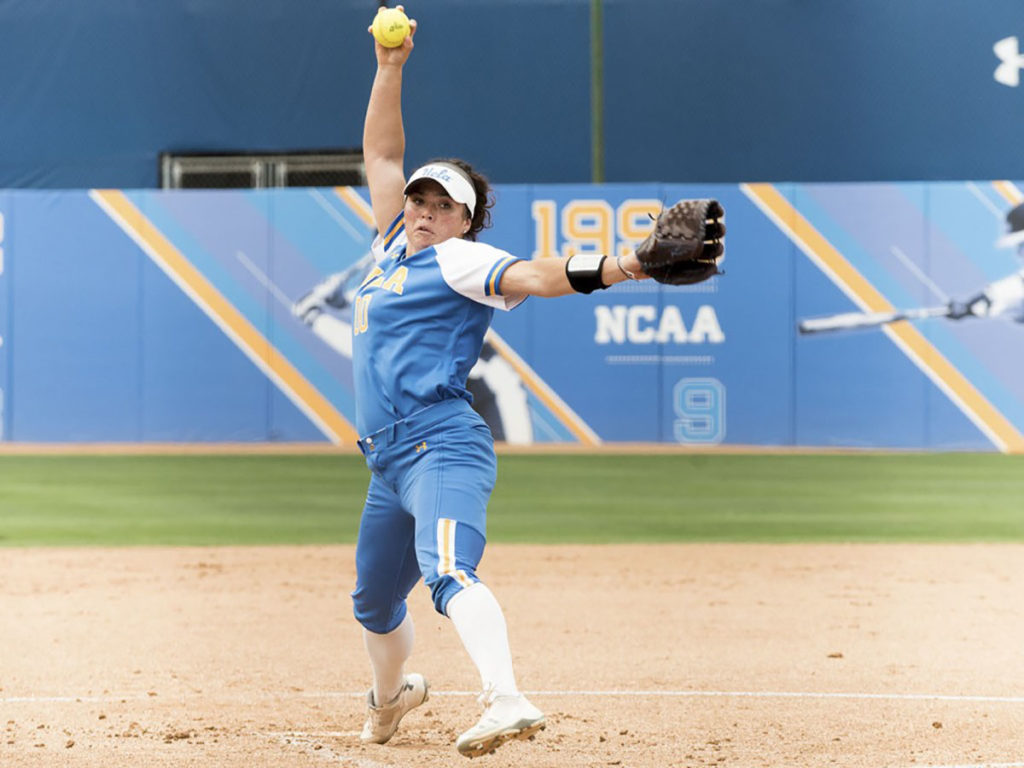 I'll be the first to admit it: this is a bit of a cop-out.
Rachel Garcia won't be able to take advantage of the new collegiate name, image and likeness legislation because her Bruin career ended when UCLA softball lost in the Women's College World Series in June.
However, in a conversation about superstars, it would be remiss not to talk about softball's GOAT.
The other names my fellow editors have listed are all very special talents, but none of them come close to matching Garcia's dominance on the diamond, and it's a fun thought exercise to think what could have been had this NIL legislation been instituted while she still donned the blue and gold.
After routinely dominating the regular season with ease, Garcia turned it on when the games mattered most – and when the national TV cameras were pointed at her. In the postseason, Garcia often put the Bruins on her back, leading UCLA to a 2019 national title that turned her into a household name.
Garcia's stellar play led to her becoming a star on the international stage as well, headlining Team USA teams that won gold medals in the USA Softball International Cup, the Pan American Games and the Japan Cup, with another gold medal opportunity on the horizon later this summer.
This begs the question: Would this dominance on the field translate to similar success in Garcia's bank account?
In short, yes.
Garcia was one of the most recognizable and popular collegiate athletes during her time in Westwood, with networks like ESPN playing into her popularity. The network saw some of its peak softball viewership in 2019, with nearly 1.8 million people tuning in to watch Garcia take home the WCWS Most Outstanding Player award.
Being a two-way player on the diamond would have helped as well. Whenever you would watch the Bruins, you would see Garcia the entire time, either on the mound striking batters out or hitting dingers from the plate. That kind of exposure makes companies salivate.
While her collegiate career has come to an end and her candidacy in this debate is moot, Garcia would have been the crowning jewel for UCLA had the NIL legislation come just a year earlier.
Dorian Thompson-Robinson
Francis Moon, assistant Sports editor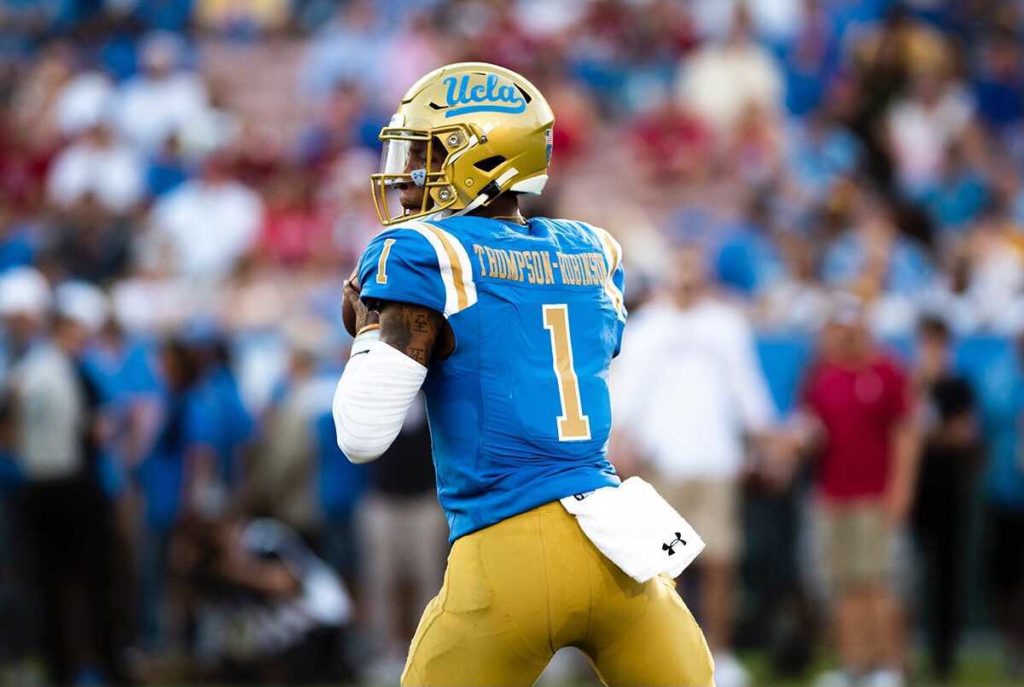 It's no secret that college football brings in the big bucks.
And the quarterback, which for UCLA football is rising senior Dorian Thompson-Robinson, is often seen as the face of the team.
After improving his stats across the board while leading his team to a better record than the previous season during his sophomore and junior years, the Las Vegas native has the tools and potential to have his best collegiate season yet to improve his NFL draft stock while bringing the Bruins to relevancy.
If that happens, Thompson-Robinson's popularity and value could skyrocket, meaning the quarterback would be in an optimal position to put the new NIL policy to good use, and he's already made it clear that his intentions are to do just that.
Days before the policy was even enacted July 1, Thompson-Robinson posted an Instagram story stating he would be open to partnering with companies, becoming the first UCLA athlete to do so.
On July 6, Thompson-Robinson joined Nevada quarterback Carson Strong and Washington State running back Max Borghi – both considered to be potential high-round NFL Draft picks – by signing with Fritz Martin Management for his NIL representation after partnering with Cameo three days earlier.
Thompson-Robinson has also ventured into personal side hustles in the past, including launching a merchandise brand called FriendsOverFans in 2019. The clothing line has reportedly generated over $10,000 since late March, which he has reinvested into the brand that he can now use for profit.
Despite the mediocrity that has defined UCLA football during the Chip Kelly era, the Rose Bowl has been a top-30 collegiate football stadium nationally in attendance in the last five years, believe it or not, with an average of 57,074 fans at each game. In addition, the football program raked in $41.3 million in 2018-2019, while the next highest-earning sport was men's basketball at $12 million.
With an established nickname, likable personality and a strong presence on social media platforms like Instagram and YouTube, "DTR" can take advantage of the popularity and revenue of his sport to use the new NIL policy in a way no other UCLA athlete can.
Kaila Novak
Bryan Palmero, assistant Sports editor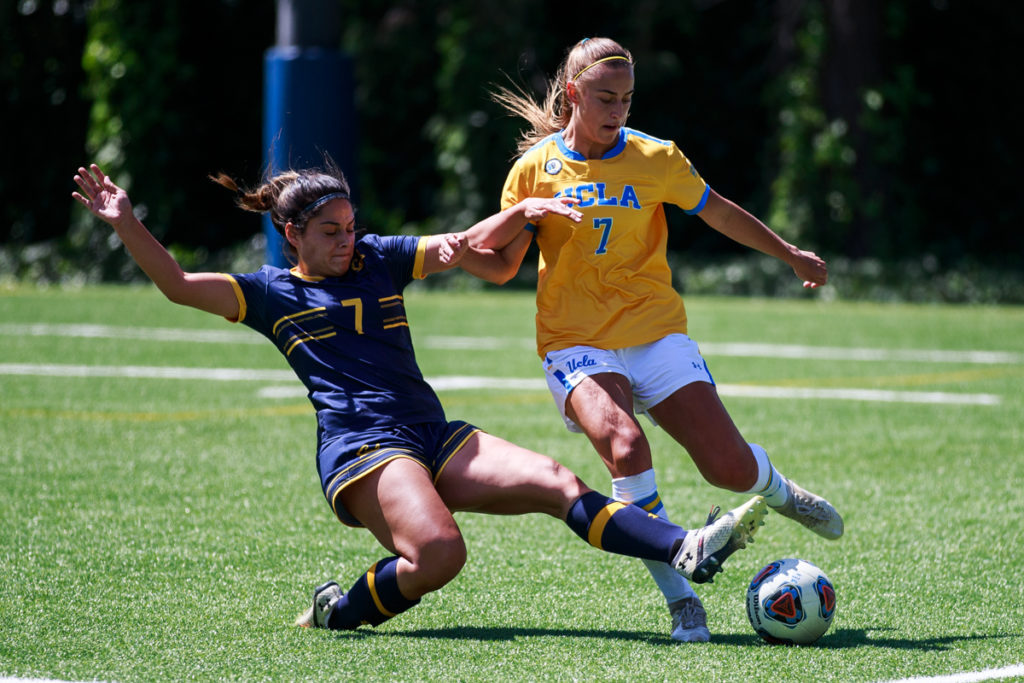 Kaila Novak won't need to break a sweat to run away as the winner of this debate.
She won't need the money college football generates. The eyes March Madness garners. The allure and thrill of UCLA gymnastics. Or the generational dominance of Rachel Garcia.
The UCLA women's soccer forward might not even need to take another step in Wallis Annenberg Stadium.
The rising sophomore made her mark on the internet from the comfort of her dorm by recording videos of herself reviewing the campus's nationally renowned college food.
She has amassed over 1.1 million followers on TikTok with her content, a number that pales in comparison to her 51 million likes. It's no surprise she received the 2020-2021 Daily Bruin Best TikToker superlative, and it should be no surprise she has carved out the best platform of any Bruin athlete to capitalize on the new NIL legislation.
At the time of writing, Novak's most recent Instagram post has more likes than any of Garcia's, Frazier's or Thompson-Robinson's on the site. Compared to Juzang, only the men's basketball star's string of content surrounding his NCAA tournament hype gets the advantage here.
Considering this is Novak's secondary social media platform, that's more likes than Garcia's Team USA softball headshot, any of Frazier's posts of her viral routines on her profile and Juzang's announcement to return to Westwood.
But it's not a numbers game. It's not a contest. Because Novak isn't even trying.
Her "cawfee" catchphrase, mimicking a New York accent, followed by a sip of UCLA Housing coffee has become synonymous with Novak's persona, and it's already helped the Ontario, Canada, native secure multiple beverage company endorsements since the start of the month.
She's one-half of a social media power couple with fellow rising TikTok star Olivia Ponton. But most importantly, she's continued to stay true to herself, using her influence to speak out on subjects like her sexual orientation.
Now imagine what could happen financially if Novak fully makes use of the prestige of being a Division I NCAA athlete.
So as the rest of college athletics enters this new post-NIL legislation world, they'll all have some catching up to do.
Because Novak is already ahead.