News of Terry Donahue's passing from cancer in July struck a deep nerve in me. As a Bruin legacy, I grew up watching UCLA football, bleeding blue and gold with my parents who attended UCLA back in the Dark Ages. My parents screamed epithets at Terry every time the team lost – especially to USC – and grudgingly gave him some credit whenever they won (as alumni are known to do). When I attended UCLA, Terry and his team won two Rose Bowls and were beginning to look like a college football dynasty. And so I regarded him as something of a living UCLA icon.
In the summer of 1987, I had a brief encounter with Terry. Our exchange was short – only a few words – but to me, it spoke volumes about the larger-than-life figure both cheered and vilified by UCLA students and alumni for years. As an alumnus writer for the Daily Bruin at the time, I decided to share my story with Bruin readers in order to provide an insight into the personality of a college football coaching legend.
After learning of Terry's passing, I was reminded of my column and thought re-sharing it with a new generation of Bruins might provide a small tribute to the man who left an indelible mark on UCLA's football program.
Rest in peace, forever Bruin, Terry Donahue. Nobody bled more blue and gold than you.
——————————————–
An open letter to Terry Donahue
November 25, 1987

Dear Terry,
You probably don't remember me. We met back in August. Well, we didn't "meet," exactly. You were leaving the weight room facility next to Pauley and heading for the J.D. Morgan center. I was heading for the I.M. field. In one of those typically fate-like timing situations, with no one else around for miles our paths converged and we ended up walking exactly side by side. We exchanged glances and quick smiles. You looked preoccupied. Deep in thought. Your brows were knit. That's how I recognized you.
Anyways, seeing the uncomfortable situation we were both stuck in, you initiated a polite greeting.
"Hi," you said.
"Hi," I responded (it seemed like the appropriate thing to say).
It could have ended there. But it didn't feel like enough. After all, I was walking beside the man I had watched on TV since I was 15 years old. I was right next to the actual, flesh-and-blood person my parents had spent 11 years screaming at every November (at least, up until about 1982, when Homer Smith took over the offense and single-handedly turned the team around). I was walking beside the coach who had taken the Bruins to the Rose Bowl my final two years at UCLA. I was, in effect, walking beside a living legend. Almost a celebrity.
"I'm looking forward to this season," I managed.
"Good," you replied. We walked several steps in silence. I sensed you weren't very satisfied with your response. You had that look, like it really wasn't the best that you could do. Like you owed me more. So you finally added something.
"I hope you won't be disappointed."
I thought this was an interesting statement for a coach to make.
Not "It should be a great year."
Not "I'm looking forward to it, too."
Not "Thanks for the support."
"I hope you won't be disappointed."
Several steps later, you were gone, ambling towards the Morgan center, head down, deep in thought.
I'm reminding you of this, Terry, because I suspect this may be a very difficult time for you. Saturday was not a good day. In fact, it was the kind of day that takes a few hundred years off your life. I've personally never been mugged, but I would imagine Saturday would have to be about as close as you could get.
There have been plenty of SC upsets. But Saturday's really hurt. This was to be the season. Our season. I mean, we really earned it, this year. What do you have to do to get into the Rose Bowl, anyways?
Something happens when we play SC. It happened again, Saturday. In the second half. A couple bad breaks. A surprising drive by the reawakened Trojans. A score. Conquest played ad nauseam. Like a throbbing migraine. The red and gold pom-poms flashed. And then it happened.
We tensed up.
We got nervous.
We unraveled. By the time it was over, we stood in a daze with our pants around our ankles and watched as Tommy T. ran home with our football.
We lost to the oldest trick in the SC playbook: The psych-out game.
It gets us nearly every time, Terry. Duped, again.
Anyways, Terry, what I'm getting at here, is that you did the best you could. You had a great season. I mean, a great season. There are some things you just can't control. Like death. And taxes.
And the SC game.
What worries me is next year. For the returning players, they're going to have to be wondering just exactly what it takes to go to the Rose Bowl. Obviously not a (near) perfect season. Obviously not the greatest talent in the country. You have a real task ahead. Because you're going to have to get inside the heads of every player and exorcise the demons wreaking havoc on their spirit and motivation for next season. And then you're going to have to play your way through the conference to November, again.
And then you're going to have to face SC.
Please, Terry, don't let this game get to you. Have a nice Thanksgiving. Have fun at the Aloha Bowl. Forget about this season. And think about next November.
If it's any consolation, I'm not disappointed.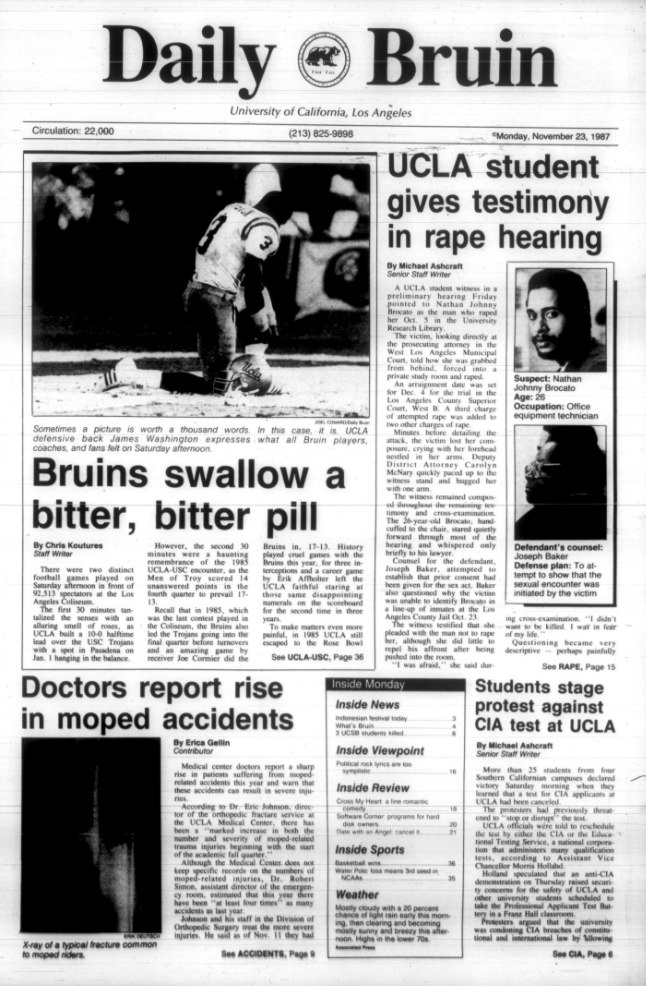 Holley wrote a weekly column for the Daily Bruin as both a student and alumnus. He graduated from UCLA's film/TV program in 1984 and wrote the lyrics to UCLA's "Mighty Bruins" fight song.