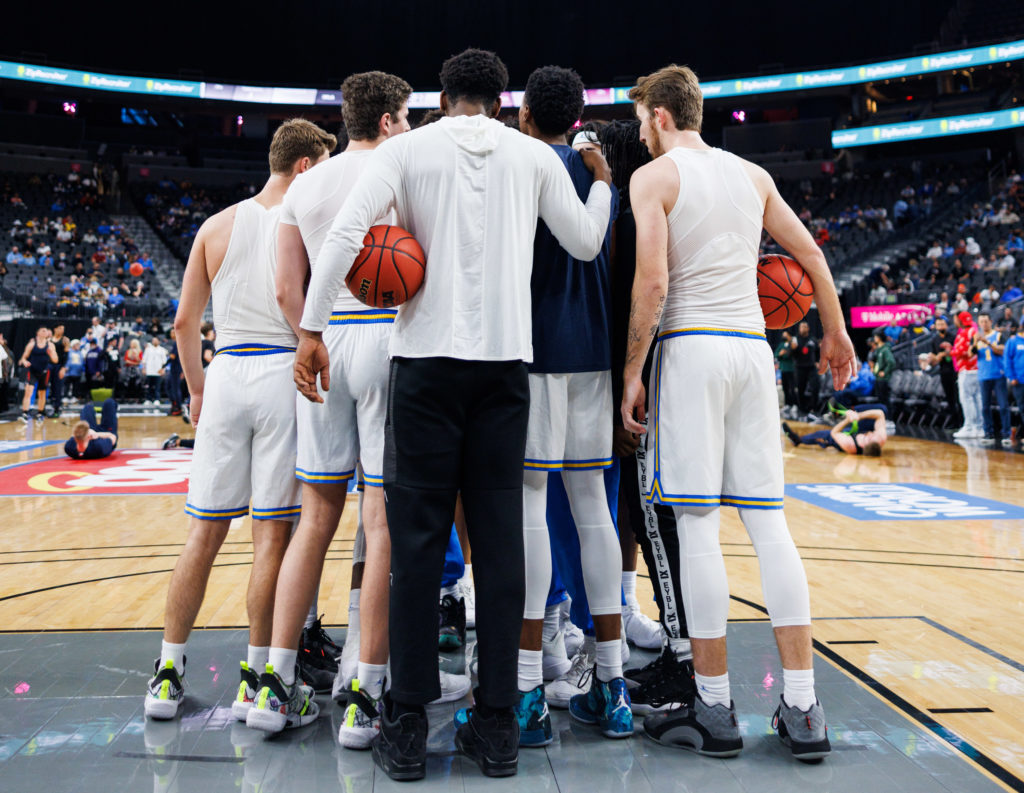 UCLA players gather on the court before the game. The Bruins entered the contest as seven-point underdogs.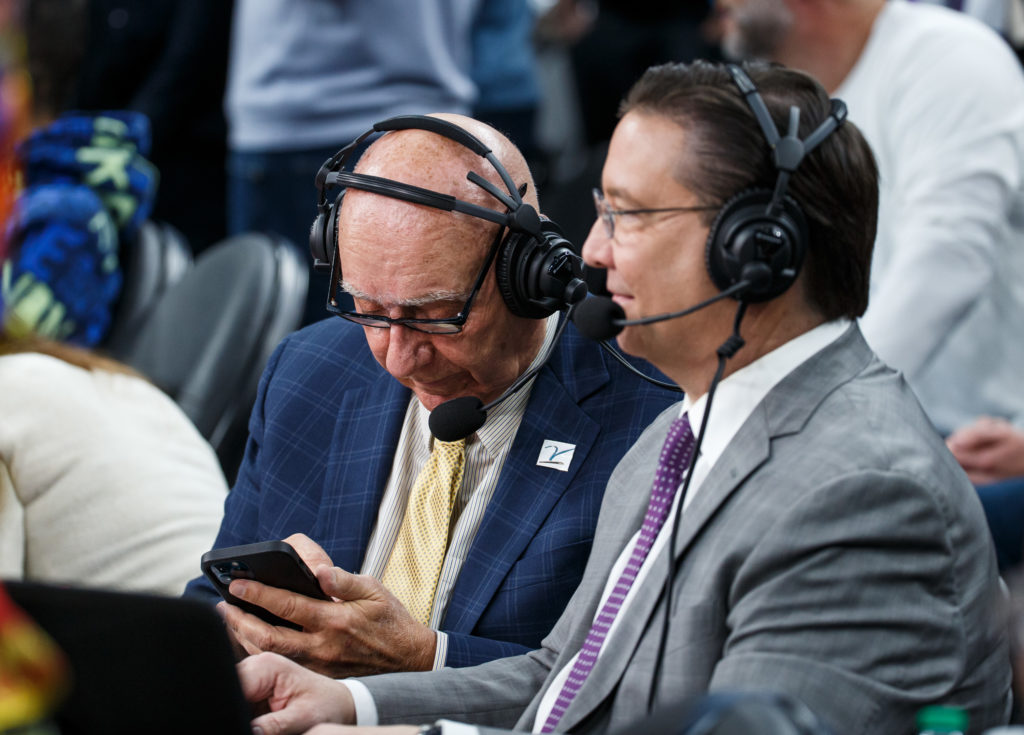 ESPN color analyst Dick Vitale (left) and play-by-play announcer Dave O'Brien (right) set up before the game. Vitale – who received an ovation from the crowd during the first half – called his first game Tuesday since his cancer diagnosis in October.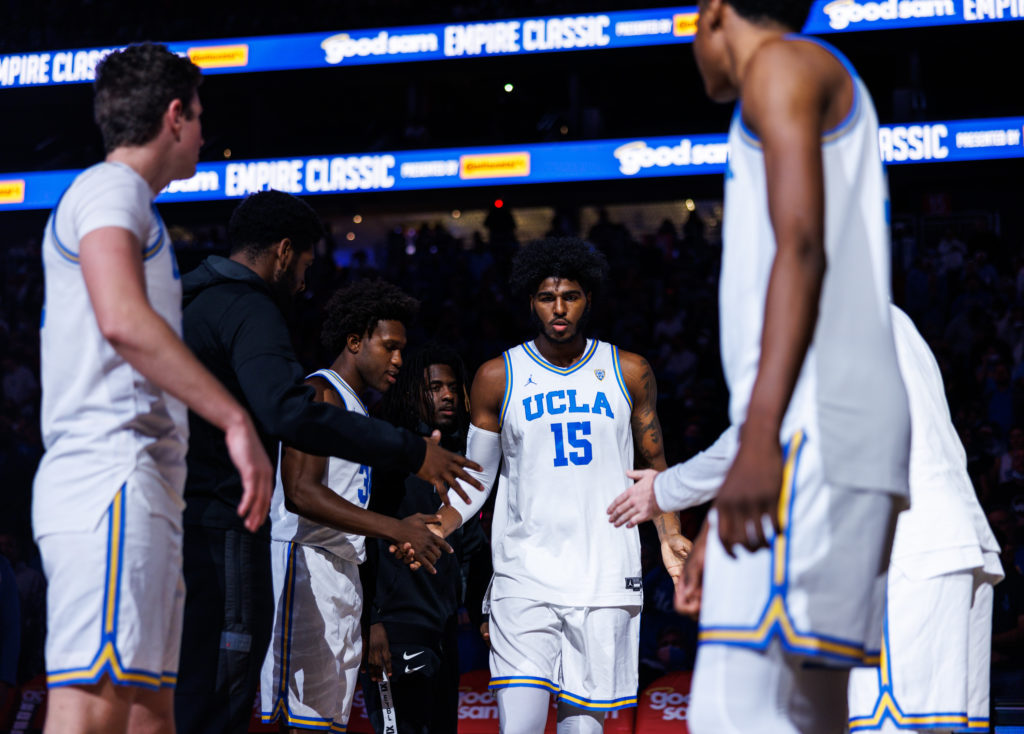 Redshirt senior center Myles Johnson is introduced as a starter before the game.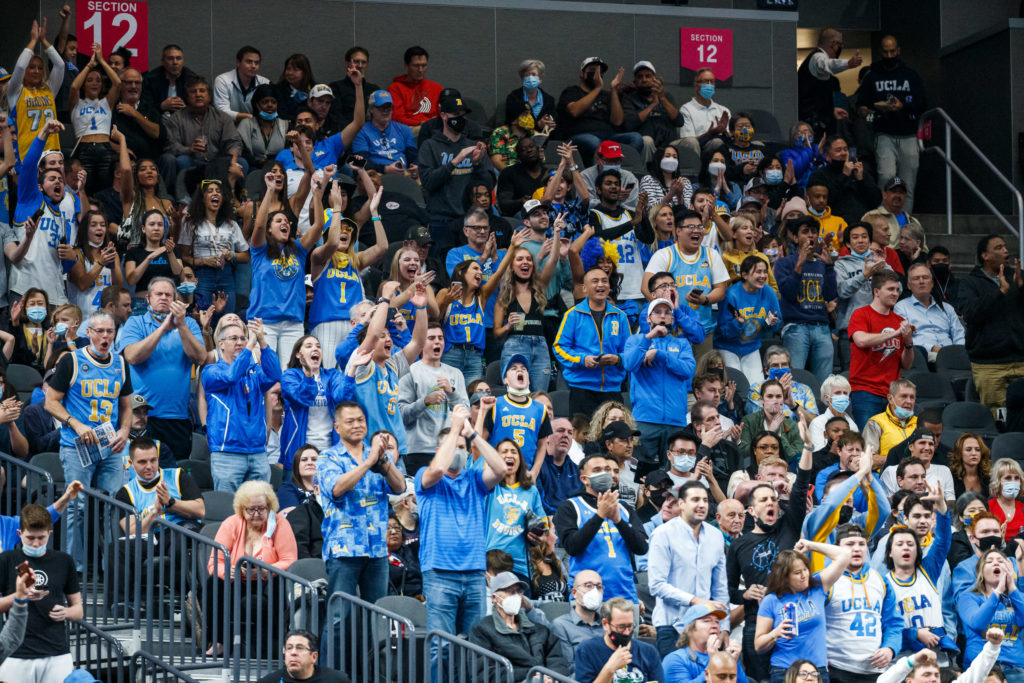 UCLA fans in Las Vegas cheer on the Bruins before the game begins.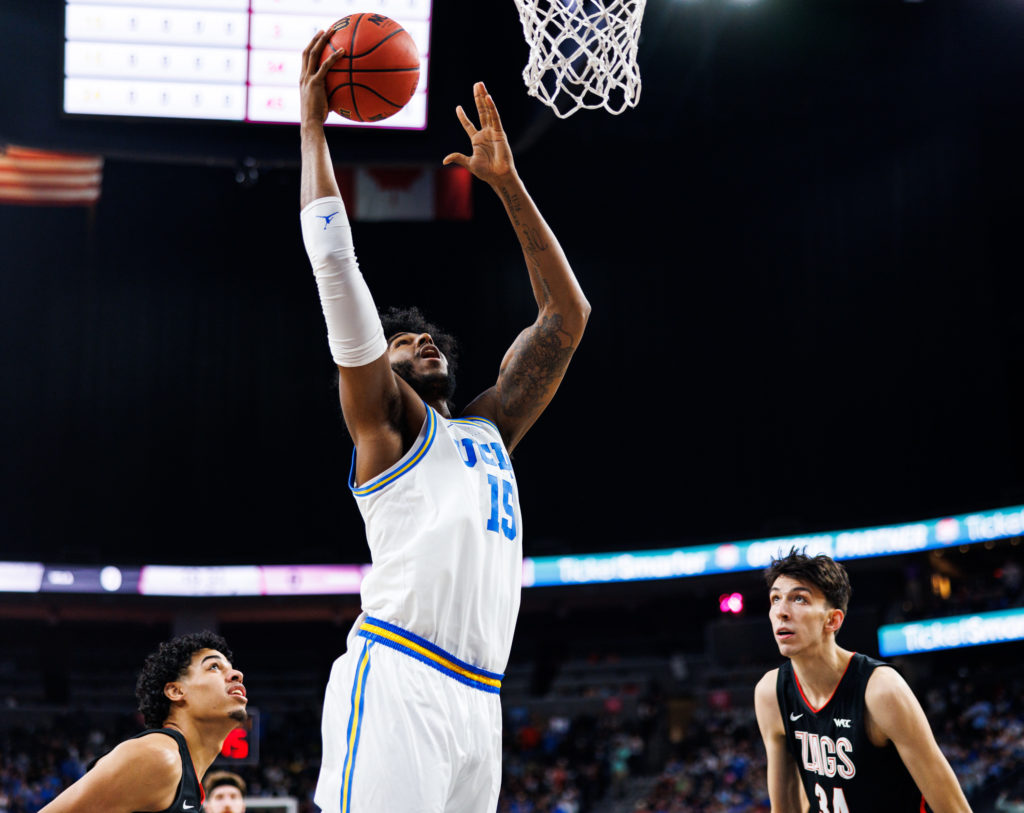 Johnson scores the first points of the game on an uncontested layup. The center finished the game with seven points in 19 minutes.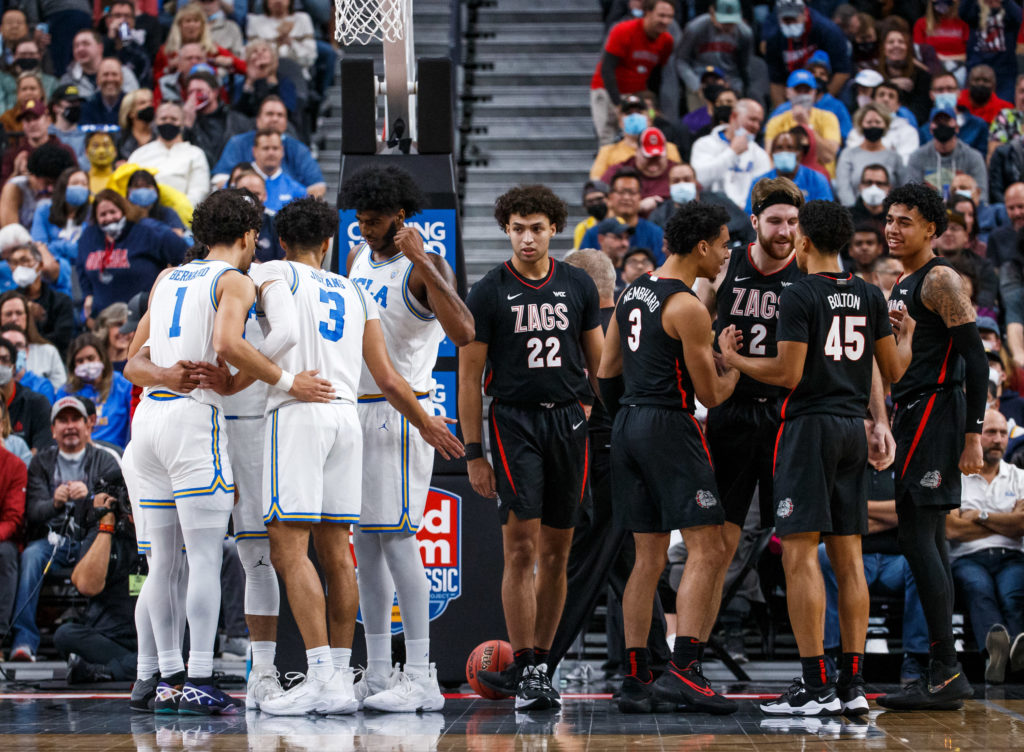 Both teams gather into their on-court huddles.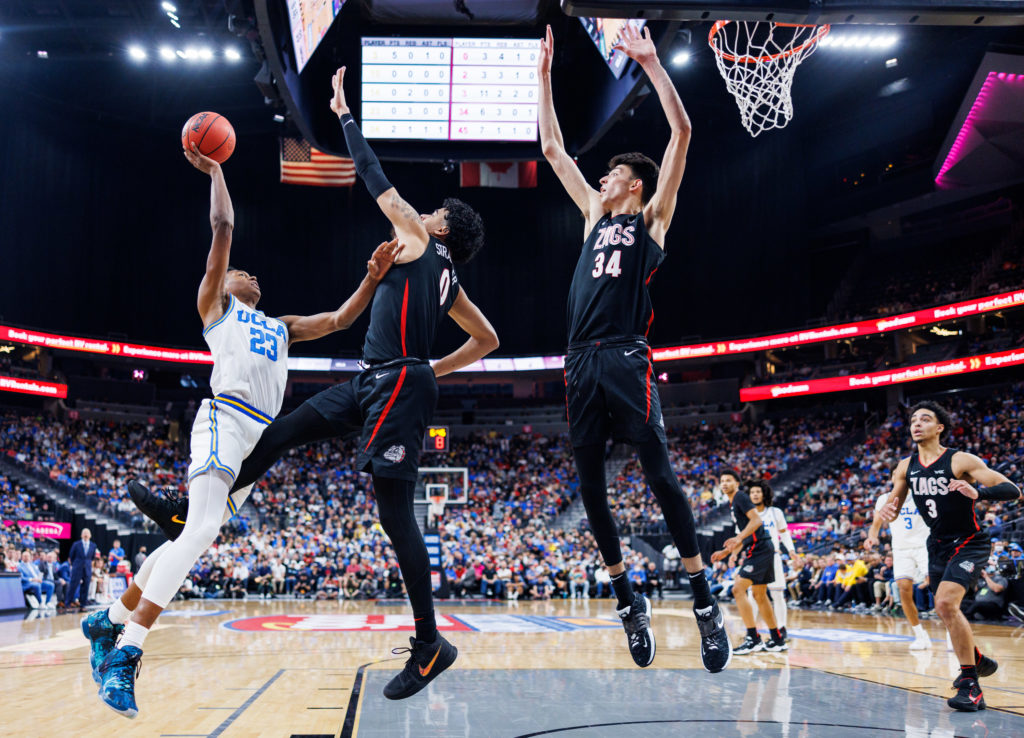 Freshman guard/forward Peyton Watson puts up a shot in front of the outstretched arms of Gonzaga guard Julian Strawther and center Chet Holmgren. The Bulldogs blocked six shots Tuesday night, four of which Holmgren accounted for.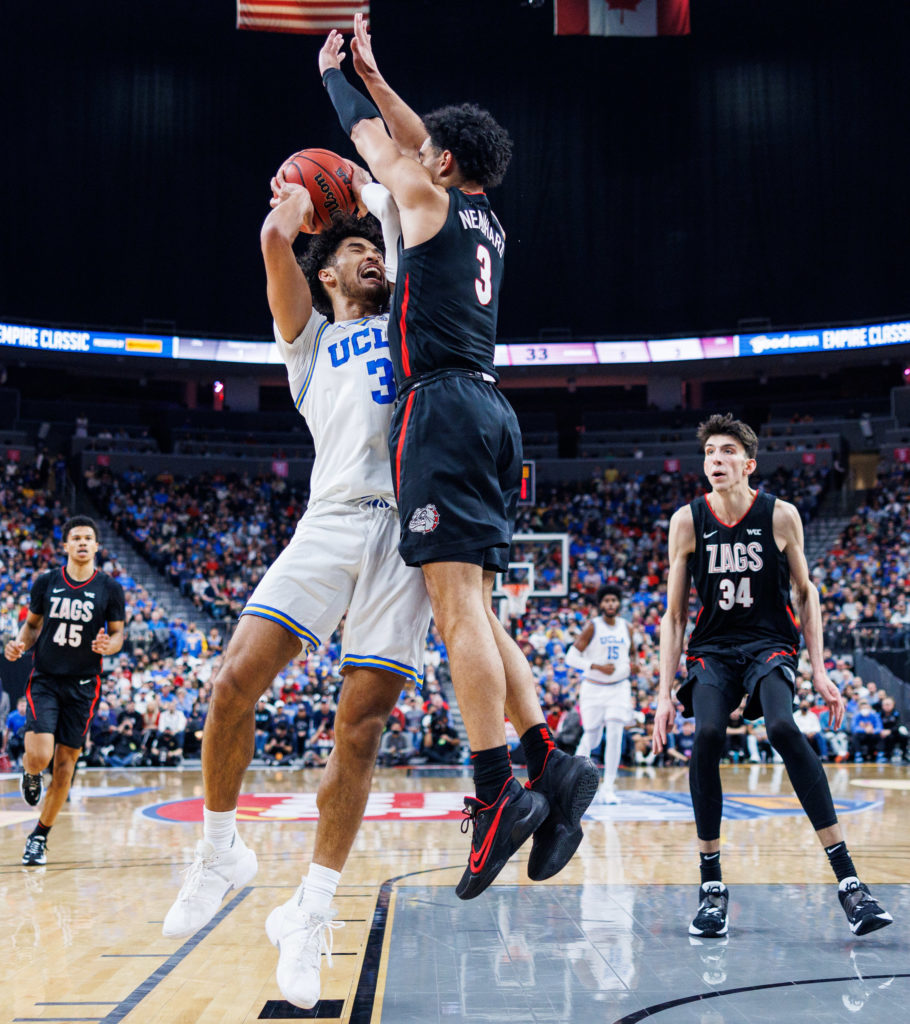 Junior guard Johnny Juzang goes up against Bulldog guard Andrew Nembhard in the paint. After scoring 29 points against Gonzaga in the Final Four in April, Juzang was held to just 11 points Tuesday.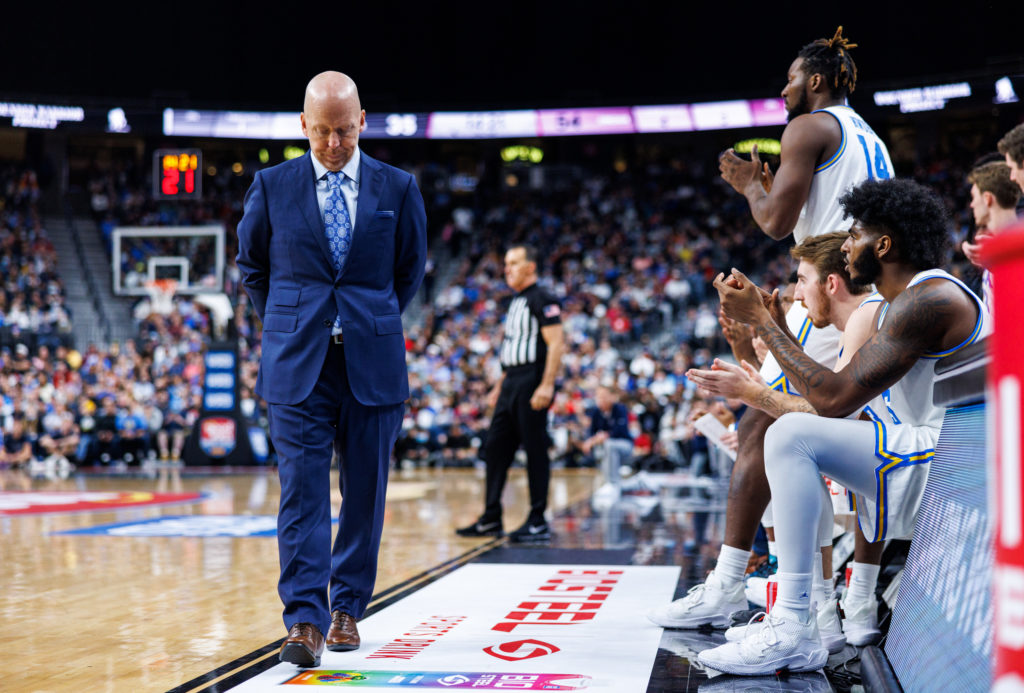 Coach Mick Cronin (left) walks with his back turned from the action while the bench applauds the Bruins' on-court play.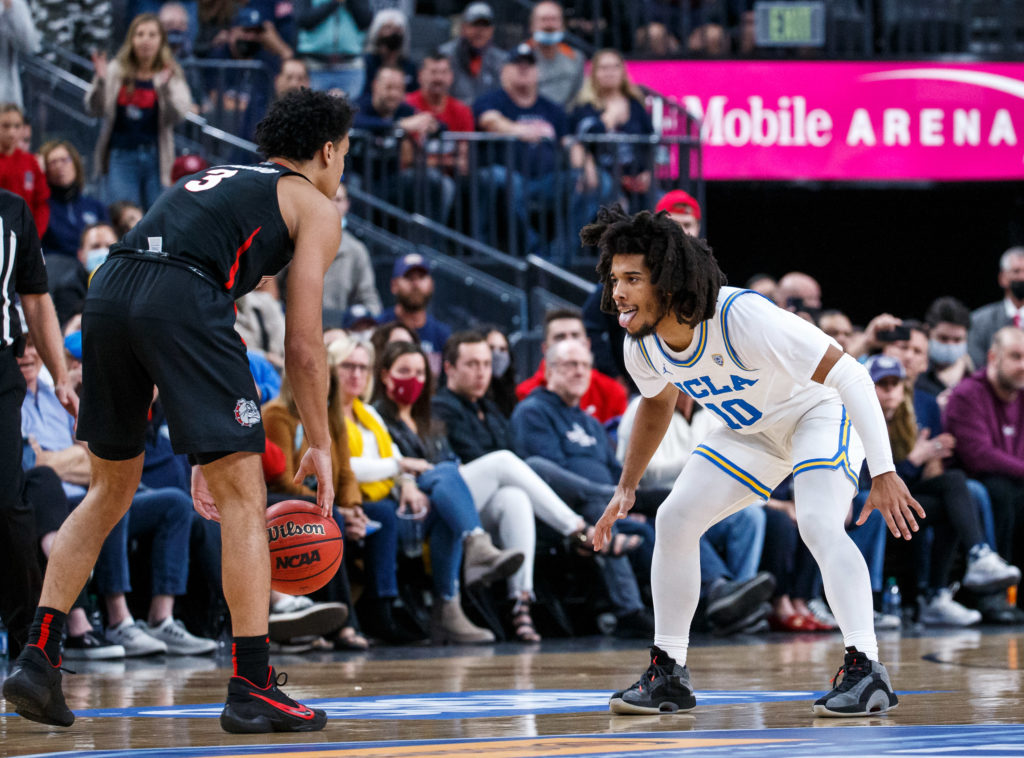 Redshirt junior guard Tyger Campbell eyes the ball while defending Nembhard.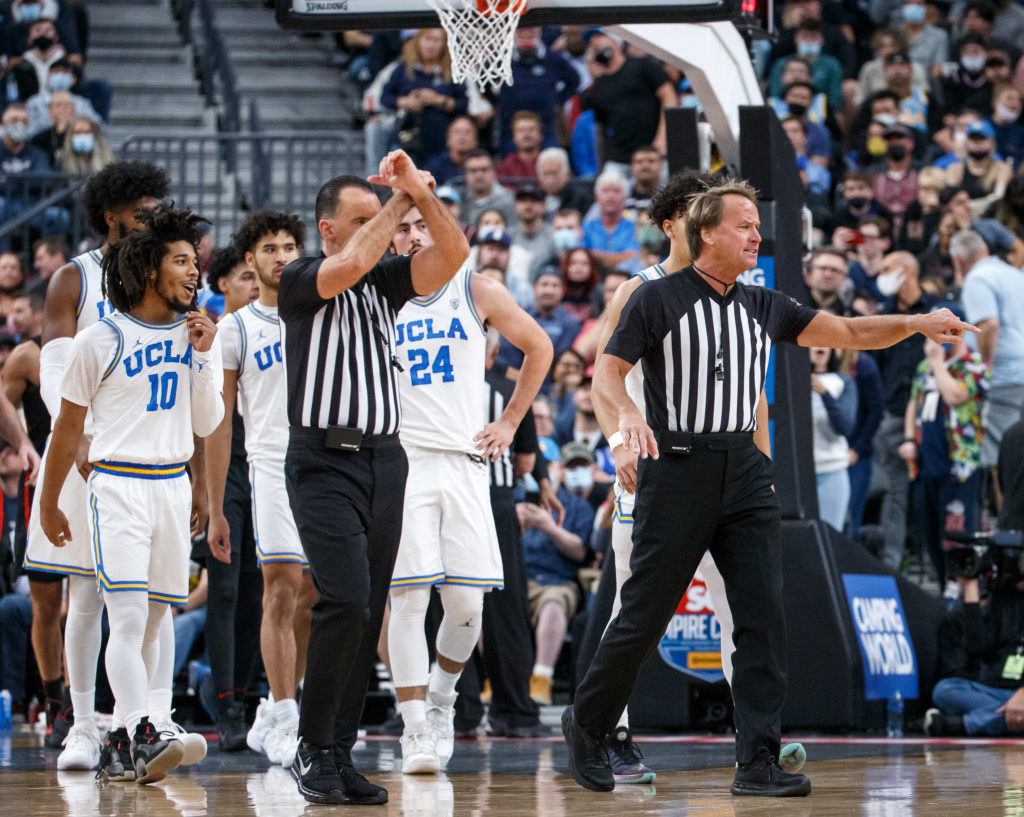 Referee Roger Ayers (left) whistles Campbell for an intentional foul in the second half. The foul was later reviewed and upgraded to a flagrant 1 foul, giving the Bulldogs two technical free throws.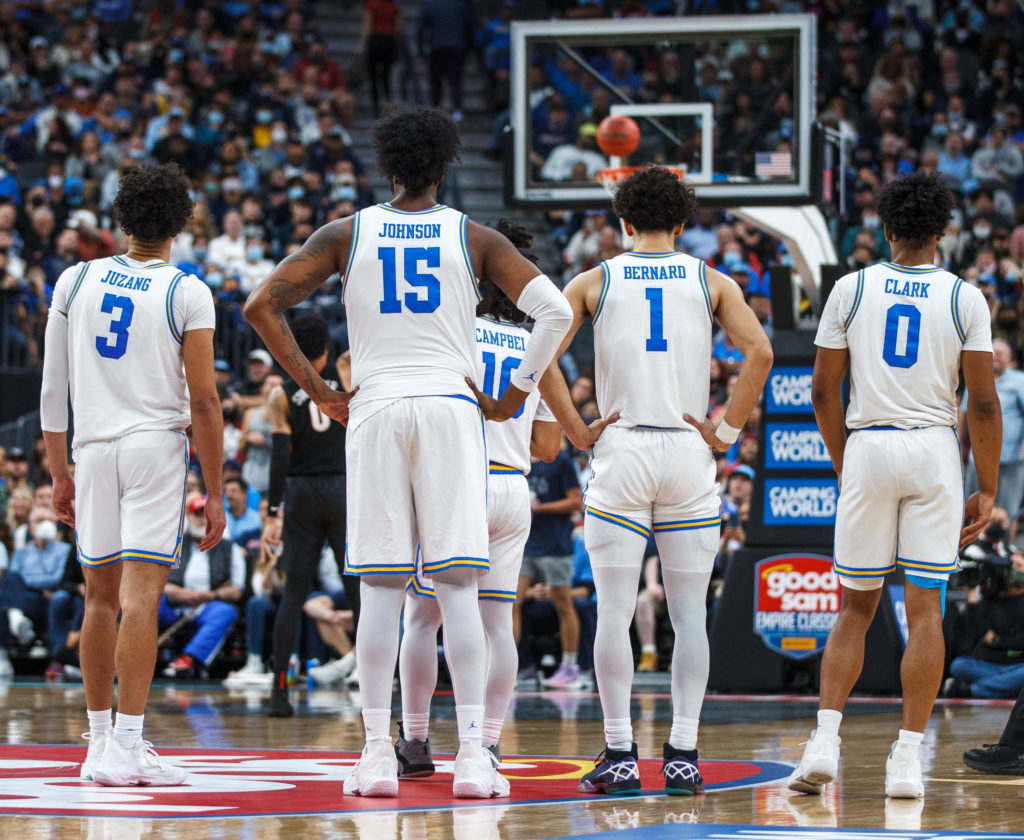 Strawther misses a technical free throw as the Bruins look on.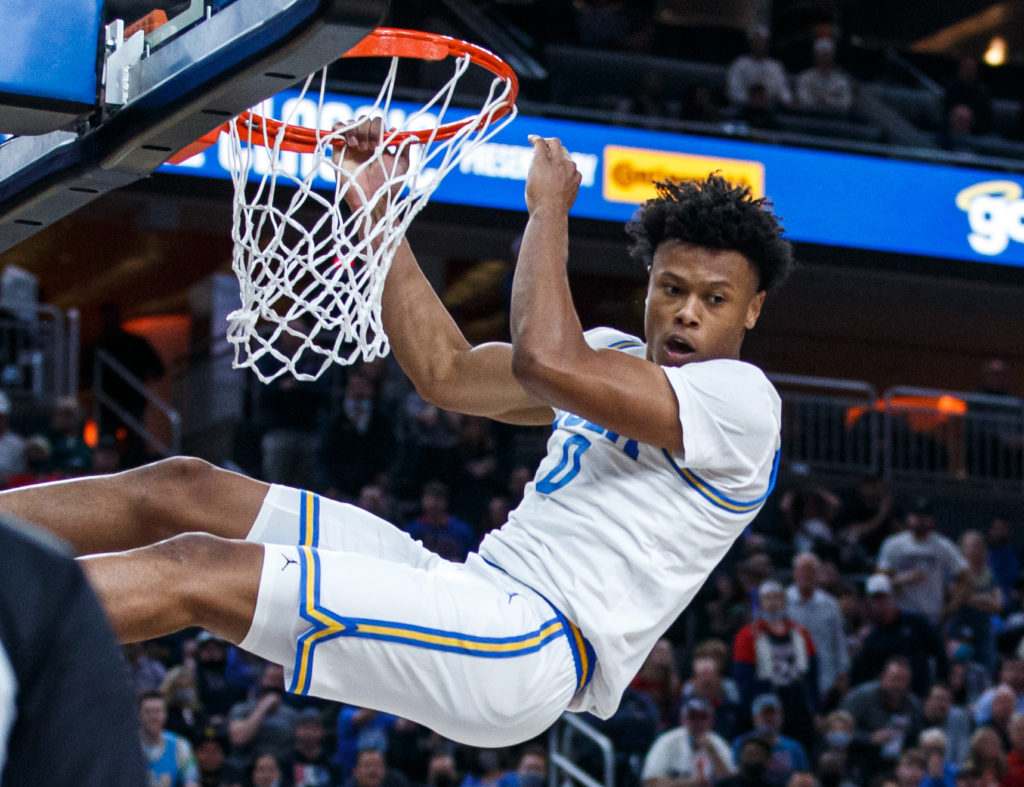 Sophomore guard Jaylen Clark hangs onto the rim after dunking the ball late in the final frame. Clark's dunk trimmed the Bruins' deficit to 19 with 3:45 minutes left in the game.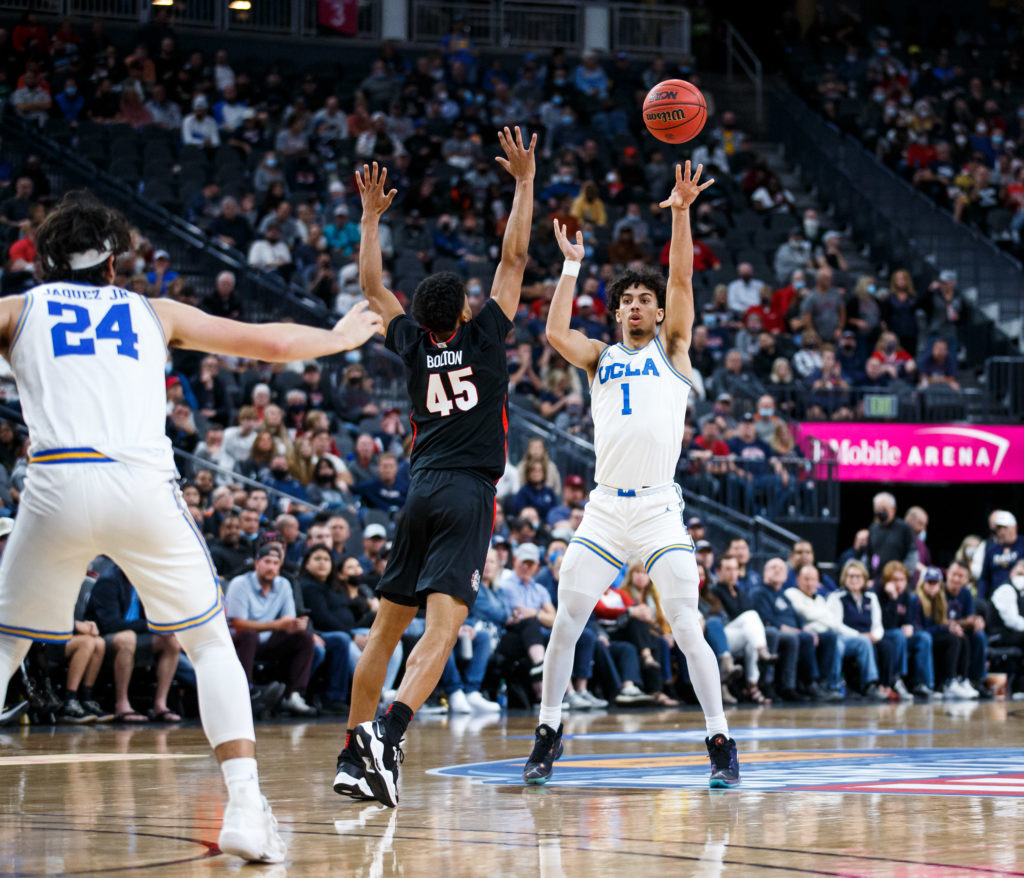 Senior guard Jules Bernard completes a pass to junior guard/forward Jaime Jaquez Jr.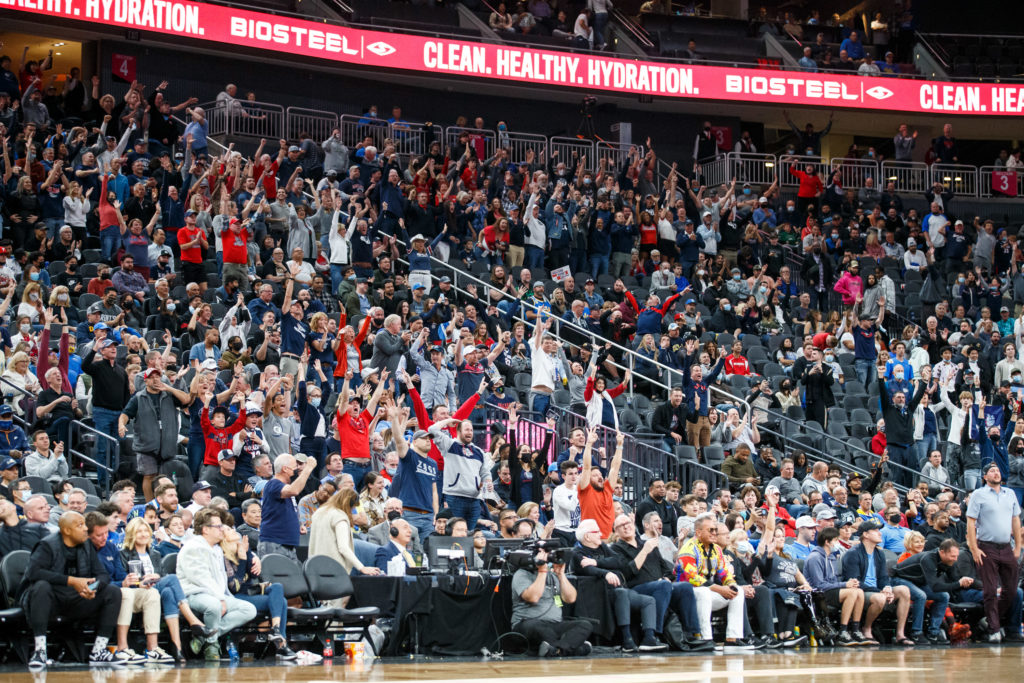 Gonzaga fans cheer as their team inches closer to a win.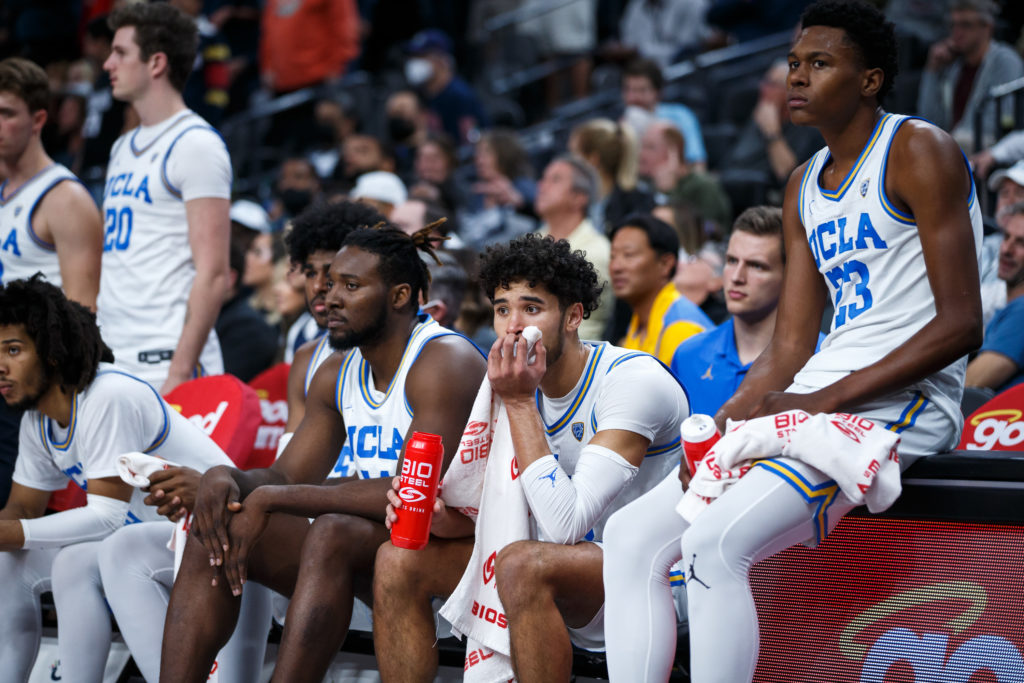 A distraught UCLA bench watches the final seconds of the game.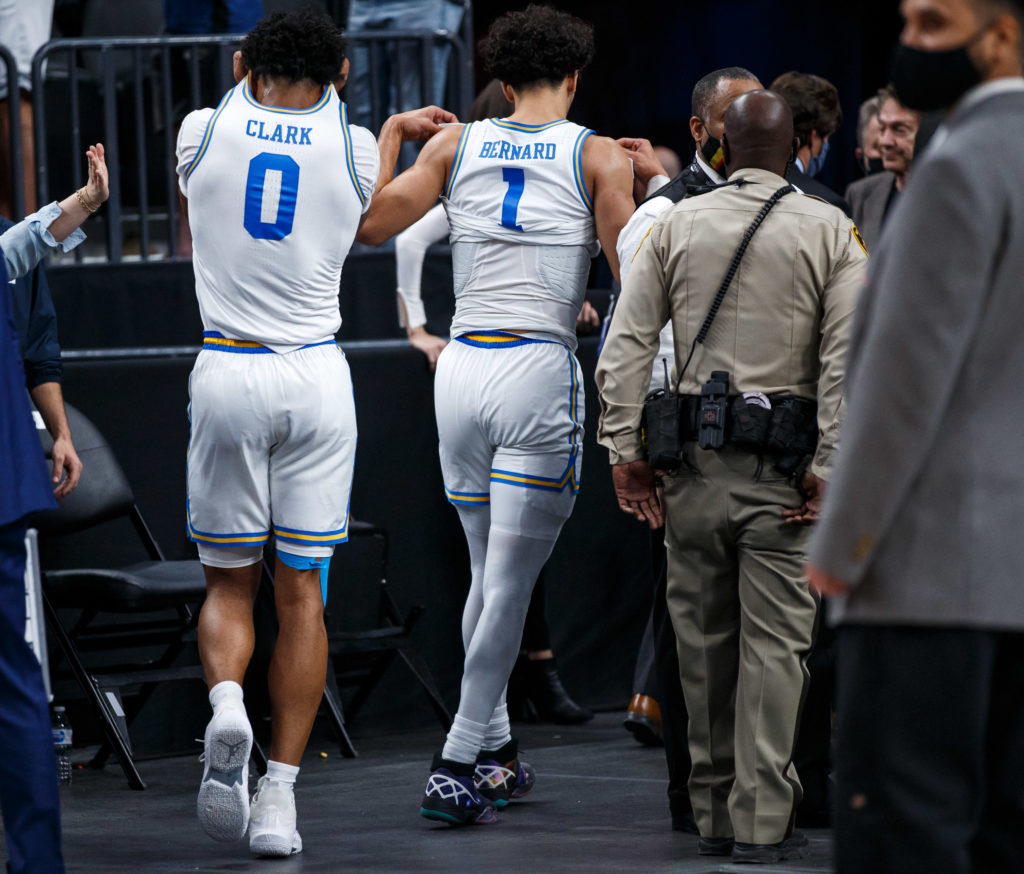 Clark and Bernard walk off the court after the Bruins' worst loss since the 2019-2020 season.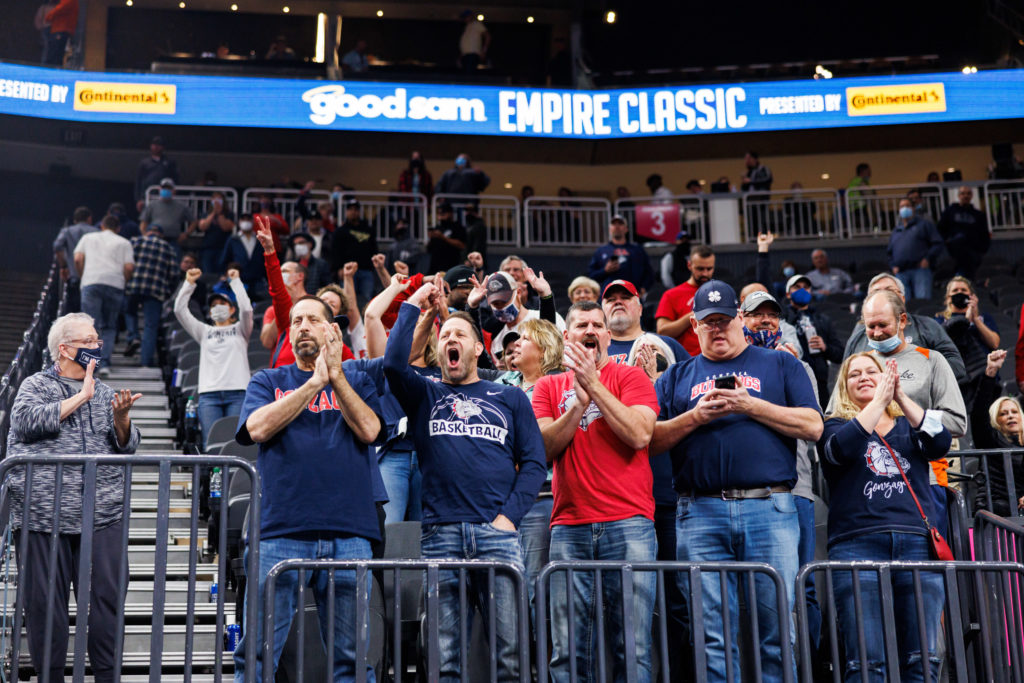 Fans cheer after Gonzaga wins. The Bulldogs have not lost a regular-season game since the 2020-2021 season began.