This post was updated May 22 at 9:29 p.m.
Hahna Song is beading her way through Westwood.
Creating products ranging from phone charms to accessories, the first-year biology student said she began selling handmade beaded jewelry when she started attending UCLA. Song said she first experimented with beading at the start of the pandemic, when Y2K jewelry became a trend in the summer. She then turned her hobby into a business and sells her products on Instagram and Etsy, she said.
"I think this style is very cute," Song said. "It keeps you in touch with your younger self (and) reminds you of (who) you used to be when you (were) little."
From a young age, Song said she was drawn to business based on her experience helping at her family's clothing store. She said she would accompany her father to downtown Los Angeles and assist him in selecting and tagging clothes to sell at his retail store. While the store also sells jewelry, she said the business does not carry any Y2K beads.
"I would ask if I can buy these things, like the beads that were trending," Song said. "My parents would always say, 'No, we have jewelry at our store.' And so, I just decided to make my own."
Song said she enjoys running a small business because the flexibility allows her to work at her own pace without interfering with her studies. It takes approximately 10 to 15 minutes for her to create her necklaces, while rings take up to five minutes, she said. Whenever she plans to drop a new collection, she designs prototypes of her products before she starts making copies to sell, she said. Song's business mostly spread from word-of-mouth. Her friends would talk to their friends about her products, Song said, which has earned her customers from universities as far as UC Santa Barbara.
[Related: UCLA student tailors creative outlet into embroidery business]
Geraldine Perez, a first-year political science student, said Song would often create new pieces with her beads and give them to friends to wear. Perez, who is also Song's roommate, said she often buys Song's handmade accessories, including the phone charm she has on her phone. Over time, Song's products have become more durable and long-lasting, Perez said.
From several Beads by Hahna collections, Perez said the most eye-catching collection was the "Bruin Collection." During the beginning of fall quarter, Perez said she and Song wanted to show their school spirit, and she requested that Song create UCLA-themed pieces to wear on campus and for events. One of these pieces, Perez said, was a choker lined with blue, white and yellow beads to represent the school's colors, accompanied by beads that spelled "UCLA."
First-year psychology student Tania Tan said she has also seen Song's business grow. She said Song's products are unisex, which makes her jewelry feel gender-inclusive, as she has noticed her male friends wearing Song's jewelry or attaching them to their bags or phones.
"It's a good way of making sure that everyone can enjoy (Song's products)," Tan said. "It's not like, 'Oh, only girls can enjoy Beads by Hahna.' It's like … all sexes, all genders."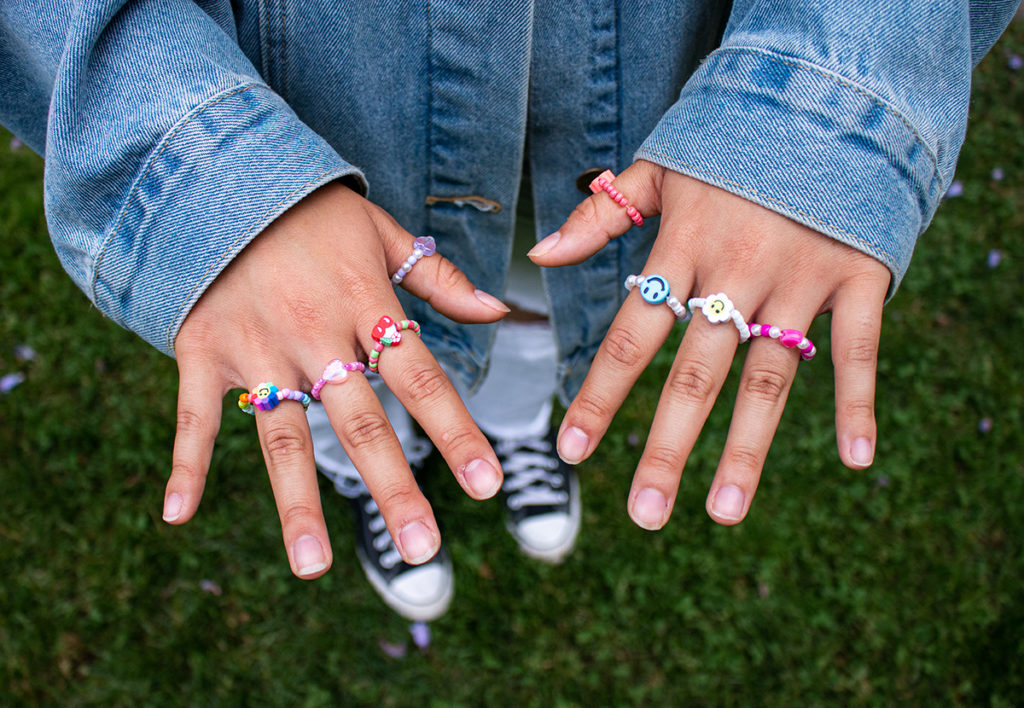 Tan said she discovered Song's beading hobby when she received a phone charm from Song with Tan's name spelled on it as a gift. She said she likes that Song takes custom orders since it allows her customers to personalize the items to their taste. Song said most of her customers want customized items, which make up the bulk of her orders.
[Related: Student-developed social media platform Cobble supports creative collaboration]
Recently, Song said she held her first pop-up stand at the Cobble Art Fair on May 10, when she dropped hints of her upcoming "Artist Collection" at Bruin Plaza. Inspired by popular mainstream artists, the "Artist Collection" is based on artists such as BTS, Olivia Rodrigo, Harry Styles and others, Song said. As seen on her store's Instagram page, the collection includes necklaces and phone charms spelled with these artists' albums or songs, such as Rodrigo's "SOUR" and Suga's "Daechwita."
In the future, Song said she hopes to open a mental health-themed collection and plans to donate half of the collection's revenue. In addition to expanding her audience, Song said she plans to maintain her business's current style and continue selling beads since it resonates with her mission to help others keep in touch with their younger selves. Song – who has always been interested in fashion – said she finds joy when she sees her customers integrate her handmade accessories with their outfits.
"Seeing something that I made personally being worn and used … is very rewarding to see," she said.