This post was updated July 10 at 8:13 p.m.
With a Sharpie, paper and napkins, Raina Markham is making her mark on the art world.
The rising third-year music education student said she has found comfort through various art styles including hand-drawn graphics, visual scores and collages made from everyday materials such as newspapers. Posting her work on her Instagram page, Markham uses her platform to showcase her interest in drawing on different mediums, which also include her custom clothing business where she sells pre-made clothing with hand-drawn designs.
"I feel (for) most of my art, I don't think about what I'm doing before I draw it. I just start to draw," she said. "I just can't stand not drawing on something if I have a pen and somewhere to draw on."
A violinist, Markham said she initially created her Instagram to share her art and its evolution in a setting without pressure, functioning similarly to a sketchbook. While Markham said she sees both music and drawing as outlets to destress, drawing holds a different sentimental value to her because she is not being academically graded on it, unlike when she is playing music.
While Markham said she had grown up being surrounded by music, she found herself having more free time because of the COVID-19 pandemic, which led to her newfound interest in drawing. She said her house is always filled with art supplies as a result of her mother's influence as a musician and artist. Markham's sister, Czeska Markham, said Raina Markham brings paper and a pen with her wherever she goes, seeking out unconventional places to draw on such as restaurant napkins.
"She just does whatever comes to her head," Czeska Markham said. "She's very creative, and her art feels very spontaneous, which is something that's really special (about) her."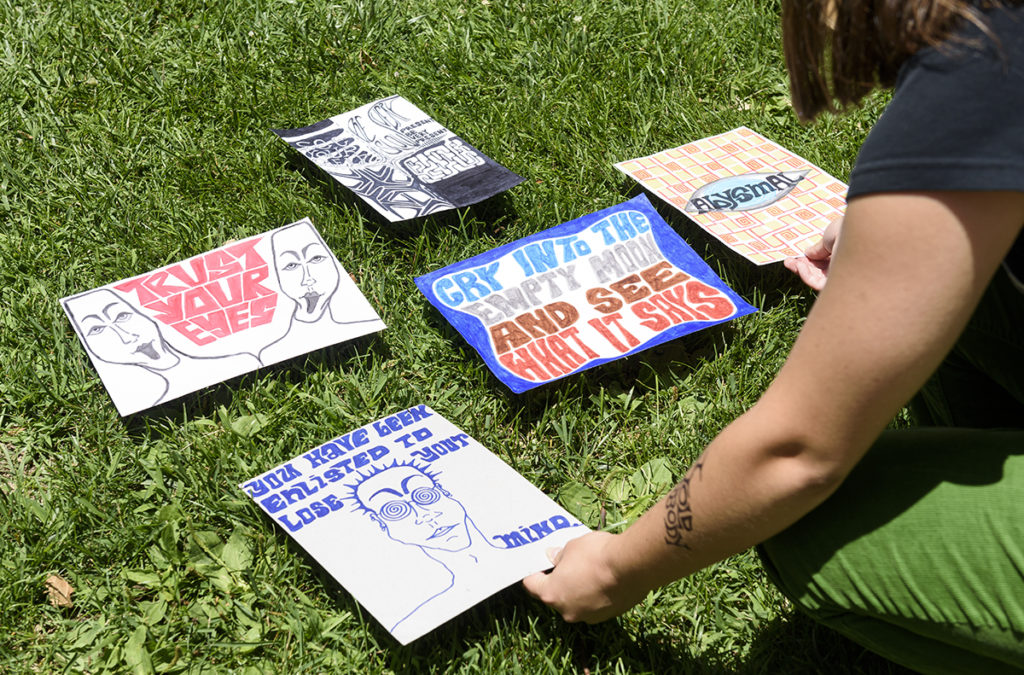 [Related: Graduate student uses undervalued art forms to create meaningful art]
Regarding her creative process, Raina Markham said she often works periodically with different mediums, thoroughly exploring a specific style before moving on to the next. Through experimenting with various drawing surfaces, such as newspaper and cloth, Raina Markham said these stylistic shifts provide energy and creative fulfillment. Along with creating both vibrant and black-and-white monochrome works, her pieces also often feature phrases and lyrics presented in boldly drawn fonts.
In addition to her spontaneity when creating art, Czeska Markham said she recognizes the flexibility that Raina Markham exudes as an artist. Ezra Hapner, a rising third-year ethnomusicology student and a friend of Raina Markham, said Raina Markham looks to create art out of materials she finds in her day-to-day life, whether it be to-go containers or flyers from Bruinwalk.
Furthermore, Hapner said Raina Markham integrates her art with the events that are directly happening in her life, which allows her to actively engage with the piece. He said that when they go out to eat, Raina Markham will draw on the takeout boxes, a creative outlet that shows how she interacts with what she is doing at that moment. Similarly, Raina Markham also has a hobby of drawing on people she meets, creating nonpermanent tattoos, he said.
In early June, Raina Markham posted a graphic score on her Instagram account – a piece merging one of her visual works with a drum score by Hapner – which Raina Markham said had originally been an assignment for one of her classes. Hapner said he had improvised the drum score based on his interpretation of the visual, as Raina Markham wanted the musician to play according to how the artwork made them feel.
The graphic – which features four chambers of different patterns and quotes, such as "See yourself" and "Be very present" – helped Hapner create the accompanying score, he said. It took approximately half an hour to an hour to create the visuals, Raina Markham said, using a Sharpie to draw the piece without any retracing or previous sketching.
"I definitely didn't start out combining art and music," Raina Markham said. "I'm also playing with a lot more people than I used to for years, so I think having that connection with people and that connection to music is also changing how I make art and combine music and art."

[Related: UCLA student uses creativity, graphic design skills to create zines]
In the future, Raina Markham said she aspires to learn how to professionally draw tattoos and print her customized clothing designs. Raina Markham said she often encourages those around her to try making art, as it is an outlet that gives her better clarity. She said she would normally do this by offering her arm for people to draw with a Sharpie – finding it moving when the person realizes that they could create art from the experience.
"I like to think of (art) as something that everybody can do equally," she said. "There's no bad art."